Jacques Brel is Alive and Well and Living in Paris
Music Jacques Brel, lyrics Jacques Brel, Eric Blau, Mort Shuman Book Eric Blau, Mort Shuman
Steven M Levy and Sean Sweeney
Charing Cross Theatre
–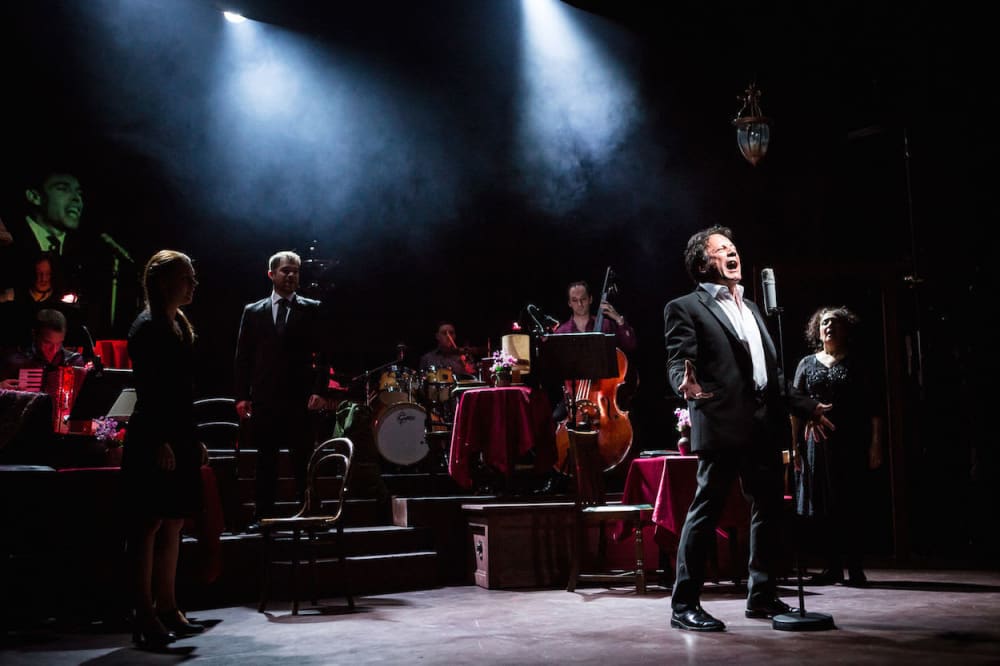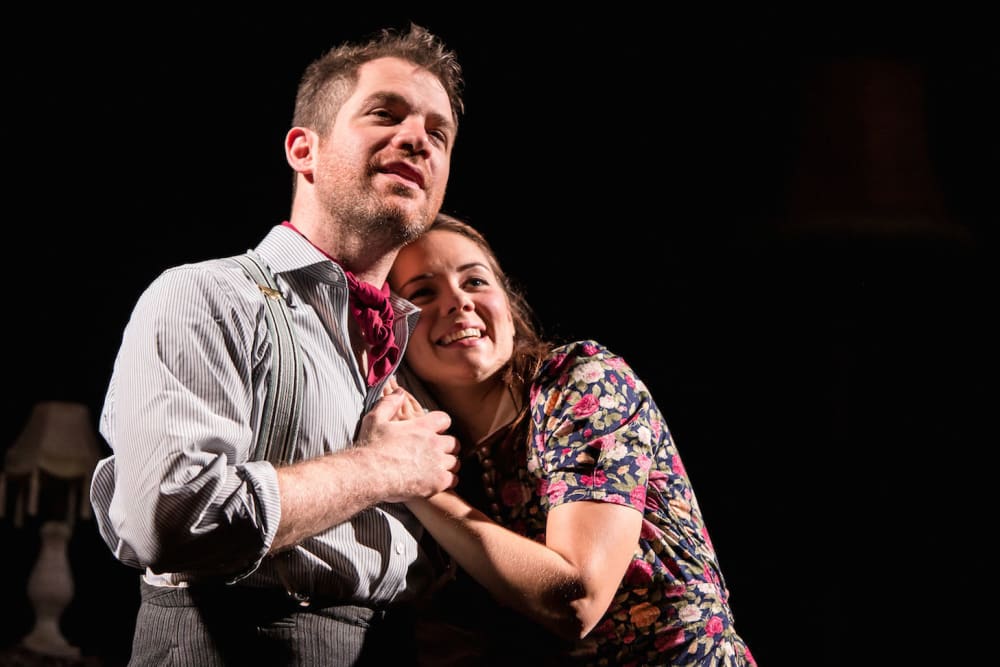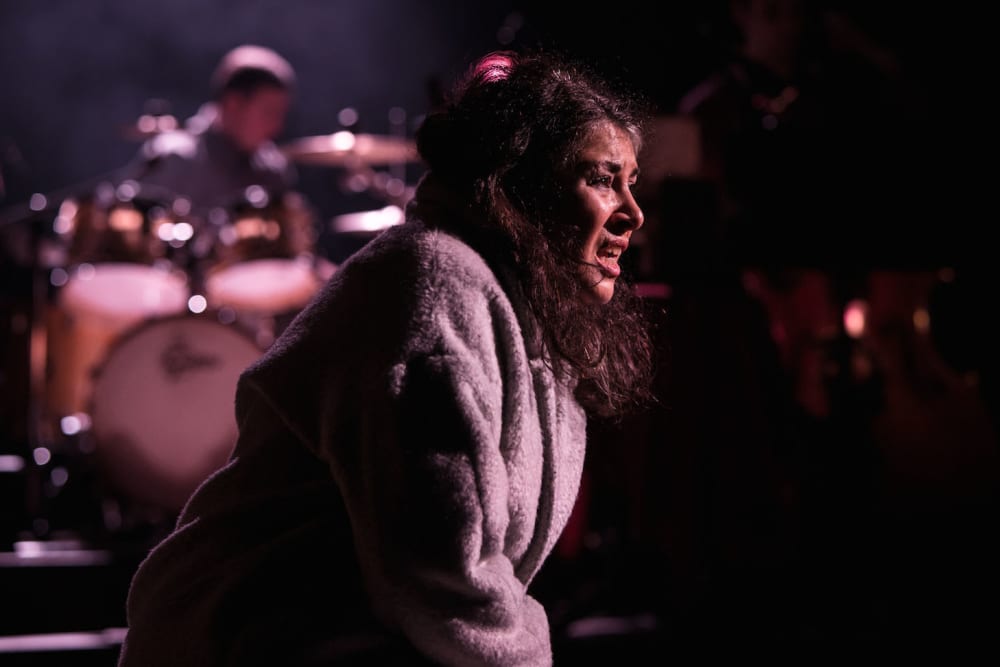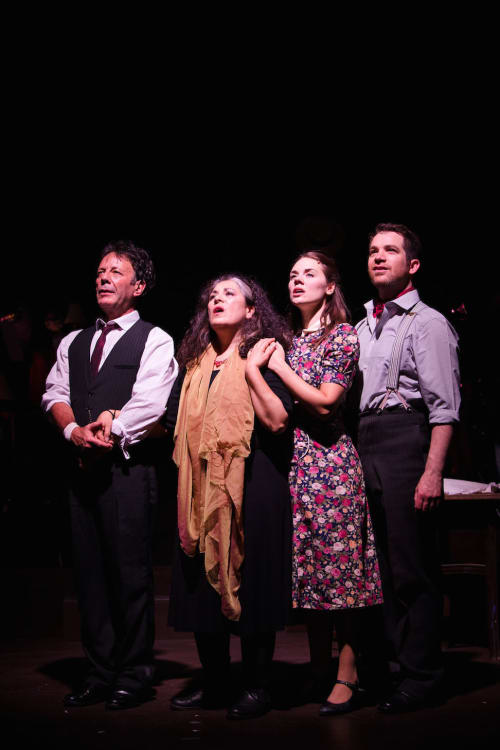 To the generation around in the 1960s, there was nothing more French than the songs of Jacques Brel, sung in that haunting voice that seemed to be speaking directly to you, sometimes rising to a passionate crescendo.
Of course, he was actually Belgian but how many knew that? Brel gained a worldwide audience and his songs were translated and sung by many singers.
In 1968, a musical revue was presented off-Broadway made up of his songs, mainly in translation: Jacques Brel is Alive and Well and Living in Paris. It went on to international success and this more recent version, with a differing sequence of songs and new arrangements by Eric Svejcar, was created in 2006.
It is performed with four singers, the band on stage (directed from the piano by Dean Austin) and the first rows replaced by cabaret tables with the performers sometimes sitting on the edge of the stage or popping up in the audience to add to the intimacy.
Director Andrew Keates's production flows smoothly from number to number, with Mike Robertson's lighting helping to create atmosphere (though on press night there seemed to be some missed cues that left singers in the dark) and there is spirited choreography by Sam Spencer-Lane that livens up some numbers including a comic Chaplinesque routine and the suddenly menacing whirling of "Carousel".
The show's main asset is its strong cast, but they frequently have to struggle against the musical arrangement, made worse by an over-dominant piano. Behind every one of Brel's songs lies a story and that makes clarity of lyrics vitally important. It is criminal to swamp them. Everyone is miked but they still get drowned out in several numbers.
Brel was shaped by the events of the 1930s and '40s. There is a bitter reality to his songs of love and loss, sometimes caustically critical, witty and wistful, often with more pain than hope in them. They are full of drama and that is what drives their frequent bold rhythms.
These versions seek too often to impose a 21st century sound out of sympathy with their content. They are low on nostalgia and certainly don't stir up Rive Gauche memories in the way that the originals did.
Fortunately, this strong cast bring a theatrical intensity to their performances that has impact. The quieter, more conversational numbers are most effective.
Daniel Boys in uniform singing "Statue", a wry song about the truth behind some of the names on a war memorial, is one of the best things in the first half but things go up a notch for the whole second part.
This includes Eve Polycarpou's rendering of everyone's favourite "Ne Me Quitte Pas" (the only song left in French—indeed to produce the same effect in English is a challenge no one has met), David Burt hilarious singing "Funeral Tango" in a beautifully timed piece of production, Gina Beck delightful in "Old Folks" as the rest of the company play out being geriatric and Daniel Boys remembering past loves in "Song for Old Lovers" and singing "Next", a young soldier's bitter song about an army brothel and STDs.
A lot of effort appears to have gone into choosing blurry film clips to project behind the band—including a sequence of Brel himself that is momentarily matched to Burt's singing. But that is unfair to Burt; it makes an invidious comparison that emphasises what is missing—and what is the point of the film anyway for no one is watching it; they are looking at the live performers.
Brel isn't alive; he died in 1978. He isn't living in Paris and this production doesn't transport you there either, but the commitment of these performers does make Brel's songs live—if only the MD and the arrangements would let us hear the words more clearly.
Reviewer: Howard Loxton