Jamaica Inn
Daphne du Maurier adapted by Lisa Evans
Theatre Lab Company
Tabard Theatre
–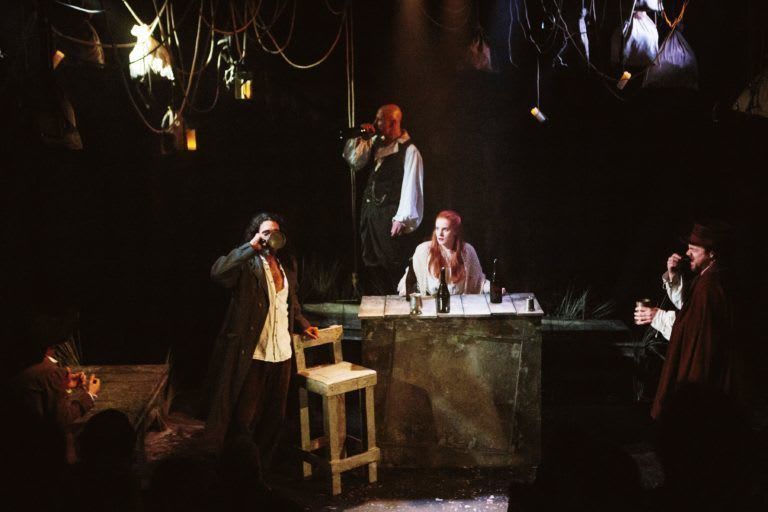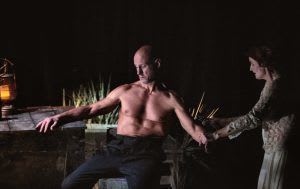 This stage adaptation of Daphne du Maurier's novel of dark deeds and Cornish wreckers, inspired by a real inn in a remote spot on Bodmin Moor, stays close to the original story though inevitably there are elements lost in reducing it to a 90-minute staging.
Anastasia Revi's production picks up on the gothic elements of the story and matches its early nineteenth century setting by presenting it as murky melodrama. Maira Vazeou's design of rough wooden furniture, hanging ropes, dim lanterns and crooked candles in misty darkness is all about atmosphere: an invitation to share its dark dangers like a ghost story at a winter fireside, its fears a fabrication to indulge in that is delivered in a very theatrical manner.
Mary Yellan is a young woman, left on her own by the death of her mother, who throws herself on the charity of her only relation, an aunt not seen since childhood and now married to the landlord of the Jamaica Inn.
There is a small model horse and carriage on a stool centre stage before the lights go down to start the performance; when they go up again on stage it has gone. Mary is sitting there in an imaginary carriage on her journey from her old home in Helston to Bodmin, to Jamaica Inn.
Mary is so alone that she talks to herself; we hear both sides of the conversation, the voice in her head and her real voice. When she goes to bed there isn't one, she is standing up, but such things are theatrically clearly signalled. A violin underscores most of the action, characters are boldly profiled not subtly pictured.
The mood set from the start with a then-unknown figure turning his face to the audience to declare and repeat: "no one stays at the Jamaica Inn". It becomes the motif of one of the songs that this adaptation introduces.
Indeed, no one does stay there. Although Mary's aunt says they get on well with the neighbours, her baking popular, coaches call regularly and the squire doffs his hat to her, it's not true. Is aunt Patience deluded or lying? Helen Bang at times plays her as though deranged, and being married to the sinister control freak that Toby Wynn-Davies makes Joss Merlyn could send you round the bend. His strange associates who are the inn's only visitors are not much better. What have they got to do with the noises in the night and the carts lined up on the wild moor?
There is just a moment when Patience speaks about the start of her marriage that gives a glimpse of why she stays with Joss and protects him: with his acquiescence she locks him up when he has been drinking too heavily. Kimberley Jarvis gives us a strong and confident Mary yet she stays because she is protective of Patience and what else has she? But there is no explaining of Joss: he's just made a villain, though he isn't the main one: their identity is only revealed near the end.
There's an albino vicar (Peter Rae) in whom Mary confides, the Squire (Matthew Wade) who thinks Joss is smuggling but has never managed to catch it happening and Joss's horse-stealing brother Jem, dashingly played by Samuel Lawrence, for whom Mary falls. Can this story have a happy ending? That would fit the nineteenth-century melodrama formula.
This production seems to have had some problems on its press night (I saw it later) and certainly some found it unsubtle, but when Anastasia Revi adopts a style she does it wholeheartedly and if your taste lies in the gothic you'll probably like this.
Reviewer: Howard Loxton