Jamaica Inn
Daphne du Maurier, adapted by Lisa Evans
New Vic Theatre, Newcastle-under-Lyme
(2007)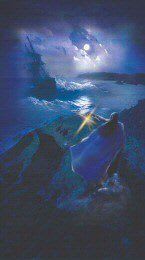 Born 100 years ago last weekend, Cornwall's most famous literary figure Daphne du Maurier will always be associated with the novel Rebecca. Yet it wasn't her first successful work after she settled in the south west; that distinction belongs to Jamaica Inn. It's overlooked to a certain extent these days, even though Alfred Hitchcock noticed its potential and committed it to celluloid the year before he filmed Rebecca.
Let's point out right from the beginning that Lisa Evans' adaptation is pretty difficult to stage. Performing it in the round at the New Vic throws up additional problems. For instance, how can you put over the fog-bound, obstacle-strewn Bodmin moor and a precarious beach as well as the interior of an inn which is full of secrets?
Director Theresa Heskins and designer Lis Evans aren't phased by these complications and rise to the challenge. They really do use the space to its full potential.
Jamaica Inn is the story of Mary Yellan who after the death of her mother moves to live with her aunt Patience and uncle Joss in their Cornish inn. She uncovers a world of smuggling, murder and treachery. She has to decide whether to trust her uncle's roguish but handsome brother Jem or the vicar who always seems to be in the right place to rescue her from danger.
The New Vic nearly always comes up with a fine company of actors and the ensemble for Jamaica Inn has no weak link.
Juliette Goodman is outstanding as Mary, headstrong and determined not to surrender to her uncle's cruelty. She earns the audience's sympathy which never degenerates into sentimentality for her seemingly inescapable plight.
John Killoran, who was magnificent at the New Vic last year as Randle P McMurphy in One Flew Over The Cuckoo's Nest, is equally commendable as Joss Merlyn, the smuggling landlord who believes he is above the law. Killoran dominates the stage whether he is showing his dominance over women, his brusque leadership of the smugglers or his submission to alcohol.
Deborah McAndrew gives a commendable performance as the downtrodden, timid, loyal wife Patience whose spirit has been broken by her tyrant of a husband.
The production is inventive, absorbing and full of tension, especially when Mary nervously edges her way into the storeroom to discover why her uncle always keeps it locked.
Heskins shows that you can create almost anything with a few carefully chosen props. A table, a few boxes and a wheel are cleverly turned into a carriage or a rickety bridge while sheep are conjured up with only a few small heads and appropriate noises.
The only drawback of this production is that some of the songs used to narrate what's going on between scenes don't reach all parts of the auditorium. The actors can hold a tune but they don't have powerful enough voices to project when singing as well as they do when they're acting. Even an instrument such as an accordion is able to drown out some of the lyrics.
Apart from that it's a splendid production from a theatre which is rapidly turning into one of my favourite venues.
"Jamaica Inn" continues until May 26th
Reviewer: Steve Orme