James and the Giant Peach
Roald Dahl adapted by David Wood
Mercury Theatre, Colchester
–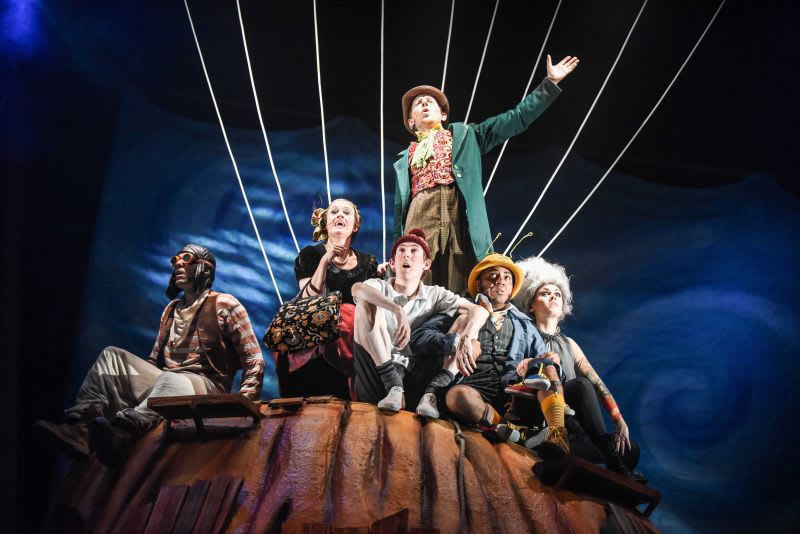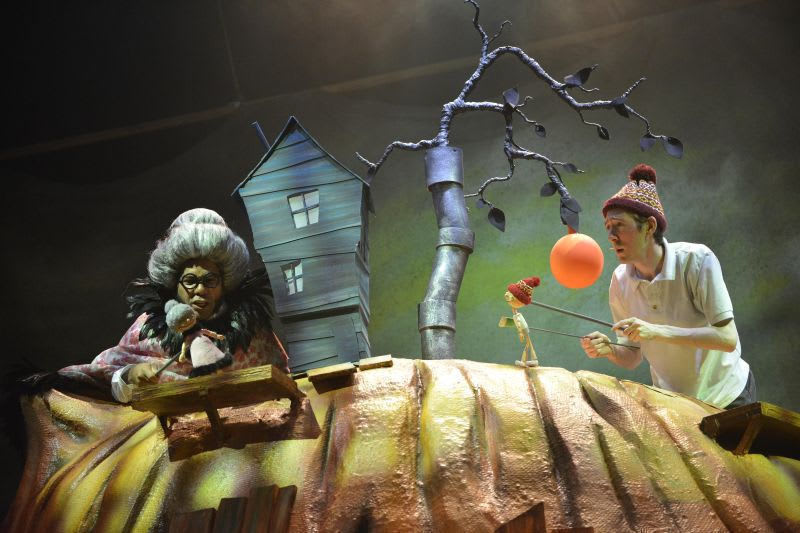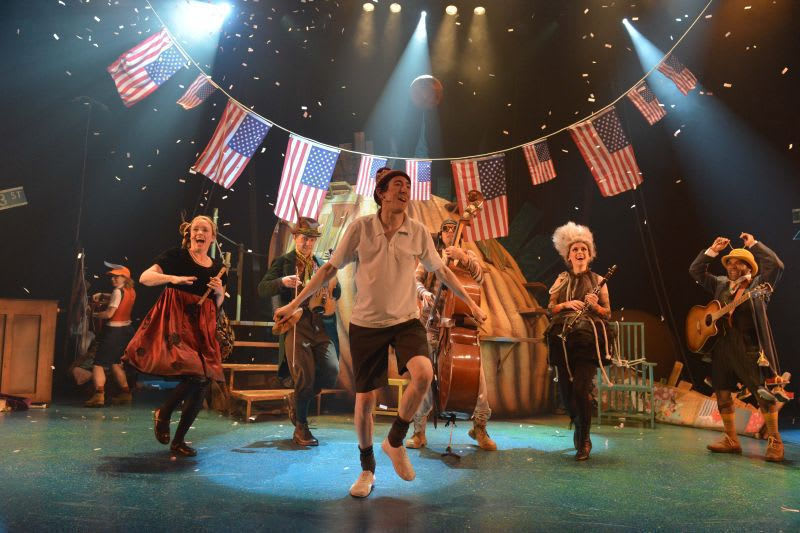 Almost everyone in the press matinée, packed with youngsters, could probably have told you the story of James and the Giant Peach, the first of the stories that Roald Dahl wrote for children. That must have created great audience expectations. Would they be satisfied?
The show is off to a good start for David Wood has done the adaptation. I don't think David has ever grown up for he knows exactly what will hold a youngster's attention and give them pleasure. Grant Olding has composed some lovely songs and other music and Trina Bramman has come up with a stage design that solves all the problems of presenting a peach that grows to a giant size, rolls off the White Cliffs of Dover, floats on the Atlantic and when threatened by a shark gets airlifted by hundreds of seagulls to make landfall in New York.
The number of characters on board has shrunk slightly and some episodes have been omitted but two hours (except for the brief interval) is packed with action that sometimes goes out into the audience and at one point needs the active assistance of all of them to keep the peach airborne. Great fun!
It is framed as a story told in retrospect by the people who live in the giant peach stone that became their home in New York's Central Park with the help of Barbara Hockaday's klaxon-carrying Tour Guide which allows for some to be acted out life-size, some played by puppets and parts narrated with action moving smoothly between forms.
Roald's story is simple but exciting and Wood keeps it that way with lively action breaking out into song with some frequency and just enough characterisation to get the actors started on making the insects who join James the kind any child would want to be friends with. This cast, who all double as instrumentalists, deliver exactly what's wanted.
It is a tale that begins with a tragedy when James's parents are both killed by an escaped rhinoceros on the rampage down Regent Street (the chase goes on right through the theatre but we are only pretending to be frightened aren't we?) and he then has a tough time with two awful aunts.
A strange man appears who gives James some magic to make things happy and he spills it but that produces a giant peach on a tree that had never before fruited. Inside lived the insects: Josie Dunn is Miss Spider, whose spun thread is going to be vital to their survival and Kate Adams the lovely Ladybird; between them, they play a whole range of wind instruments.
Pete Ashmore is the lively Grasshopper, a fiddler, Dale Superville the delightful guitar-playing Centipede with a bootee for each one of his many feet and Matthew Rutherford the lugubrious Earthworm, always moaning but later a hero. You couldn't wish for a better gang of anthropomorphised insects.
Then there are the humans. Barbara Hockaday makes the vital first link with the audience as the American Tour Guide and then there are James's aunties, comically caricatured; Matthew Rutherford and Dale Superville make them gorgeously funny.
As James, James Le Lacheur is rather tall for his age but still a little bit gawky. He's one of those little boys that tilts his feet outwards so that he stands on the sides, not the soles. His voice doesn't seem to have grown up either. Do you wish you could be him and have great adventures?
Well it seems he's inviting us all to share his with him and a theatre filled with children did just that—and even got the chance to go on stage and explore the peach stone house before going home.
This is a great holiday show for younger children and a production that deserves to be seen more widely.
Reviewer: Howard Loxton