James Son of James
Created by Michael Keegan-Dolan and the company
Fabulous Beast Theatre
Co-production with the Barbican BITE08, the Dublin Theatre Festival and the Dance Touring Partnership Northern Stage, Newcastle. and touring
(2008)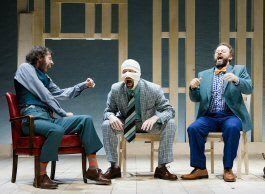 In Rathmore, a small town in the Irish Midlands, James arrives late at the graveside for his father's funeral at which the local TD (Irish Member of Parliament) is speaking the eulogy for a much loved prominent citizen and teacher, the elder James. He is unanimously chided by the congregation until he is recognised and then is welcomed back. Later he saves Simone, the daughter of local merchant Tommy Fallon (there is a suggestion of incestuous feelings on the part of her father in this strand of the piece), when she tries to drown herself. As the piece progresses, he becomes more and more a Messianic figure as he helps numerous residents solve their problems. Indeed, there is one scene, a dinner given in his honour, which come close - ironically, because it is early in the piece - to replicating one of the most iconic religious paintings of all time, The Last Supper. And of course he suffers the fate of all Messiahs. But that isn't the end, as a stunning final coup de théâtre (which I will not reveal here) shows.
This is dance theatre, a combination of text and the spoken word, music and song, mime and dance. All blend seemlessly to paint a picture which rings true of all small town human life, with its tensions, unhappiness, naked ambition and, yes, love hidden behind closed doors. It's a bleak picture of misery and passion concealed beneath a veneer of respectability, presented very effectively and movingly.
A cast of eleven, including Keegan-Dolan himself, present the TD (Keegan-Dolan), his prim but smouldering wife (Daphne Strothmann), their son (Khamlane Halsackda), Fallon the white goods retailer (Neil Paris) and his daughter (Rachel Poirier), the local Garda (Angelo Smimmo) and his wife (Lorena Randi), the doctor with his own angst (Vladislav Soltys), the farmer (Milos Gaiko) and the immigrant woman he marries (Cliodha Hoey), and, of course, James himself (Emmanuel Obeya). This is truly an ensemble piece and, as in the best of that genre, no one performer can be singled out as being outstanding: the standard is uniformly excellent.
"James Son of James" is at Northern Stage until 2nd February and then tours to the Barbican (5-9 Feb), Brighton Dome (12-13 Feb), Oxford Playhouse (15-16 Feb), Nottingham Playhouse (21-23 Feb), Warwick Arts Centre (26 Feb- 1 Mar), Sheffield Lyceum (8-9 Apr), Wycombe Swan (11-12 Apr), Poole Lighthouse (16-19 Apr), The Lowry (22-26 Apr) and Truro Hall for Cornwall (2-3 May).
Philip Seager reviewed this production at the Lyceum Theatre, Sheffield
Reviewer: Peter Lathan