James and the Giant Peach
Roald Dahl, adapted for the stage by David Wood
Octagon Theatre, Bolton
(2006)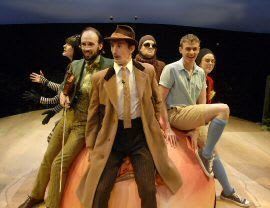 Yet again, the Octagon presents a David Wood adaptation of one of the great Roald Dahl's children's books, following last year's The Twits, George's Marvellous Medicine the year before and The BFG the year before that. After last year's show became the theatre's most successful production in its history, advance sales for this year's were so much higher that an extra week of performances has been added on to the end of the run to cope with demand.
For anyone who didn't grow up with this classic children's tale, it tells of a young boy, James Henry Trotter, who is orphaned as a result of a freak rampaging rhinoceros incident and has to live with his cruel aunts Spiker and Sponge, who force him - Cinderella-like - to do all the menial chores in their house and garden. A mysterious man gives him a bag of magical crocodiles' tongues, which escape and cause a peach tree to grow a giant peach. James gets inside the peach and meets a group of insects and other tiny creatures grown to human size, and they all set off on an adventurous journey on board the giant peach.
Jon Bausor's design for the production is ingenious and very effective, using a circular stage, looking like a large cut-off peach, and a narrow stretched cyc high on the back wall used for projections and some lovely little shadow puppet interludes directed by Mervyn Miller. The growing of the peach was done very effectively (although a child near me loudly voiced her confusion about one of the previous stages in the peach's growth still being visible when the much larger one was inflating). There are some other nice effects, such as when the peach stone house turns into the rhinoceros and when a miniature version of the giant peach is flown over the audience pulled by tiny seagulls, to land on the Empire State Building with a satisfying squelch.
Sound effects and music are used very effectively too all the way through, and some of the music is played by the insects as a live, onstage band, although the songs aren't particularly memorable and some of the lyrics are poor. There were some problems with the microphones on the performance I attended, either making noises or going off during songs or coming on loudly during dialogue; in fact when one actor's microphone went off completely during a song, he sounded much clearer, indicating that with trained actors in such a small venue, not using microphones is not just easier and cheaper but may sound better as well.
There are some great performances from a good ensemble cast, led by Alan Morrissey as James, playing a young boy with some subtlety and not over-the-top at all, and with Anthony Hunt as the spivvish Centipede, Emma Manton as Ladybird, Elizabeth Marsh as Miss Spider, Thomas Padden as the refined Old Green Grasshopper and Matthew Woodyatt as the moaning, pessimistic Earthworm. Elizabeth Marsh and Emma Manton also create some wonderful physical grotesque characters as aunts Spiker and Sponge, and other smaller parts are also played by members of the company.
The Octagon has produced a very entertaining family Christmas show which has a few pacing problems but is certainly a lot more together as a show than last year's The Twits. The adaptation works reasonably well for the most part with a few omissions from the original, although there is some dreadfully contrived audience participation and a few cheap gags that have really had their day even in a children's show, such as a spider with a Liverpool accent telling them all to 'calm down'. Like many Roald Dahl adaptations, it seems to shy away from the real threats of danger present in all of Dahl's stories, but there is still plenty to enjoy and wonder at in this spectacular staging.
Reviewer: David Chadderton