Jane Clegg
St John Irvine
Andrew Maunder in association with Neil McPherson for the Finborough Theatre
Finborough Theatre
–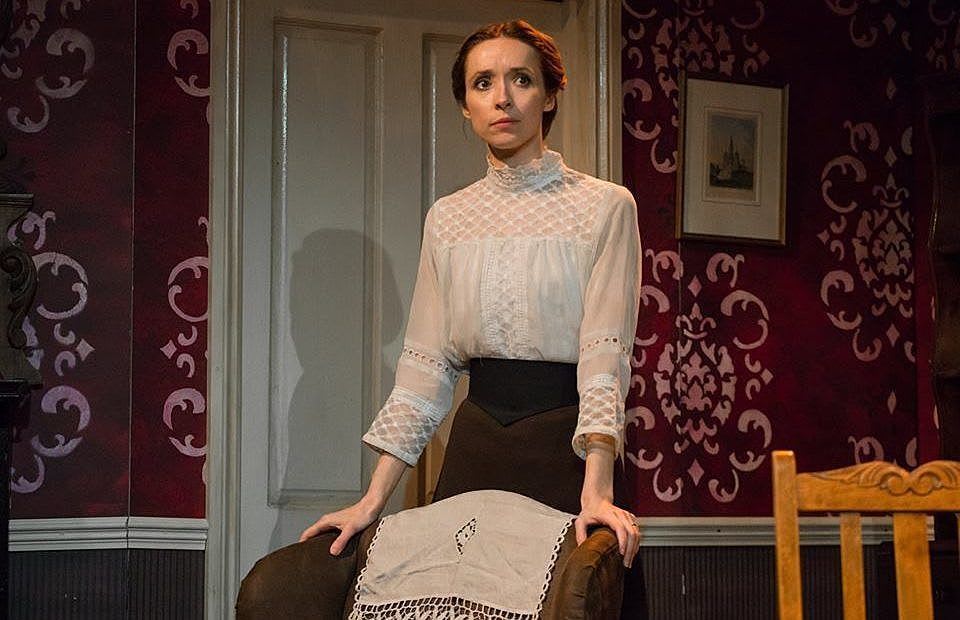 This production, seen last year at the Finborough Theatre, was the first revival of the play in London for 75 years. First staged by Annie Horniman's company at the Gaiety Theatre, Manchester in 1913, with Sybil Thorndike playing the title role, it presents a woman who, after a dozen years married to a lying and unfaithful husband who himself admits he's "an absolute rotter", begins to stand up to him.
Although Acts of Parliament in 1870 and 1882 had changed the law so that a married woman's property no longer became that of her husband, Henry Clegg is piqued that his wife Jane won't let him have any of the £700 she has recently inherited from an uncle. She wants to keep it to fund their children's education. He eventually confesses he wants it to pay gambling debts, though by then the audience knows that is not true though his bookie turns up demanding his money. From the time that they learn travelling salesman Henry has a cheque in his pocket accidentally made out to him instead of the company, they may guess where this plot is going.
It is not just coincidence that this play was written at the height of the suffragette movement, of which Ervine was very much a supporter (he was actually standing next to Emily Davidson that June at the Derby when she rushed on to the course and was fatally injured by the King's horse).
Henry's overbearing mother, who lives with them, scolds Jane for not bowing to her son's demands and fulfilling the traditional role of subservient wife but it is her belligerence that exposes the depths of Henry's lying.
David Gilmore's production has to marry a naturalistic domestic drama with elements from melodrama that explode in a setting made even more claustrophobic by the large patterned wallpaper of Alex Marker's set.
Maeve Alexander's grandma and her spoiled son with their Irish brogue and volatile tempers are very different from Alix Dunmore's controlled, gently spoken Jane. You can't help but wonder how this match was made but there is a hint of a romantic beginning and Brian Martin's Henry gives a glimpse of the charm he can turn on when being sociable. He is a man who knows (and admits) his own weakness but makes that his excuse—that makes everything Jane's fault: he should never have married a woman like her.
Jane is a caring, responsible mother and so far has accepted the supportive role of conventional wife, but Dunmore also suggests the conflict and determination beneath her surface composure.
At first, Matthew Sim's Cockney bookie Munce seems the stereotype stage working class of the period, but he gets a chance later to give depth to the character. In contrast to him, Sidney Livingstone as company cashier Mr Morrison is smooth respectability.
Once popular in repertory and frequently revived until the 1940s, this may now have most interest as a rarity but it still has something to tell us. It leaves a big question mark over Jane's future and I found myself wondering later how this family would have fared in lockdown.
Reviewer: Howard Loxton