Jane Eyre
Charlotte Brontë, adapted by Laura Turner
Hull Truck Theatre
Guildhall Theatre, Derby
–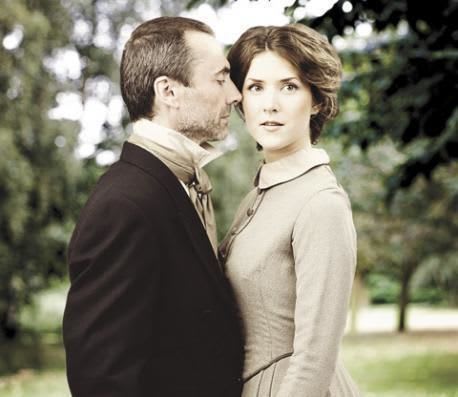 Charlotte Brontë's seminal work has been adapted countless times for film and television as well as theatre. It's also been the subject of several reinterpretations and rewritings, the latest being this version by Hull Truck.
It's arguably one of the most ambitious projects the company has taken on, mainly because only three actors take on 15 roles between them in Laura Turner's pared-down adaptation.
So here "the world of the play becomes the world of Jane's memory and her imagination". However, using only three actors means much of the dramatic impact of Brontë's work is missing and audience members have to conjure up in their own minds some of the more significant events in Jane's life.
For instance, a fire at Thornfield Hall in which Jane saves Mr Rochester's life and the unveiling of Rochester's mad wife Bertha are just two of the scenes which are underplayed because of the small cast.
Turner's adaptation begins at the end of the story before flashing back to its starting point: Jane Eyre's employment as a teacher at Lowood School. There's little reference to her childhood and there's no place in the story for Helen Burns, the school friend who makes such an impression on Jane in the novel before dying of consumption.
The adapter also admits writing scenes that don't feature in the book, giving Jane and Rochester words and actions "that are true to their characters". There seems little reason for this because Brontë's work is so good that it's accepted as a classic.
On the whole this version doesn't have the depth nor polish of an adaptation such as the one written by Willis Hall.
The actors perform valiantly, although they're hampered by the text which doesn't allow them to show their full range of talents.
Rebecca Hutchinson rarely gets to show Jane Eyre's feelings for Rochester as the couple's relationship isn't explored to its full extent. She also has to act as narrator and the sections in which she moves the action forwards seem detached from the rest of the play.
Andrew Dowbiggin is a strange choice as Rochester because he doesn't possess the animal magnetism nor the passion associated with the character; it remains a mystery why Jane is attracted to him.
However, Dowbiggin who plays four other parts gives a much better interpretation of repressed zealot St John Rivers who wants to make Jane his wife even though she admits she doesn't love him.
The success of the evening is Viktoria Kay who has no fewer than nine roles. She particularly catches the eye in the contrasting roles of Rochester's young French ward Adele and old aunt Reed.
Hull Truck's literary manager Nick Lane directs assuredly but the adaptation seems restricted by such a small cast.
Jane Eyre has been a popular work ever since it was published in 1847. The story of the young woman's love for her romantic employer despite the class difference and her desire for independence has almost as much relevance today as when it was written.
But is there a need for another Jane Eyre adaptation? On the evidence of this production, perhaps not. Admittedly Hull Truck has taken a bold step in stripping down the work so that it can be performed by only three actors. But this adaptation lacks much of the charm, emotion and appeal of the novel.
Reviewer: Steve Orme