Jane Eyre
Charlotte Brontë
National Theatre and Bristol Old Vic
New Victoria Theatre, Woking
–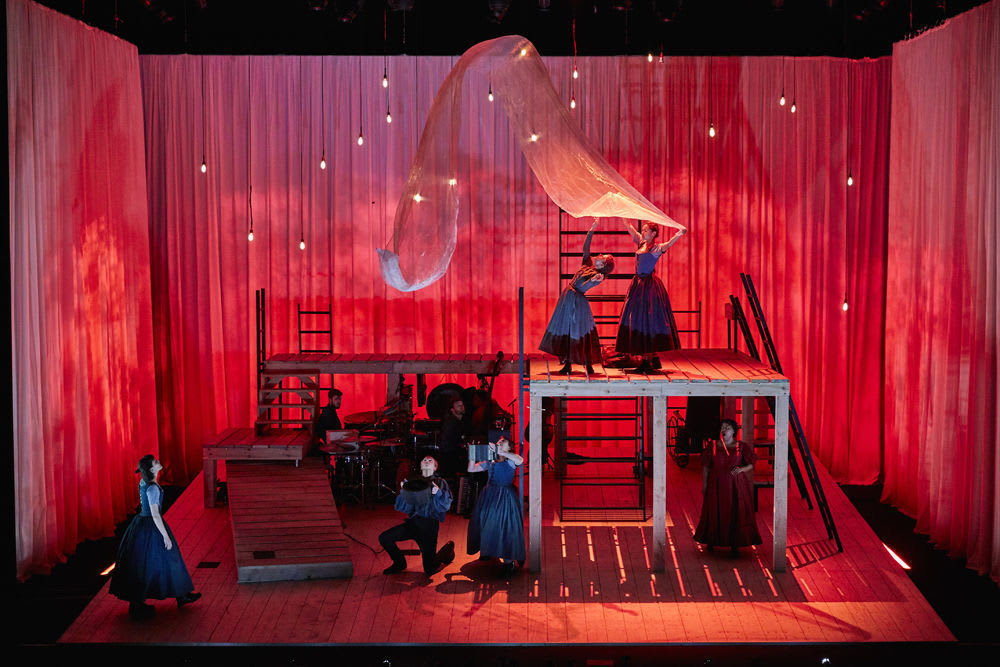 Bringing Jane Eyre to the stage might excite the hordes of fans who hold this classic dear to their hearts, but a story regarded as one of the best novels ever written comes with high expectations.
Devised by the original company with Sally Cookson directing, this production manages a tremendous balancing act of appearing fresh and new whilst staying true to Brontë's novel. The only downfall is the amount of content—there is simply too much of the material for one evening's entertainment. Although the cast fizzes with energy throughout, the pace of the dialogue and content doesn't sweep us away—you are well aware that three hours have passed.
Originally a two-night play, the company condensed this into a single show for the National Theatre. Cookson states the aim was to "maintain the epic quality but honing and tightening to make the experience more intense." If she honed and tightened another thirty minutes off, this would be a rave review.
Michael Vales (set designer) builds a combination of ladders and wooden platforms, which, superbly lit by Aideen Malone, makes a jungle gym for the ensemble to play on. This is a multi-layered production—a three-person band is tucked into the centre of the set and there is live music throughout, melding with a pre-recorded soundscape.
The actors combine physical theatre with more traditional delivery. Clad in denim bodice dresses, boots and waistcoats for the boys, Katie Sykes (costume designer) adds accents for each character. We get the sense of a period play without any of the trappings. The music varies from Benji Bower's original composition to quotes from religious music through to classics such as "Mad About the Boy". This multi-layered mashup really works.
The stamina of the ensemble is quite a feat—constantly leaping up and down ladders, switching roles and rarely leaving the stage their performance energy never wanes. Dialect coach Kay Welch has done wonders transforming this cast into a broadly spoken bunch of Yorkshire folk.
Cookson states in the programme notes that she wishes this to be a production focused on Jane Eyre's coming of age, and to this end the plot starts from the moment of her birth. Nadia Clifford (Jane Eyre) captures the progression from volatile, wilful and lonely young girl, to a more mature governess still harbouring the same passionate spirit.
Tim Delap's Rochester is maddenly rude, whilst remaining undeniably charismatic. His rakish build and unkempt beard gives him a wild quality and makes him more than a match for wilful Jane Eyre.
Melanie Marshall appears as the mad wife Bertha, as well as appearing as the vocalist throughout. This dual role adds a sense of Bertha looming over everything that's taking place in Eyre's life, a heavy presence which cannot be ignored. Marshell possesses a beautiful voice, and great versatility leaping through musical genres.
Despite the length, Cookson's Jane Eyre is a theatrical triumph—emotionally engaging, physically spectacular and musically entrancing.
Reviewer: Louise Lewis