Jane Eyre
Charlotte Brontë, adapted by Sally Cookson
National Theatre with Bristol Old Vic
–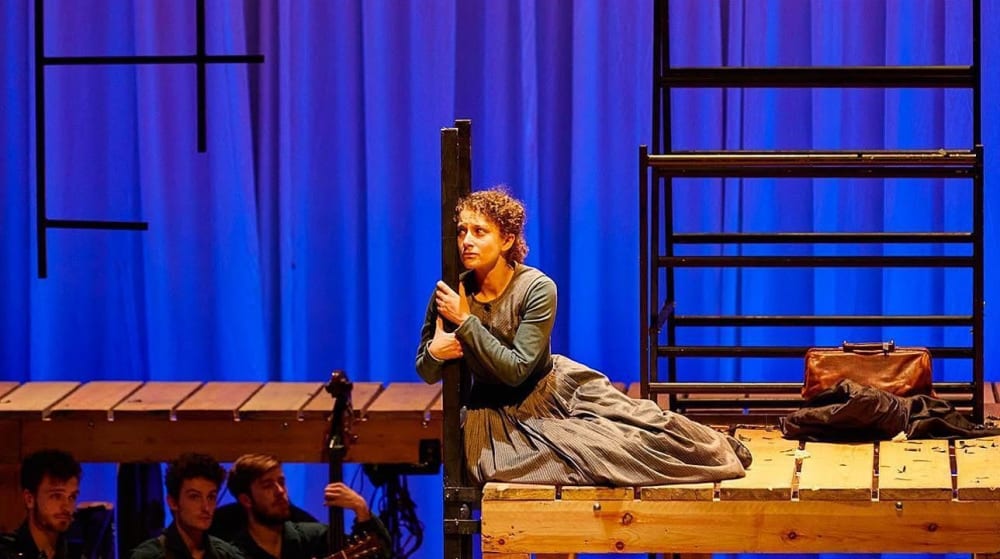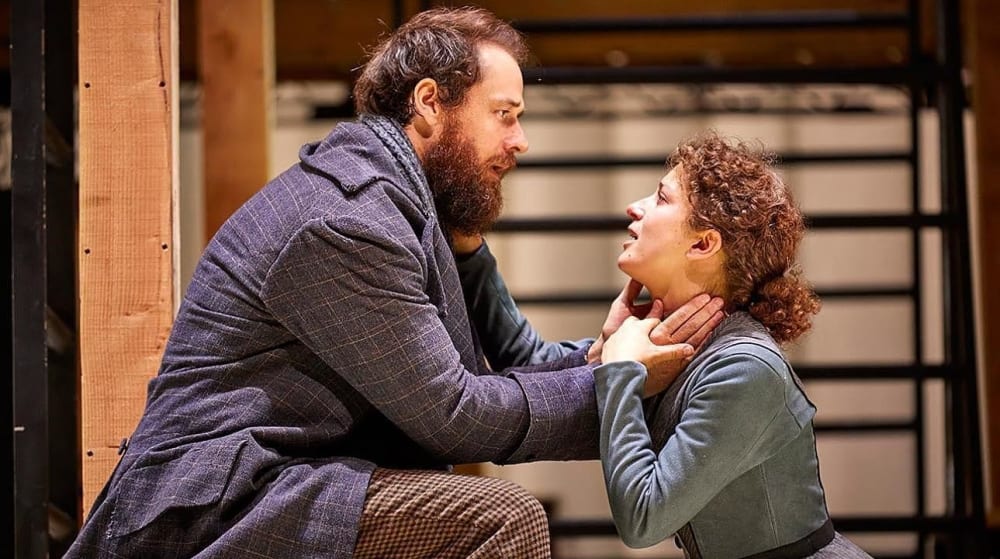 So this is the second of the National Theatre live streamed performances: a 2017 production of Charlotte Brontë's iconic novel that is original, vibrant and visually stunning in its staging, but, be warned, incredibly long at over three hours.
A co-production with the Bristol Old Vic, this version was adapted and directed by Sally Cookson and then devised by the original cast in a production that combines physical theatre, chorus and live music to create a layered 'stream of conscious' play that morphs from one scene to the next on an adaptable, many levelled stage of wooden platforms and ladders.
Brontë's novel looks at the life of Jane through her own eyes, an orphan left to grow up in a bitter and cold household whose childhood is further blighted by a fearful stay at charity boarding school Lowood, but who escapes a life of privation to become a governess only to find her life turned upside down when she falls for the master of the house who has his own issues to deal with. namely a mad wife locked in the attic.
Brontë's novels are dense with dialogue and description, but this script is pared back to the essential exchanges, much of the book distilled into physical expressions of the plot.
Madeline Worrall plays Jane with wide-eyed, painful sensitivity as her life as a child descends into brutality and bullying but who emerges bruised but independent. She is in many senses a modern woman, wanting to be in charge of her own destiny and not willing to be tied to someone just for an easier life. She is also someone of strong opinions in an age when women in the main were meant to be seen and not heard. Her exchange with Rochester as she pours out her emotional decision to leave is magnificent.
Felix Hayes is a tousled, rough, eccentric Rochester—a man's man yet with a soft if battered heart. Both he and Jane are lost souls, yet they connect over many divides in spite of their social positions, making the tragedy of their separation all the more telling.
Melanie Marshall punctuates the action with soulful music, underlining the emotion of each scene, and also plays the doomed Bertha.
The rest of the cast play many parts and work together to create a story that is both of its time and timeless, creating a tour de force of a performance that is emotive and emotional, poignant and courageous. Special mention of Craig Edwards who amongst others plays a delightful part of Rochester's hound dog Pilot.
But you have to be in for the long haul. Starting with her birth, there is lot about Jane's childhood and it is quite a long time before we even get to meet Mr Rochester. But it's worth sticking with for the haunting music, exceptional chorus work, expressive acting and amazing set pieces.
A brilliant production well worth seeing—and it's available online for free until next Thursday.
Reviewer: Suzanne Hawkes