Jane Eyre
Charlotte Brontë adapted by Bryony J Thompson
Rosemary Branch Theatre
–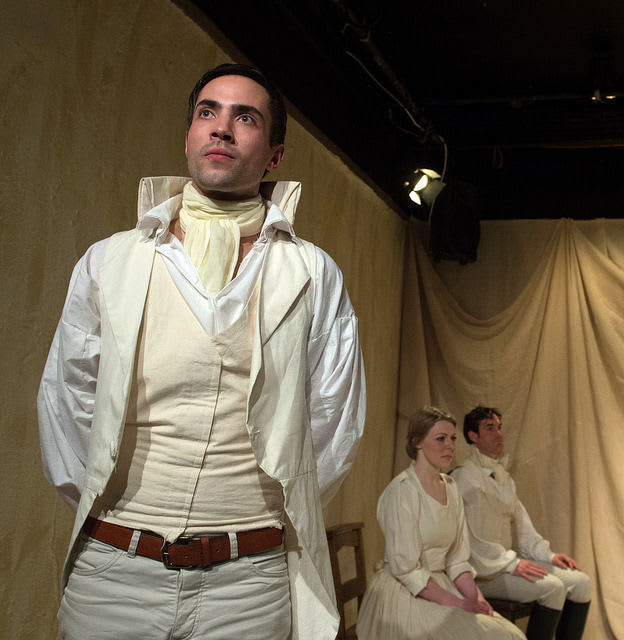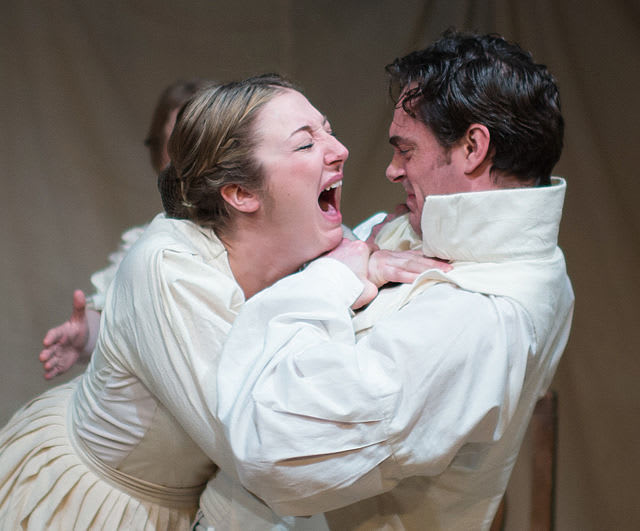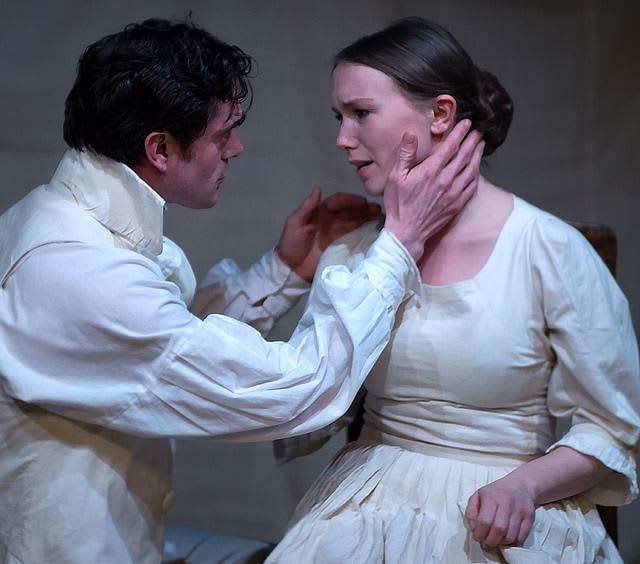 For director adapter and designer Bryony Thompson, this production of Jane Eyre is clearly a labour of love and that endows it with sincerity and warmth.
Charlotte Brontë has Jane tell her own story in the first person and that is also Thompson's approach, though she brings in other voices to carry her narrative and other characters may describe themselves or their own actions.
Costumes, all in similar early nineteenth century style and all in the same range of creams and near whites, make it easier to see these as one voice and also make it easy for the actors to assume different characters as needed. It is rather the equivalent of putting everyone in jeans and jumpers but with the addition of appropriate period flavour. Those transitions from character to character are clearly introduced and this is a very clear piece of story-telling, though it goes at a spanking pace that demands the attention and keeps the audience rapt.
With the words almost entirely drawn directly from Brontë's text, whether dialogue, description or narration, these would, at times, become pure story-telling rather than performance were it not for the enlivening physicality of the production. The fully-dramatised episodes make welcome highlights and there is moving and passionate playing from Hannah Maddison as Jane Eyre and Rob Pomfret as Mr Rochester, the employer with whom she falls in love and whom she discovers to be already married only when she meets him at the altar for their wedding ceremony.
Phillip Honeywell plays all the other male characters, outspoken as the brother of Rochester's wife and coolly lacking in emotion as the cousin who wants her as a missionary wife.
Lily Beck is unkind aunt Mrs Reed, Rochester's housekeeper Mrs Fairfax and River's housekeeper Hannah; Joss Wyre is Helen Burns, her ailing friend at Lowood School and little Adele, daughter of Rochester's former mistress whose governess Jane becomes at Thornfield Hall and Helen Keeley is Grace Poole, Mrs Rochester's keeper, Blanche, whom Rochester looks like marrying and both she and Wyre play River's sisters.
This adaptation effectively compacts the story before Jane encounters Rochester but the story-telling goes on too long before flowering into full dramatisation. The choice of music to underscore the emotion of some scenes seems counter-effective but the company makes an excellent team in the way they work together and the rapport between Pomfret and Maddison as Rochester and Jane lifts this production to dramatic effect. It is difficult to believe that such accomplished playing is actually Maddison's professional debut.
Reviewer: Howard Loxton