Jane Eyre
Based on the novel by Charlotte Brontë, devised by the original company
National Theatre and Bristol Old Vic
Sheffield Lyceum
–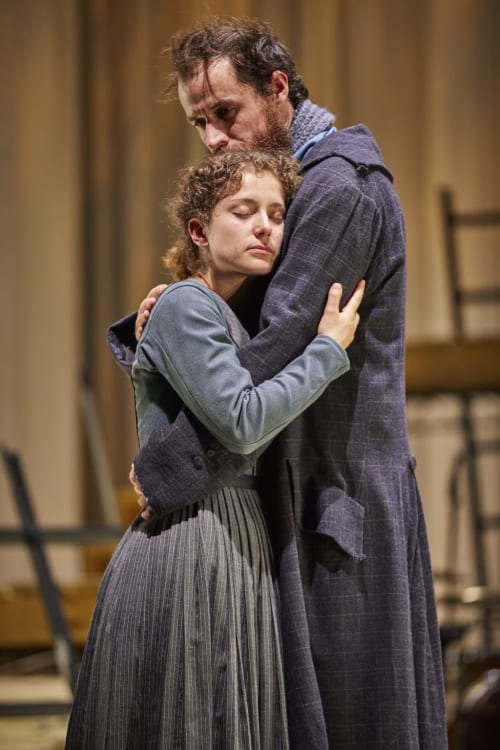 Sally Cookson's production of Jane Eyre saw the light of day four years ago at the Bristol Old Vic, transferred to the National Theatre and is currently touring the country.
For lovers of Charlotte Brontë's novel, it is important to point out that this is not a dramatisation or an adaptation, but a theatrical experience 'based on' and faithful to the plot-line of the original story.
Consequently, powerful scenes in the novel—like Jane's terrifying incarceration in the Red Room, the death of Helen at Lowood School, or Jane's half-demented wanderings over the Derbyshire moors—do not have the benefit of Brontë's impassioned narrative and are, of necessity, passed over relatively quickly.
However, once the original has been firmly put out of mind, there is an exciting new devised play here, which places emphasis on Jane's journey from 'powerless child' to 'independent, free-thinking adult' and presents not only Mrs Reed and Mr Brocklehurst as villains of the piece but makes us look with rather cooler eyes at Rochester's willingness to lead the unwitting Jane into a bigamous marriage or St John Rivers's insistence that she accompanies him to India as a missionary's wife because this is God's will. Fortunately Jane has the moral strength to refuse both offers.
In turning the novel into a play, Sally Cookson has opted for a linear dramatic version punctuated by songs and a representational set of levels and ladders which easily adapts to a variety of settings. This, along with the devised nature of the playtext, is strongly reminiscent of Brecht and has a similarly 'distancing' effect which countermands the emotional realism of the original.
Where the text of the play is largely realistic, the staging, design, lighting and acting style is thrillingly expressionistic. So actors create the many long stagecoach journeys through verbal sound and rhythmic movement, the full assembly of girls at Lowood School is represented by costumes lowered from the flies, window frames become symbols of escape and destruction and gender roles are swapped with ease.
The accompanying music, composed by Benji Bowe, creates atmosphere and tension when needed and complements Melanie Marshall's glorious voice, which adds an emotional charge to the production.
Nadia Clifford is an excellent Jane, heroic in her childhood stand against hypocrisy and searing as the exploited adult whose brief hope of happiness is snatched from her. By the end of the play, her reconciliation with Rochester, kneeling beside him, is reminiscent of Lear and Cordelia.
The small ensemble of actors, some of whom may have been involved in the devising process, play a wide range of roles. Tim Delap is an imposing Rochester who brings out the autocratic paternalism of the character. It is not surprising that Jane continually addresses him as 'Sir'.
It is a very physical performance with all cast members climbing rapidly or balancing on ladders, or swiftly moving from one area of the stage to another while changing character in the blink of an eye. This is particularly true of Paul Mundel who is pompous and severe as Mr Brocklehurst, cowardly and weak as Mason and completely convincing in his well observed portrayal of Pilot the dog.
Evelyn Miller plays honest Bessie the maid and the sneering socialite Blanche Ingram. She also looks persuasively male as a tall, black-clad St John Rivers who tries to brow beat Jane into joining him in India.
The whole cast including the musicians assume roles as the Lowood girls, each indistinguishable in her dowdy uniform and headscarf. In these scenes, gender is irrelevant when all the children are subject to a repressive, unfair, sadistic regime where conformity means survival. It is Jane who learns to make a stand against injustice and for genuine moral integrity.
Reviewer: Velda Harris