Jane Eyre

Bristol Old Vic/National Theatre
The Lowry
–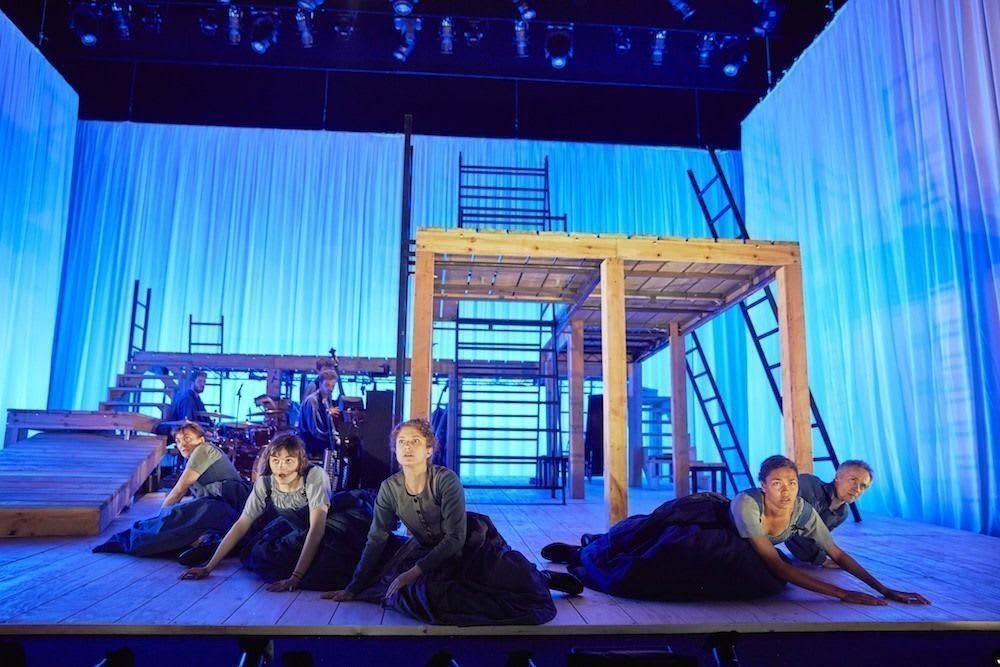 The National Theatre and Bristol Old Vic open their national tour of co-production Jane Eyre at The Lowry, in a dramatisation of Charlotte Bronte's masterpiece that promises to be bold, innovative and dynamic.
Sally Cookson's production may be stripped back visually—stark industrial set, no Victorian frills on the costumes—but the script certainly isn't. The play weighs in at over three hours in length, with an interval of just fifteen minutes. It's a faithful and well-edited adaptation—particularly impressive given that the script was devised by the original cast—but it does feel overlong. This may be due to its origins as a two-part work. There are scenes that could be cut or condensed quite easily, particularly in Jane's time at Lowood School.
The story of Charlotte Bronte's spirited, independent heroine—from birth, through harrowing childhood, to Thornfield Hall and her unconventional romance with its owner Mr Rochester—is told by a cast of just ten. They work impressively hard, distinguishing multiple characters and meeting the physical demands of the production head-on.
Nadia Clifford may be a "little" Jane but fully embodies the heroine's strength, delivering each of her lines with an iron determination and an authentic Yorkshire accent. Tim Delap is a contrastingly tall, sardonic Rochester and together their key scenes are passionate and compelling.
This production also does well to create opportunities for comedy, whether in the wry observations of Mrs Fairfax or the unusual choice to have Pilot—Rochester's dog—played by an actor.
The minimalist metal and timber frame of the set matches the aesthetic of the production, but its many different levels are arguably unnecessary. They are rarely used in a literal sense to convey the size and scale of Thornfield, and the cast seem to spend a lot of time climbing ladders and running in laps with little justification.
However, small details bring the set and the world of the novel into alignment: empty window frames are suspended over the stage to evoke Thornfield's grandeur, while glowing light bulbs hang down to represent candles in sconces. Even with this sparse set, the impact of the fire is communicated with devastating effect by broken window frames littering the stage. Lighting is used effectively too, particularly in the young Jane's isolation in the sinister Red Room, which is created with a vivid wash of scarlet light.
Music plays a big role in this production, evidenced by the drum kit that takes centre stage. While it is used effectively to cover brief transitions between scenes, or to evoke sounds such as rattling carriages or creaking floorboards, for the most part it hinders the action. Short but frequent songs add significantly to the play's length and disrupt the flow of the scenes—particularly when they are such incongruously modern ones as "Mad About the Boy" or "Crazy" by Gnarls Barkley. There is also a tendency to rely on music to create the desired atmosphere.
Overall—in spite of the heavy-handed use of music—this production is faithful to the unconventional spirit of Jane Eyre, evoking the setting and characters in a striking and contemporary way.
Reviewer: Georgina Wells