Jane Bond
Lip Service Theatre with The Dukes, Lancaster
York Theatre Royal and touring
(2007)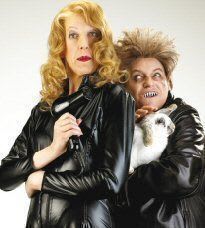 Lip Service are best known for their literary pastiches but in their 15th production and after 22 years of working together Sue Ryding and Maggie Fox turn their comic eye on the British institution: James Bond. Only this time it's 2012, and due to the Olympics MI5's budgets have been cut and their latest secret agent is a job sharing, single mother of three with nanny problems.
Artistic Directors and makers of mayhem Maggie Fox and Sue Ryding take on all the parts - and there is Lip Service's every trade mark of fast changes, outlandish wigs, prop gags, cross dressing, fantastic facial expressions, punitive puns and curious asides. It really is panto season already.
Fox, fulfilling her life long desire to wear a black cat suit, is Jane Bond and answers her mobile to the child minder whilst fighting villains. However while she may leave them shaken and stirred her favourite drink is a Snakebite. With a straw. Her joint honours degree from Loughborough in ceramics and cake decorating is not getting her far in the spy world and M gives her one last chance to prove her multi-tasking skills can keep her on the '00' task force.
Ryding takes on all other parts from lovesick Cashman, straight talking M, hilariously muscled Diving Instructor, to arch villain Blowdry. Her versatility shines through in the many and varied parts she plays with great gusto. Aided and abetted by her sidekick Bunny Galore, Blowdry seeks revenge for his humiliating experiences in PE by blowing up the Olympics.
For this Secret Service spectacle, Lip Service have taken on a stuntman, Martin Tucker, who flips, spirals, flies, jumps and kicks his way around the stage to the amazement of all. He's a young man of few words, but, as the genie of this production, he has many tricks up his sleeve.
This is gentle and silly comedy for all the family, and unfortunately, like Horror For Wimps, doesn't come up to scratch in witty lines nor clever parallels and relies too much on the clunky set and comic props for the punch-line. Jane Bond has some imaginative set pieces like the opening montage behind a silk screen recreating, in their own inimitable way, the silhouetted Bond Girls of the past, but Fox and Ryding never come up with anything surprising in their slapstick. The underwater fight with missiles and henchmen is fun but if you want to come out of the theatre with more to think about than flown in fluffy octopi, this is not for you.
Nonetheless Lip Service are unfailingly likeable and all those who are chomping at the bit for the infamous York Theatre Royal Panto to begin, will be mildly sedated by this comic offering.
Reviewer: Cecily Boys