Jane Eyre
Charlotte Brontë, adapted by Polly Teale
Shared Experience
Trafalgar Studios
(2006)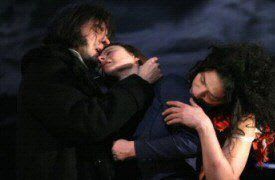 Following highly acclaimed tours of After Mrs Rochester and last year's Brontë, Polly Teale and Shared Experience return to the first play in their Brontë trilogy, Teale's own adaptation of Jane Eyre, for a month at the new Trafalgar Studios on Whitehall.
First produced over ten years ago, Teale's adaptation combines Brontë's narrative of the prototype madwoman in the attic with a modern interpretation of nineteenth century female supression and repression. Neil Warmington's sweeping staircase leading to the locked Red Room-Attic suggests both the physical and psychological worlds of the novel, while Peter Salem's haunting score played by a half-seen cellist draws on the darkness at the heart of Brontë's narrative.
Both Mrs Rochesters are on stage for the first part of the play, Monica Dolan's plain Jane being shadowed in her early childhood by Myriam Acharki's vibrant Bertha, who is eventually abandoned in the Red Room when Jane leaves for a life of drudgery and conformity at Lowood. Acharki does not leave the stage as Lowood becomes Thornfield Hall and Jane's alter ego prepares to burst back on the scene to devastating effect.
Monica Dolan plays a prickly plain Jane torn between her deep-seated sense of duty and her longing to escape the grey drudgery of Lowood. In Dolan's hands, Jane is headstrong and defensive, yet also capable - particularly in her scenes with Octavia Walters' beatific Helen Burns - of great tenderness and generosity. James Clyde's Rochester is by turns taciturn, passionate, distant and tender - every inch the man of a nineteenth century governness' fantasies. Charlotte Brontë has a lot to answer for in handing a man of such questionable qualities down as a hero for future generations. It seems that Teale agrees. Her Rochester, as played by Clyde, has an air of tragi-comic self-awareness, half mocking, half revelling in his self-wrought misery. While a sense of irony undoubtedly makes lines like Rochester's infamous "she began by felling my horse" easier to swallow, very occasionally it undermines the tension of his relationship with Jane, which, at times in this production, is heart-stopping.
The acting is uniformly strong, but, along with the leads, Octavia Walters deserves special mention for her two contrasting performances as the gentle, tragic Helen Burns and an endearingly comic yet also intelligently poignant Adele. John Lighbody also gives hilarious and touching performances as Rochester's dog(!) and St John Rivers respectively.
This is Shared Experience at their best, true to the text but breathing new life into its ideas and transforming the world of a nineteenth century novel into a vibrant and modern theatrical experience. Don't miss it!
Until 8 June 2006
Robert William reviewed this production on tour at the Cambridge Arts Theatre
Reviewer: Louise Hill