Janis Joplin: Full Tilt
Peter Arnott
Theatre Royal, Stratford East and Pachamama in association with Richard Jordan Productions
Theatre Royal, Stratford East
–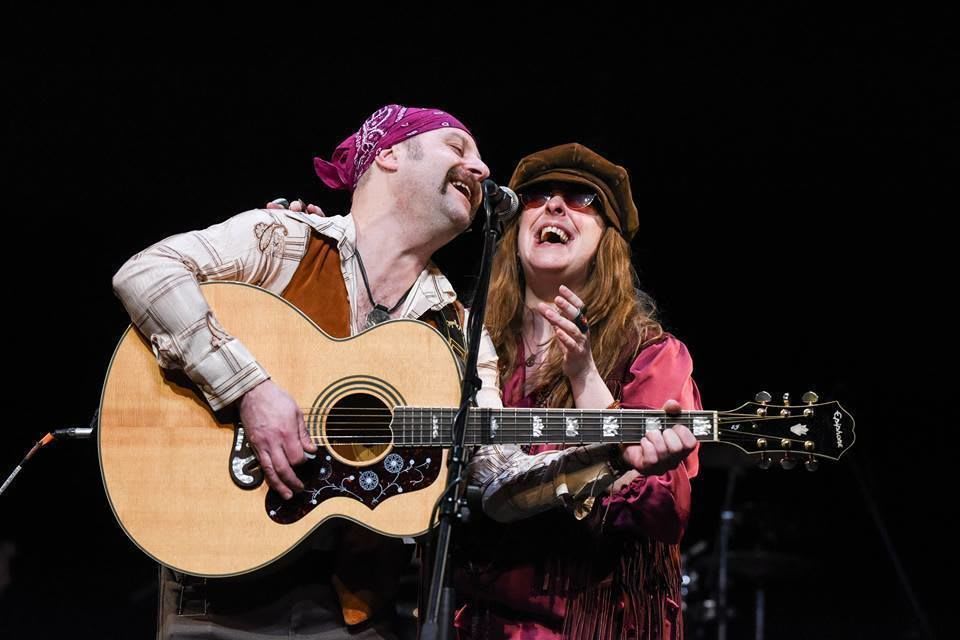 Janis Joplin: Full Tilt has had great success on tour and at two Edinburgh Festivals, where last year our reviewer said, "Angela Darcy is outstanding, giving a marvellous impression of the singer both on stage and behind the scenes,". Now Cora Bissett's production has been enlarged, redesigned and had more songs added.
Angie Darcy (whom you can see in the accompanying photographs) wowed them again at the Stratford press night but I couldn't make it. Catching up two days later she was off with a throat infection but that was no reason to be disappointed for Hannah Jarrett-Scott, who is scheduled to play some shows, was able to take over and delivered a stunning performance.
This isn't a straightforward biographical play, more a reconstructed gig with Joplin sharing things about her life with the audience both as part of the act and privately in her dressing room with a couple of brief episodes acted out.
Joplin was never really part of my musical experience so I can't comment on how closely the performance matches the original but more importantly Jarrett-Scott creates a singer you believe in as she gives glimpses into her youth as the fatty whom people called freak, who didn't fit in with Texan attitudes on colour and culture.
Discovering Bessie Smith and Billie Holliday she then found her own voice, forceful and sometimes coarse (like her language) and gravelly. Longhair is tossed about or crowned with a feather boa, shades hide her eyes and, as spotlights flash out at the audience you may wish you had brought your own.
Her Texan accent is sometimes impenetrable and when not singing the voice may be distorted when speaking to a hand mike (less so in the non gig episodes with a face mike) but it really doesn't matter when the energy coming of the stage is so powerful. This is an emotional rollercoaster, right up to her so early drug death; it's a show that is not about facts so much as feeling.
The musicians who makeup her Full Tilt band couldn't be bettered and with numbers such as "Piece of My Heart" (which gets a reprise as a finale) delivered with such power you can't help but get caught up in the emotion and the music.
Reviewer: Howard Loxton