JB Shorts 11
Dave Simpson, Mark Illis, Sarah Bagshaw, Lindsay Williams, Justin Moorhouse, Peter Kerry, James Quinn
Reallife Theatre Company
Joshua Brooks, Manchester
–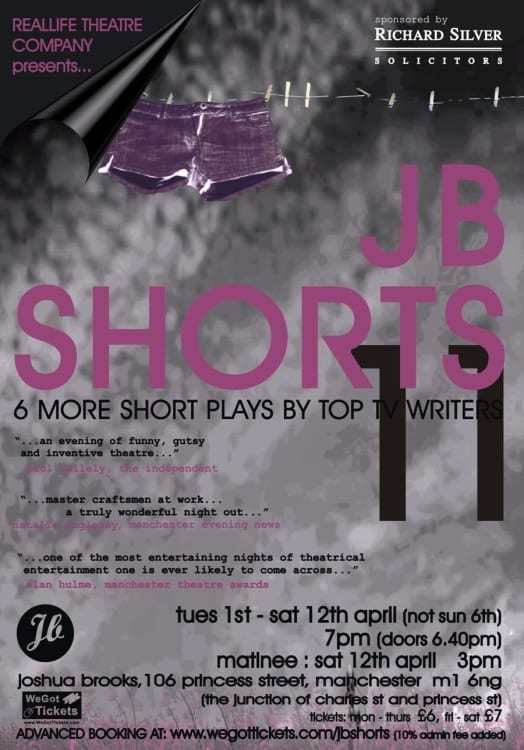 It's surely an indication of the prestige that the biannual JB Shorts evenings have achieved in the Manchester theatre community that former Library Theatre Company artistic director Chris Honer not only directed one of the pieces in the current programme but is even working behind the ticket desk.
As usual, Reallife has compiled a programme of six brand new 15-minute plays by writers with more TV and radio than theatre writing credits in their CVs.
Opening the evening is Dave Simpson with Whose Dog Is It Anyway?, directed by Lucia Cox, which takes the question of whether Neil (Andrew Pollard) loves the dog more than his wife Carol (Susan McArdle) to extremes. It's an interesting premise and, despite some contrived and laboured dialogue, has some good laughs in there, the cruder of which were appreciated by others in the audience more than me.
Mark Illis takes us into a secondary school staffroom in Break, directed by Sushil Chidasama, which sets the fifteen-minute play in a fifteen-minute break time—although Bill (Joel Parry) says, "it's not a break; it's a lull in the fighting". Bill likens teaching year nine to open warfare to fellow teacher Rose (Clare Cameron), but doesn't know that the main object of his anger, Vicky Spoon (Madeleine Troup), is hiding behind the sofa.
A revelation about a past friendship between Bill and Vicky's mother produces an awkward situation. It's a well-constructed piece that will certainly ring true to anyone who has spent any time in school staff rooms.
The first half closes with Sarah Bagshaw's I See Dead People, directed by Hannah Tyrrell-Pinder, narrated by stage psychic Samantha Lathane (Julie Hannan). Philip (Lucas Smith) is her young assistant who researches her audiences so that she can pretend to have received this information from the spirit world during her show.
She reveals that she could once genuinely see dead people but lost the ability after a tragic event. However this is the first of several twists and revelations that cleverly unfold over the fifteen minutes, mingled with some familiar tropes from ghost and horror stories, in a cleverly-constructed script. Francesca Waite stepped in for Sarah McDonald Hughes to play other parts at the reviewed performance.
The second half begins with a musical western, The Ballad of Valentino Rivas by Lindsay Williams with music by Carol Donaldson and directed by Miranda Parker, set in Mexican bandit country and with a debt to The Good, the Bad and the Ugly.
Balladeer Nicholas Coutu-Langmead plays guitar and narrates in song the story of singer Valentino (Danny Hynes) who is pressured into writing a hit song in praise of gangster boss El Jefe (Phil Perez), who has an eye on Valentino's girlfriend Sofia (Alexa Hartley), but this gets him into trouble with rival gangster La Reina (Kimberley Hart-Simpson).
The plot is a bit vague at times and there is some clichéd gangster dialogue that goes on a bit, but it is an entertaining and uplifting piece that could perhaps have made a good finale.
Comedian Justin Moorhouse makes his JB debut with Leaky Bacon directed by Rupert Hill, the title referring to a job in the bacon factory squeezing the packets to see whether they leak.
The play is about being stuck in a cycle crossing generations, as not only have Jacqueline Pilton's "Nan" and her daughter, Wendy Patterson's "Mum", both worked in the bacon factory but both are single parents hoping for something better for Gracie Kelly's "Daughter", currently struggling at university. However Daughter reveals to the audience that she has found a way out. This is a lovely piece with a killer last line.
James Quinn and Peter Kerry's A Great War, directed by Chris Honer, is really an extended comedy sketch with a frame to disguise it as a play. It imagines a modern-style 24-hour news programme set during the First World War, not an original idea but one that can still work well.
James Quinn and Victoria Brazier are in formal Edwardian dress as presenters Nicholas Beaufort-Thomas and Victoria Smythe, delivering punning tabloid headlines in early BBC accents and knowing winks to the audience referring to events that we now know happened differently. Roving reporters are played by Hannah Burton, David Crellin, Verity-May Henry and Alex Phelps.
There are some clever and funny lines in the script, but with a story to carry you through it does feel a little stretched to fill the fifteen minutes.
Another mixed evening with some very strong highlights. If you can survive the claustrophobic cellar with the too-close-together chairs—I know some who can't—then it is still a must-see on the Manchester calendar, especially at just £6 per ticket.
Reviewer: David Chadderton