JB Shorts 16
Sarah McDonald Hughes, Trevor Suthers, Dave Simpson, Justin Moorhouse, James Quinn, Aileen Quinn, Lindsay Williams, Peter Kerry
Reallife Theatre Company
53two, Manchester
–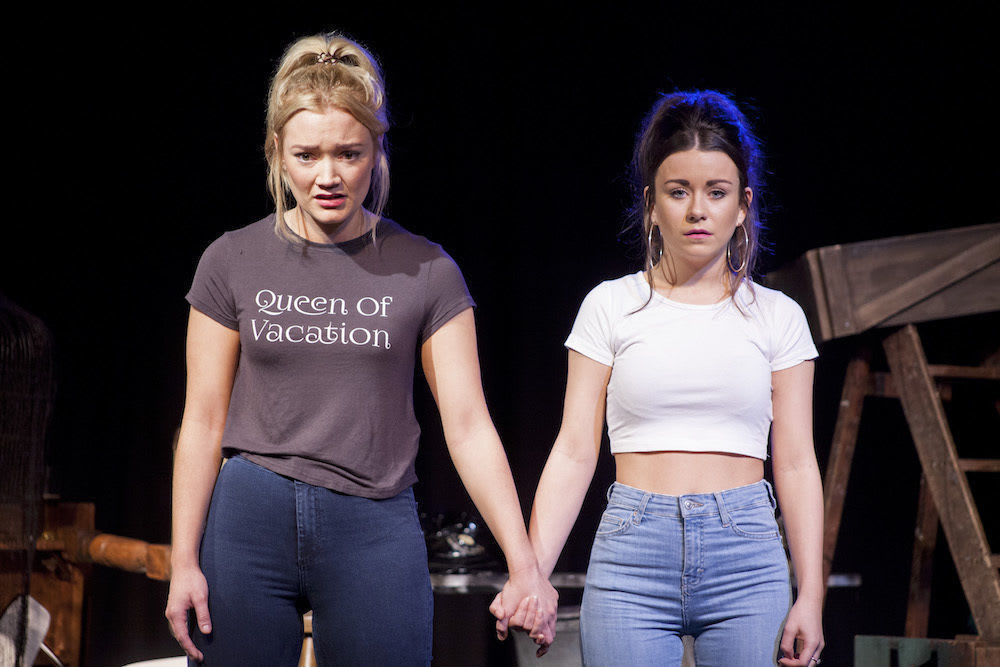 JB Shorts has moved from JB—the long-running series of evenings of short plays has moved from the cellar of its namesake, the pub Joshua Brooks, just down the road to the brand new 53two, a former Bauer Millett luxury car sales showroom that closed two years ago.
If you can find the way in (we weren't the only ones who walked around the building before we found the entrance), the beautiful Victorian brickwork of the railway arch gives a lovely backdrop to a facility that is clearly still being developed (the predominant smell in the unisex toilets is of paint). The theatre itself has a much bigger stage than Joshua Brooks could provide, which gives space to stock the props and furniture for all six plays upstage rather than having lengthy scene changes.
The basic principals of JB, however, are the same: 6 plays of around 15 minutes written by scriptwriters whose main experience is in TV. The start time has moved to 7:30PM and some of the plays have crept way over the 15-minute mark so it isn't as early a finish as it used to be, but it still provides an interesting theatrical mixture.
Sarah McDonald Hughes kicks off the evening with her play Magaluf, directed by Martin Gibbons. This two-hander follows 16-year-old friends Chloe (Amy Lythgoe) and Sinead (Hollie-Jay Bowes) on their first holiday together. Sinead likes to get drunk and get off with as many boys as possible, but Chloe is more cautious. When Sinead gets into a potentially abusive situation, it sparks a discussion about society's labelling of girls and how they are expected to behave. Despite the story being told mostly in narration, it is fast, funny and physical, but perhaps a touch too long.
Sue Jenkins directs Toil and Trouble by Trevor Suthers, a take on Macbeth in which the witches—Jenny Gregson as Granny, Maria O'Hare as Mammy and Jennifer Bray as Fanny—look like homeless women and MacMeth (Peter Ash) is a dodgy bloke from the estate. The idea is interesting, but it is largely a series of dubious one-liners shouted at the audience that didn't work at all for me.
Dave Simpson, JB's resident writer of tentative middle-aged love stories, presents In My Shoes, directed by Alyx Tole. Carol (Judy Holt) and Peter (Murray Taylor) meet to discuss their divorce after 20 years of marriage but, despite them both having new partners (Jacqueline Leonard as Linda and Sushil Chudasama as Richard), there is clearly still a lot of affection between them. Then a magical transformation happens, very well staged, which makes them see life from one another's point of view. Another interesting idea but one that needs more development to get the most from it.
After the interval, we get the brilliantly titled A Grand Malaise and a Small Cappuccino from comedian Justin Moorhouse, directed by Rupert Hill. This sparklingly witty script (you could imagine Justin speaking every line from both characters) sees Martin (Lee Toomes) trying to claim benefits for his "grand malaise" from jaded DSS worker Angela (Rosina Carbone). The interview becomes more and more unconventional, until it hits a lovely little twist at the end.
James and Aileen Quinn's Rebrand, directed by Megan Marie Griffith, aims at the fairly easy target of a PR agency for its satirical attack, but the twist here is that they (Toby Hadoke as Geoff, Danielle Henry as Stephanie and Amy Gavin as Emma) are rebranding the concept of "war" ("what is it good for?") to set up a private finance initiative for the armed forces. It's a bit shouty and could benefit from some trimming, but there are some great lines and performances.
Perhaps taking Tom Stoppard's Fifteen-Minute Hamlet as inspiration, Lindsay Williams and Peter Kerry's Wuthering Heights at Hurricaine Speed by Emily Bronte has the time brief built into its concept by having Nelle (Amy Drake) tell the whole of Brontë's story to Lockwood (Robin Simpson) before his train arrives in fifteen minutes' time. The two also fill in many different parts to go with Verity Henry's Cathy and Richard Weston's Heathcliffe. Joyce Branagh directs at breakneck speed this hilarious, superbly performed evening finale that leaves the audience breathless.
This is another mixed bag of theatrical treats, the best of which are as good as in any past JB selection, making it well worth the £7 ticket price.
Reviewer: David Chadderton