JB Shorts 18
Lindsay Williams, Jan McVerry, Dave Simpson, Diane Whitley, Trevor Suthers, Peter Kerry, James Quinn, Peter Bowker
Reallife Theatre Company
53two
–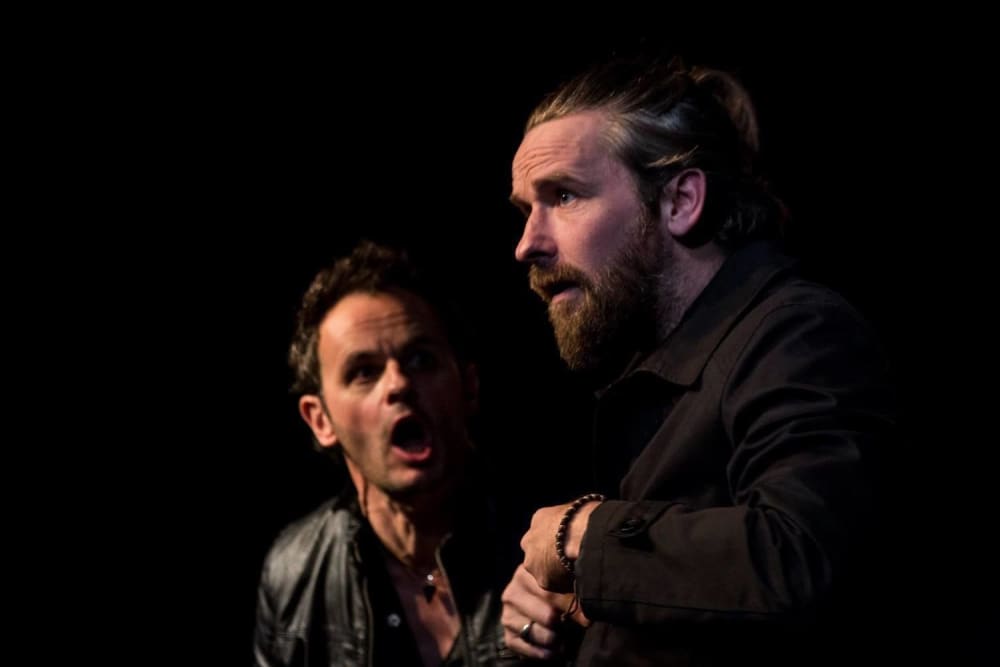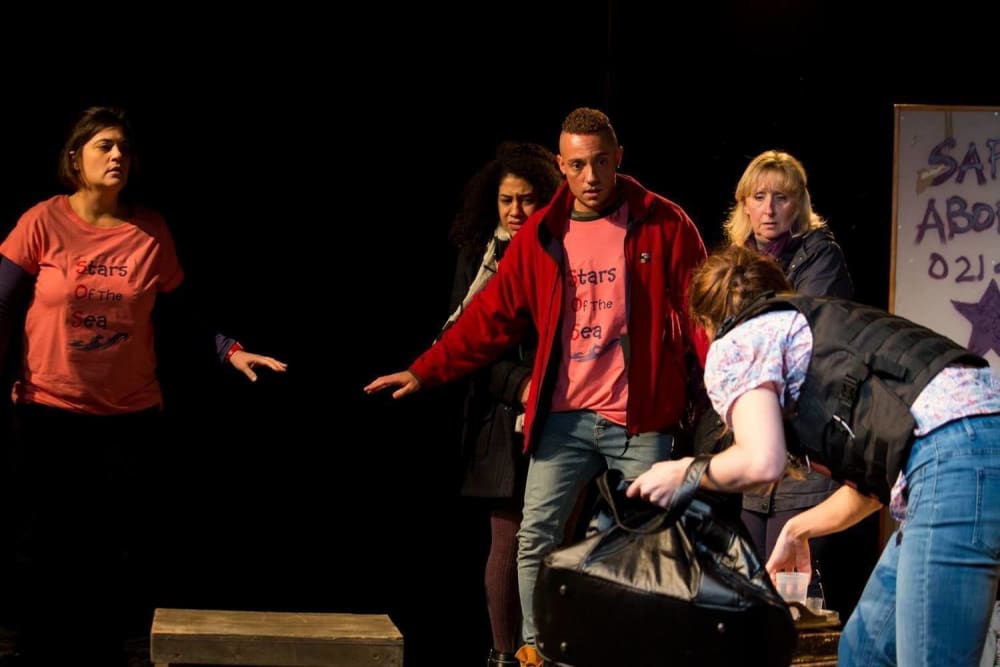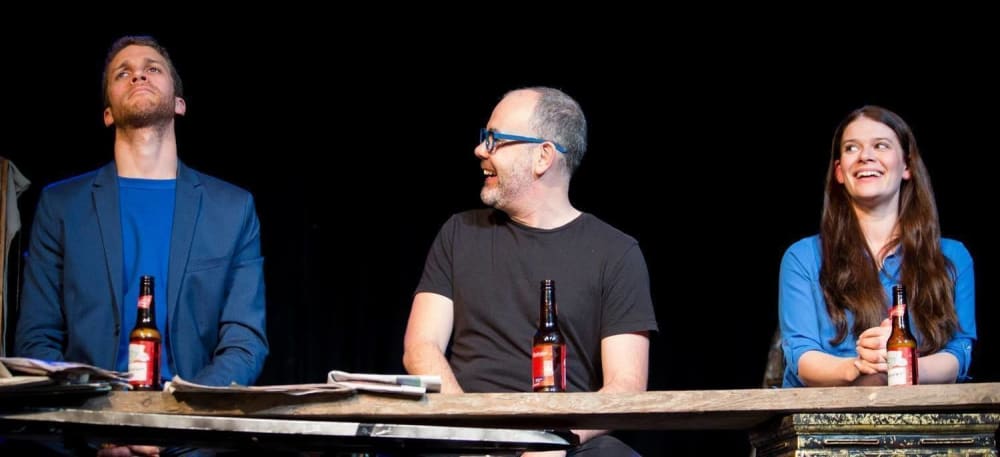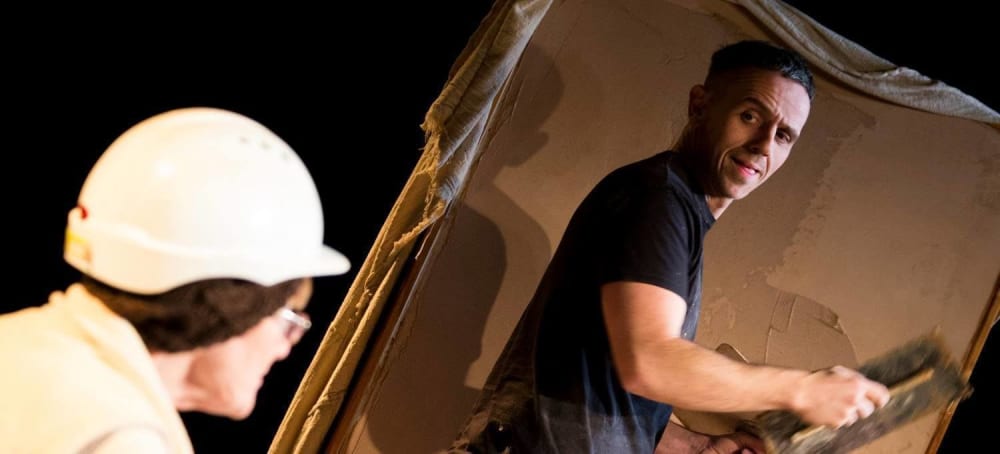 JB has come of age; now at number 18, it is still able to fill to bursting its new, larger venue with a good selection of plays assembled from talented local writers, actors and directors, some new to JB and some old hands.
As JB has developed, it seems that the original spec of 15-minute plays has been relaxed somewhat, which isn't necessarily to the benefit of the writing; there isn't a single one of these pieces that wouldn't benefit from some trimming, or at least from replacing some of the lengthier conversations with action that puts across the same information. Having said that, each short play displays some very good writing and acting and there is a universally high quality to the direction, which hasn't always been the case lately.
Lindsay Williams's Artistic Differences, directed by Mickey Jones, opens the evening on a high note (literally) with a story that starts off sounding familiar—two brothers from a Manchester band who have publicly fallen out and refuse to play together—but turns into something quite different.
It seems that the falling-out is a ploy by new manager Angie (Keeley Fitzgerald) to get a higher price for a reunion gig for Pharmacy, a band that comprises sensible brother Jez (John Mackie, making a solid stage debut) and the mad druggie brother Ash (Stephen Donald), although even those descriptions turn out to be PR fluff.
This is a strong piece to start the evening, with some moving references to an ex-colleague and well-performed songs—original music by Rupert Hill.
For Making Waves, writer Jan McVerry and director Megan Marie Griffith turn to the Irish abortion issue, setting their play on a ship bound for international waters where it will not be illegal for their scared female passengers to take pills that will end their pregnancies. They have had to wade through anti-abortion protesters to get on board, but it seems they are not safe yet.
While it does debate the issue of abortion, there isn't a great deal of depth to the arguments on either side so it doesn't bring any new insights, and it doesn't achieve the pace necessary to get the most from its melodramatic revelations.
Regular JB contributors Dave Simpson and Diane Whitley take us back to the time of my youth in Forever Eighties, directed by Sue Jenkins. A young couple (Jennifer Hulman and Peter Stone) and a middle-aged couple (Kerry Willison-Parry and Martin Wenner) are in a bar which is playing 'eighties music; it soon becomes clear that the younger couple are actually in the 'eighties, whereas the older couple are at an 'eighties-themed event (the annoyingly lively DJ is Joseph Jacobs with Prince Charming-era Adam Ant make-up). It also gradually dawns on us how the two couples are related.
It's a nice, gently romantic tale of past misunderstandings and lost opportunities, but there isn't enough meat on the bones to sustain its running time, so it feels like it is stretched a bit too thinly.
Unfortunately there were "technical difficulties" with lighting at the performance I attended so the audience was made to sit for an extra 20 minutes after being brought back from the interval while lights were flashed on them (I'm not sure what technical difficulties could justify a 40-minute interval when there are only around 15 lights and the lighting requirements are pretty basic). This gave the second half opener the task of winning over a restless audience.
This they managed to do successfully with Four Playmates by Trevor Suthers, directed by Miranda Parker, in which Peter Ash and Kimberley Hart-Simpson give great performances as children playing at being adults and trotting out phrases that adults use, to great comic effect. There is an interesting twist later on as both performers are transformed unexpectedly. Both parts of the piece run for too long and start to lull, but the whole thing is performed flawlessly.
Another piece that is a great idea taken past its effective length is Just Sayin' by Peter Kerry and James Quinn, directed by Martin Gibbons. Sat along a bar with bottles of Budweiser are Dom (Lee Toomes), Penny (Hannah Ellis Ryan), Ed (Greg Kelly) and Cat (Victoria Oxley). They chat, but in the way people converse on social media and not in real life, complete with spoken emoticons, hashtags and emoji.
Penny later has a lengthy rant about the toxicity of social media and how she is going to leave—but will she? It's a great idea with some very funny and well-observed lines, but there isn't enough variety to sustain it for fifteen minutes.
The evening ends with Flotsam and Gypsum by Peter Bowker, directed by Chris Lawson, which even includes live plastering. Plasterer Paul (William Fox) is helping his mate Steve out with some refurbishment work on his mum Florence's (Val Tagger) house, but she has dementia and sometimes thinks Paul is Steve, or even her late husband. As they converse, we learn that Steve isn't that nice a person—and Paul learns some things that he would rather not know.
This piece is both very funny and moving in equal measure with two lovely performances, especially from Fox. There are times when the plot stops for a series of admittedly funny lines and the actors struggle a bit to get back on track convincingly—some ruthless cutting for plot rather than gag count could make a big difference—but overall this is a lovely little piece where the writing and the performances come together perfectly.
So another great value evening from JB with a nice variety of subjects, funny and serious, and an impressive display of local talent.
Reviewer: David Chadderton