Jeeves & Wooster In Perfect Nonsense
From the works of P G Wodehouse, by the Goodale Brothers
Theatre By The Lake, Keswick
–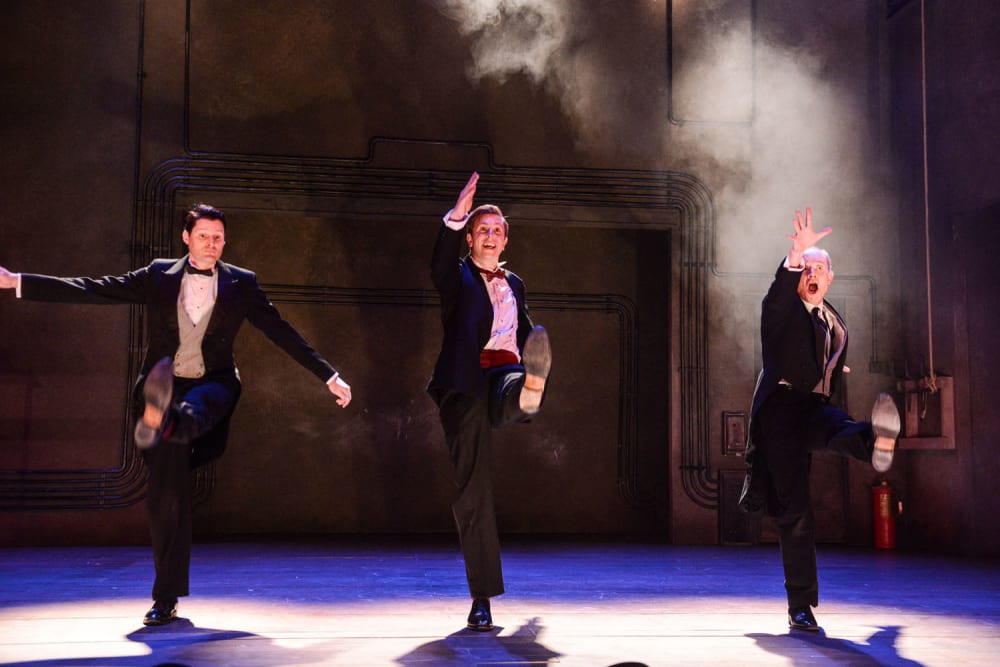 Fitting 10 actors, into five productions, that rotate over a five-month season, sort of makes—for instance—reorganising a bank computer system, or a national rail timetable, seem simple by comparison!
And when the first of these plays asks two of its performers to play nearly 10 characters between them, then systems might crash and everything come off the rails...
But then courting, and defeating, disaster is always demanded of P G Wodehouse's Jeeves and Wooster characters, and in this riotous but affectionate send-up they tread even closer to calamity. The plot no so much thickens, as well-to-do thickos get lost in the plot!
The conceit of writers Robert and David Goodale is that in re-creating a story concerning a Silver Cow Creamer, Wooster (Thomas Richardson) recruits trusted manservant Jeeves (Theo Fraser Steele) and fellow retainer Seppings (James Duke) to act out all the other characters. What could possibly go wrong?
The answer is one of those quick-change farces that are back in vogue for '30s period literature.
It's double-barrelled fun from start to finish, especially if you just concentrate on the physical humour, full of quickfire costume changes, or scenery and stage effects that the hapless cast also have to engineer.
It doesn't all quite run on castors just yet, and amidst all the abundant comedy turmoil the story does tend to get swamped by the slapstick. The hard-working trio just need to relax into it all, and feed off the audience reaction, to find even more laughs amidst the stage anarchy.
Colin Falconer's stage design, with all its in-built trickery, would not disgrace a West End production and Philip Wilson's direction generally achieves that delicate balancing act demanded of keeping farce rooted in some kind of reality.
Reviewer: David Upton