Jefferson's Garden
Timberlake Wertenbaker
Watford Palace Theatre
–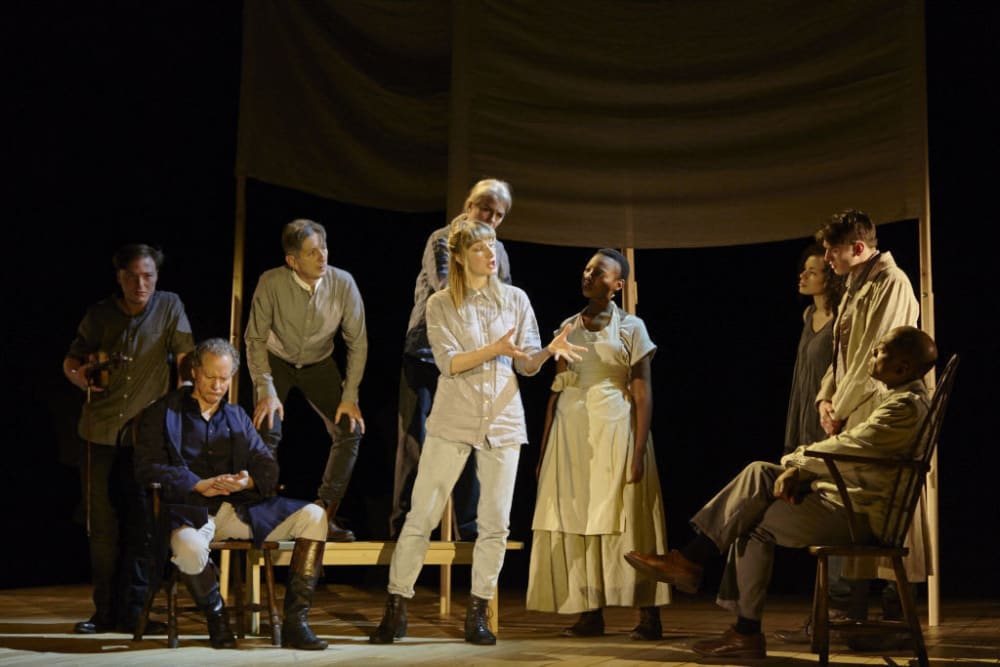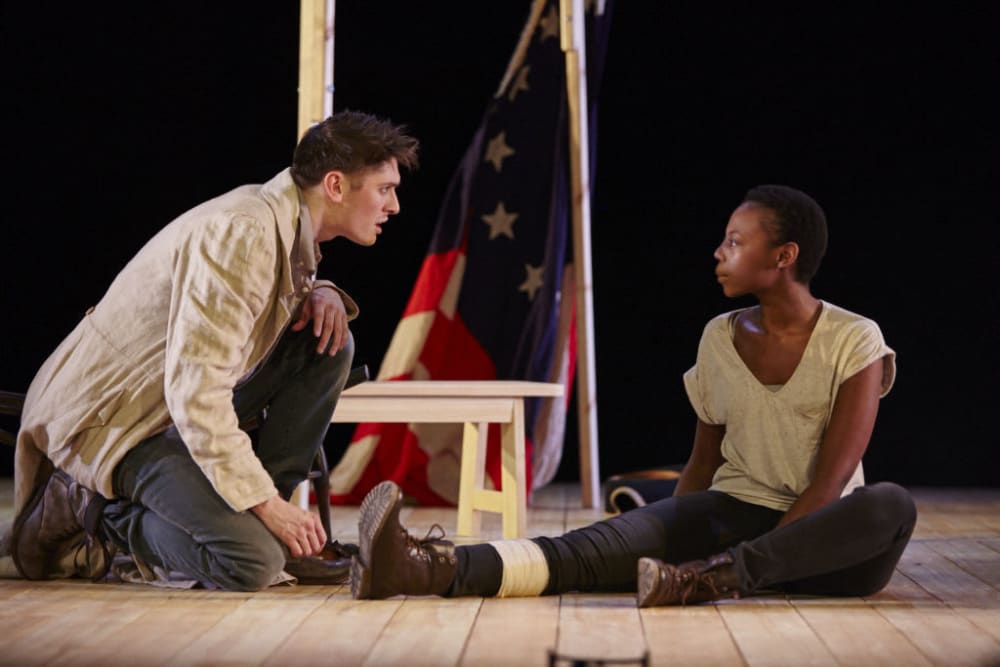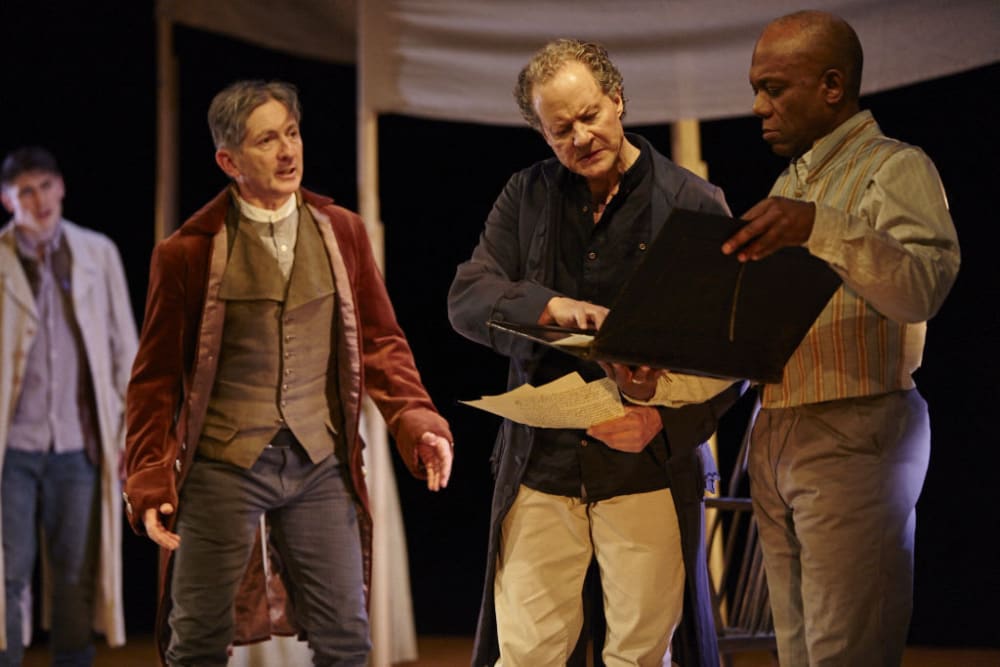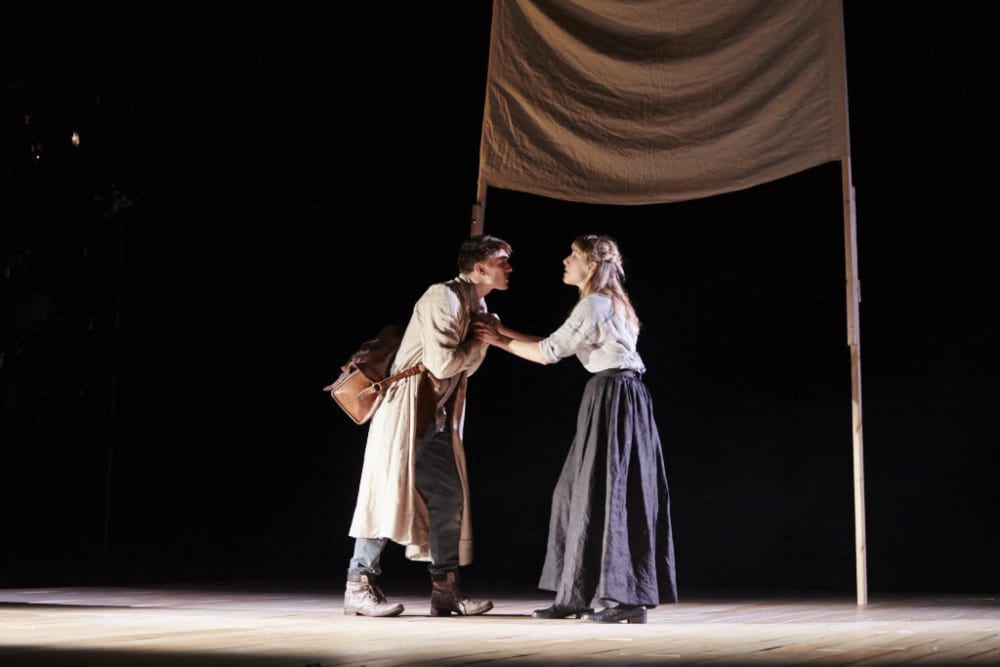 This is a fragmented, fascinating play that takes on the American Revolution, the fight for independence and the writing of the American Constitution.
At its heart is Thomas Jefferson and his pronouncements that "all men are created equal and independent" and derive "inherent and inalienable rights, and these are the preservation of liberty," though not all those words managed to make it into the new nation's final document.
It is a play about liberty and the fight for freedom. Brigid Larmour's production uses the freedom of theatre to enable nine actors and an almost bare stage to take us from the deck of a ship mid-Atlantic to a Maryland homestead, a tavern in Virginia, the British Parliament, the Jefferson plantation at Monticello, the battlefields of the conflict and the deliberations of the founding fathers.
Facing us as a chorus, they call on Clio, muse of history (her name means I call), to help as they ask us "to be gender-blind, colour-blind, age-blind, shape-blind, but in all other ways perceptive."
And so they become famous figures from history and less or unknown ones: a German revolutionary escaping to America who falls in with a Quaker family and joins them, at Meeting, remembering the quietude of the heart; his son Christian fired by what he has read of Rousseau and hears of Jefferson; Harry, a Redcoat soldier in the British Army, Nelly Rose, grand southern lady; Susannah a black slave servant and James Jefferson's valued house slave.
Quaker pacifism has to confront revolutionary slaughter, idealism face pragmatic politics, freedom and liberty compromised. This play takes us into Clio's kitchen where those recipes for Freedom and Liberty got altered.
Wertenbaker shows us the good intentions and the failures of that great American achievement but it never feels like a history lesson. Its bold theatricality adds to its energy and she gives makes this a personal as well as a political story both in that of young Quaker shoemaker Christian and his love for Susannah, the aspirations of James and the situation of Jefferson himself.
David Burnett is charmingly idealistic as Christian, his good looks making his errors the more disappointing. Mimi Ndiweni gives great personality to Susannah, particularly moving when, captured as a slave recruit n the British side, she sings of freedom and Burt Caesar captures the intelligence, sophistication and wry humour of James.
William Hope as Jefferson is a man who believes in all the right things but when this caring private individual makes different pragmatic choices it seems perfectly in character, however disappointing. He also plays German Carl Christian, so different you don't realise it's a double.
Gregory Dudgeon is Quaker patriarch Daniel and anti-federalist George Mason, who wants to limit slavery, and a French diplomat. Julia St John is both the influential and amusingly self-important Nelly Rose, related to Jefferson, and Martha, wife to Daniel; Anna Tierney plays Martha's daughter Louisa, who marries Carl Christian and then as their daughter Imogen, blends resolution with gentleness and Carlyss Peer is both Monticello slave Sally and very funny as Betty, Jefferson's ghastly niece.
It is a strong cast both singly and working together as they form a chorus or sweep across the stage with flags and banners. It may be a simple, straightforward staging but James Button's design, Prema Mehta's lighting and the flow of performance make it look so rich as a stage full of scenery. In the same way this look at American history is full of interesting and illuminating detail.
The play seems to end in the beautifully planted grounds of Monticello, Jefferson's garden with its peace and perspectives, but a garden that has become a trap for the compromising Christian. But there is more: a reminder of the next bloody war against slavery and of fighting for freedom everywhere with cries in Egyptian, Greek, a song in Basque and then a final ironic coda between James and Christian.
It makes an ending but the struggle for freedom, for liberty still goes on.
Reviewer: Howard Loxton