Jekyll and Hyde
Robert Louis Stevenson, adapted by Neil Bartlett
Derby Theatre and Queen's Theatre Hornchurch
Derby Theatre
–

Listing details and ticket info...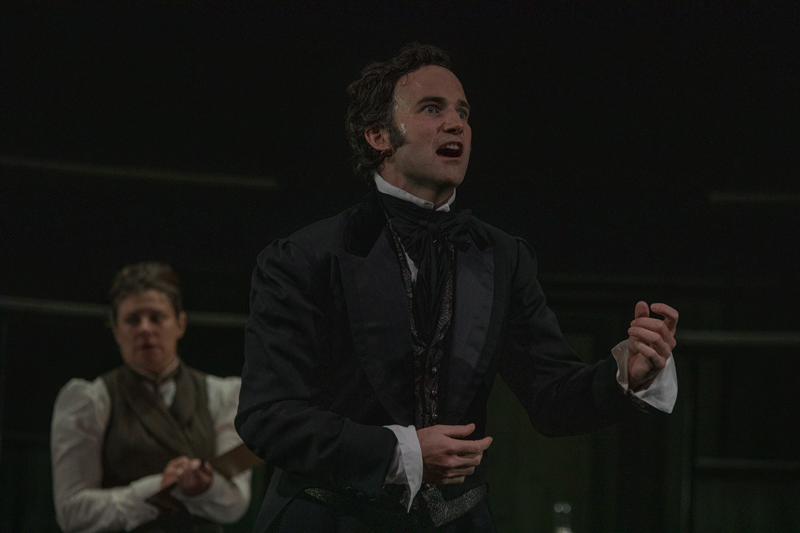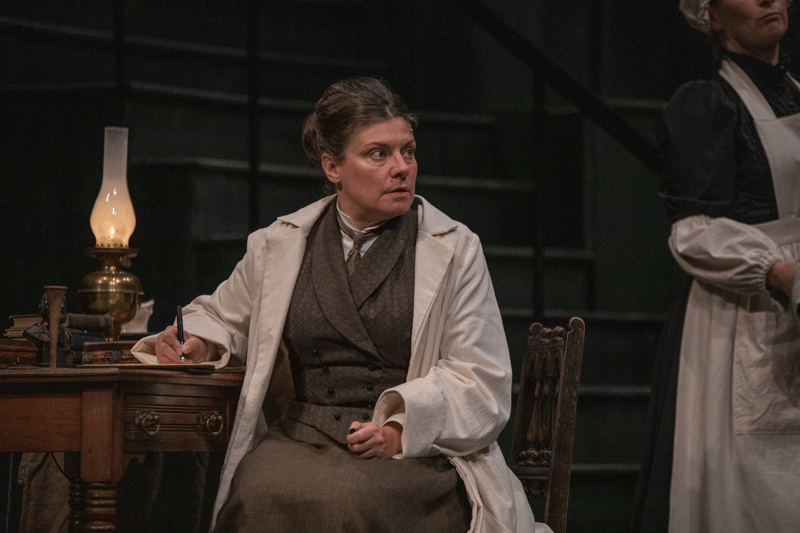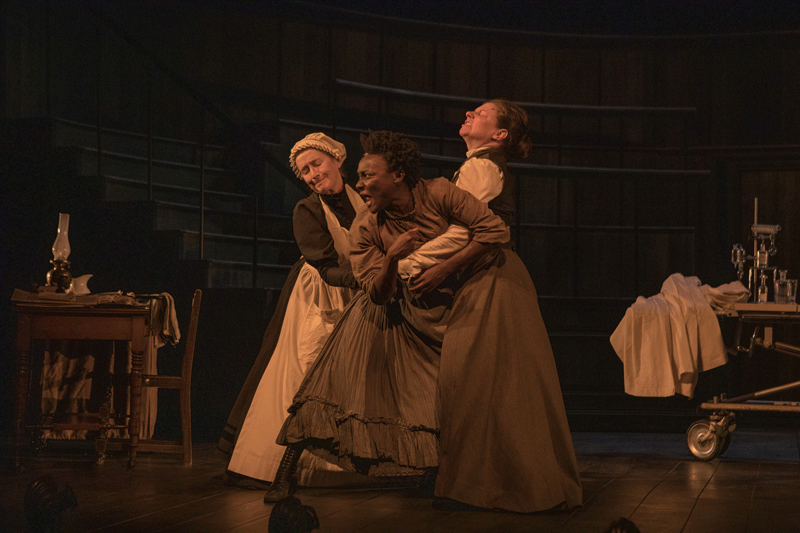 There is little doubt that Robert Louis Stevenson's gothic horror novella The Strange Case of Dr Jekyll and Mr Hyde, with its themes of male dominance and privilege, does not sit well in 2022. The only women in the story are a girl who is trampled by Hyde and never speaks as well as a couple of housemaids whose contribution is almost irrelevant.
So when Sarah Brigham, artistic director of Derby Theatre, approached Neil Bartlett to take a fresh look at Jekyll and Hyde, he leapt at the invitation. Brigham had been impressed with the way he had adapted Dickens's Great Expectations for Derby Theatre in 2017.
One of the first challenges Bartlett tackled was writing parts for women. He introduces a new character, Dr Stevenson, the first woman employed by a London hospital who makes it her mission to find out the true relationship between Dr Henry Jekyll and Edward Hyde.
Polly Lister played Miss Havisham in the theatre's production of Great Expectations as a "ranting matriarch". Here she is impressive as the doctor, resolutely ploughing on with trying to uncover the truth despite a number of Jekyll's friends closing ranks because Jekyll is a respected member of society.
Making her professional debut, Tife Kusoro relishes in the role of Tilly, the girl who is knocked over by Hyde and has to suffer contempt from the men who refuse to believe her. Her anger and frustration at their disrespect is commendable. Hilary Greatorex also shines as Jekyll's housekeeper Mrs Poole.
The star of the show though is Nicholas Shaw. He gives a mesmerising performance in the title role, convincing as the dapper medic who is a pillar of society yet showing a huge sense of power and enjoyment from being able to metamorphose into his alter ego.
Shaw adopts a different walk as Hyde, the remorseless murderer with a maniacal laugh who has no hesitation in committing evil. Yet the audience feels sympathy for the way Shaw portrays Jekyll as a trailblazer, eager for the advancement of science, who suffers excruciating pain when swallowing the potion that turns him into Hyde.
Brigham shows why she enjoys directing classics by initiating some excellent touches. Jekyll and Hyde is an ensemble show, with Charlie Buckland, James Morrell, Craig Painting and Levi Payne as Jekyll's friends showing their misogynistic traits as they defend the good doctor's honour before writhing across the stage, mirroring Jekyll's disturbing transformation.
It is a clever interpretation, the men demonstrating that anyone can succumb to temptation as the evil that lurks within them fuels a thirst for pleasure and overcomes the initial torment.
Jessica Curtis has designed a set which resembles a Victorian operating theatre yet is flexible enough to turn into Jekyll's home as well as dark, foreboding streets, subtly lit by Simeon Miller.
Robert Louis Stevenson's work is on the GCSE syllabus, so this adaptation of Jekyll and Hyde is timely. Brigham's production is eerily sinister, it retains some of Stevenson's classic lines and the addition of the female characters ensures that the play speaks to a contemporary audience. It admirably succeeds on a number of levels.
Reviewer: Steve Orme