Jericho
Devised by the company & writer Dylan Coburn Gray
MALAPROP Theatre
Underbelly, Cowgate
–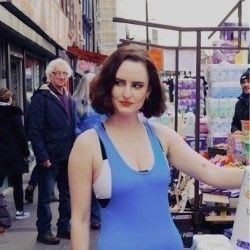 What exactly is wrestling? What is the point of it? Should grown adults really be taking the campy overblown storylines seriously? And when you're faced with writing an article about it, where would you even start?
The basic premise, such as it is, in MALAPROP's devised and somewhat meta play concerns a young Irish journalist faced with these questions after being tasked with writing a piece on the topic. In between watching WWE videos, reading the Wikipedia entries on the subject and waxing abstractly at the audience about the strange quirks of the pantomime that is WWE, she chats with her mum over Whatsapp and listens to her flatmate record ASMR videos for his YouTube channel.
All of which is performed in a strange sort of neo-Brechtian manner, taking asides from the concepts to delve into topics such as politics, fake news, arguing on Twitter, and the Irish referendum on abortion.
It's certainly not a bad performance and Maeve O'Mahony manages to drag the audience through this strange journey with many a chuckle. It's also somewhat thought-provoking, but at the same time lacks cohesion and feels like a bucket full of ideas thrown at the wall, and then linked together in a somewhat contrived fashion. Flimsy and facile, but still fun.
Reviewer: Graeme Strachan