Jesus Christ Superstar
Lyrics by Tim Rice, Music by Andrew Lloyd Webber
William Village and Timothy Sheader for Regent's Park Theatre Ltd
Barbican Centre
–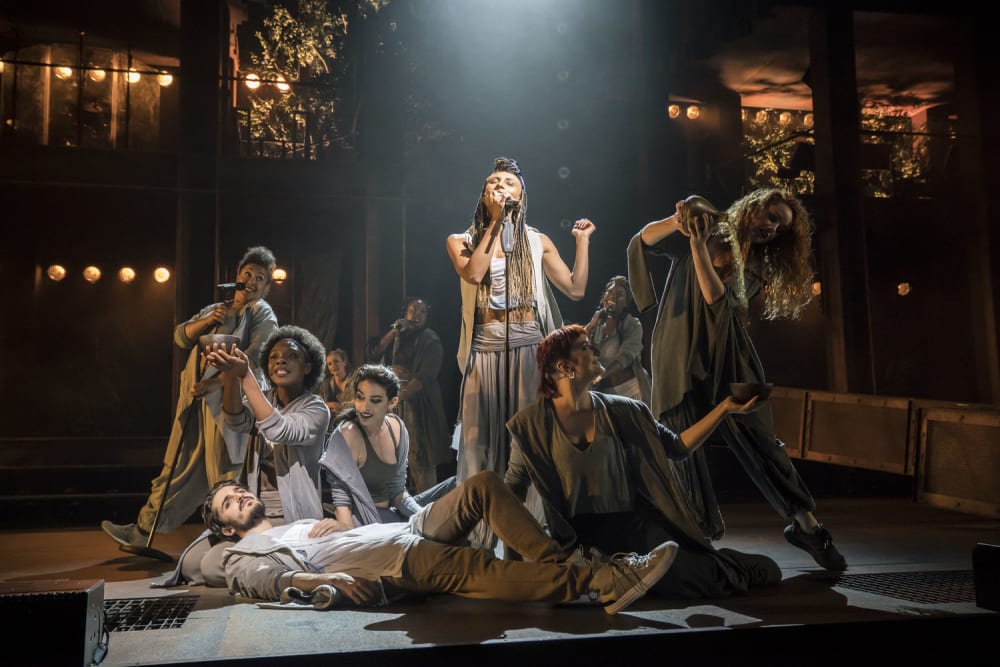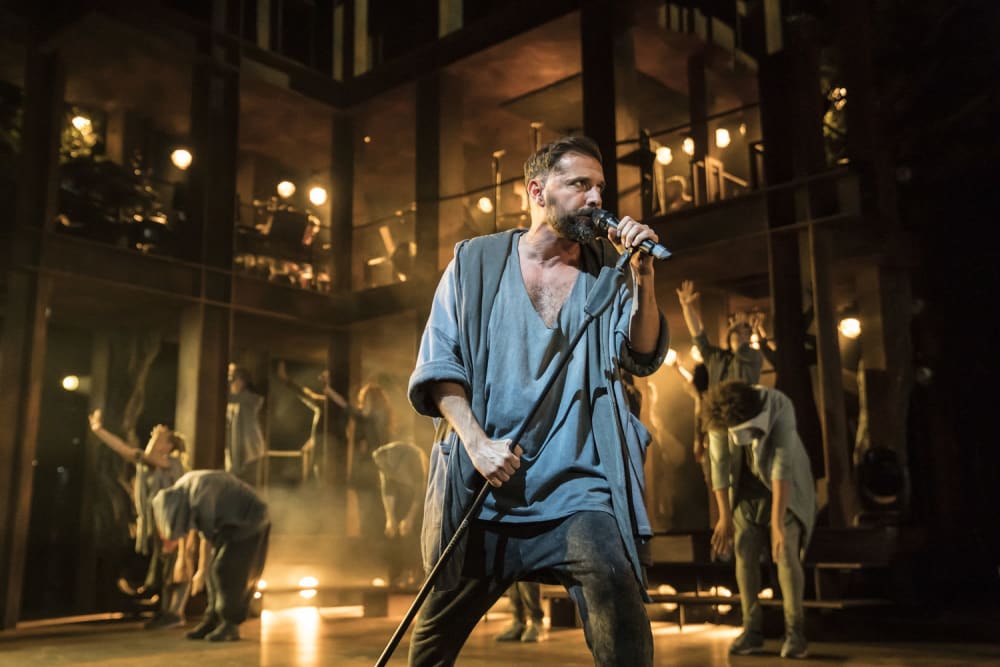 Jesus Christ Superstar, an imaginative representation of the last week of Christ's life, caused controversy when first performed in the early 1970s. Timothy Sheader's revival transfers from Regent's Park Open Air Theatre with great credentials, having garnered both Olivier and Evening Standard awards.
While music and lyrics by Andrew Lloyd Webber and Tim Rice respectively remain like a familiar piece of fabric on which we can rely, some threads of new embroidery here bring a 21st century feel that is welcome, assisted by costume (hoods, loose fabrics) of muted colours that allow a seemingly ordinary man caught up in extraordinary circumstances to blend into a crowd that initially believes him to be superhuman.
The use of handheld microphones by the leads takes a little getting used to but heightens a sense of individual testimony, as if each were pleading their case at Speaker's Corner, while occasional onstage instrumentation brings a city-feel of buskers and minstrels playing on the spot and spreading the word.
The musical is short (one hour fifty-five minutes with interval) but perfectly balanced, with part one's rising ending on betrayal and part two's fall and crucifixion. Three songs well-known independently ("I don't know how to love him", "Gethsemane" and "Superstar") regain their purpose and emotive relevance when placed within this largely through-sung piece.
Robert Tripolino presents a delicately-framed Jesus and has vocal tools that convey emotion's light and shade. Ricardo Alonso's Judas earned rapturous applause. Both men have the range to handle Andrew Lloyd Webber's widely undulating and challenging score.
Sallay Garnett's initially low-key Mary develops into a performance of quiet delicacy with her rendition of "I don't know how to love him" seeming new again; listening to her voice feels akin to bathing one's face in cool clear water. Cavin Cornwall's deep-voiced Caiaphas and Nathan Amzi's Annas make a powerful duo, while Matt Cardle brings a sympathetic note to Pilate, and we have a scream of a Herod in Samuel Buttery's golden camp personation. Fine ensemble singing is aided by Drew Mconie's expressive choreography.
The Barbican's wide stage can be unforgiving but here production and setting seem made to measure with every corner put to good use. Having the orchestra on stage elevated left and right permits the spotlight to fall on Neil Brock's fine guitar solo on the lead-in to Judas's betrayal ("Damned for all time"). Here too, Judas's receipt of silver is depicted in a new and clever way.
Lee Curran's imaginative use of lighting is particularly effective in tandem with Tom Scutt's staging where glitter (light-tinged) conveys both beauty and mankind's ability to inflict pain. The creation of a tableau at the Last Supper is an inspired piece of stagecraft.
Some minor attention is needed for diction on group numbers where Tim Rice's lyrics explain the crowd's turn from love / desire to hate / derision. Otherwise, this is a must-see production that highlights a modern relevance in our own time where instant stardom often courts rapid decline, and where social media can make or break us.
Reviewer: Anita-Marguerite Butler