Jesus Christ Superstar
Music by Andrew Lloyd Webber, lyrics by Tim Rice
Bill Kenwright
Palace Theatre, Manchester
–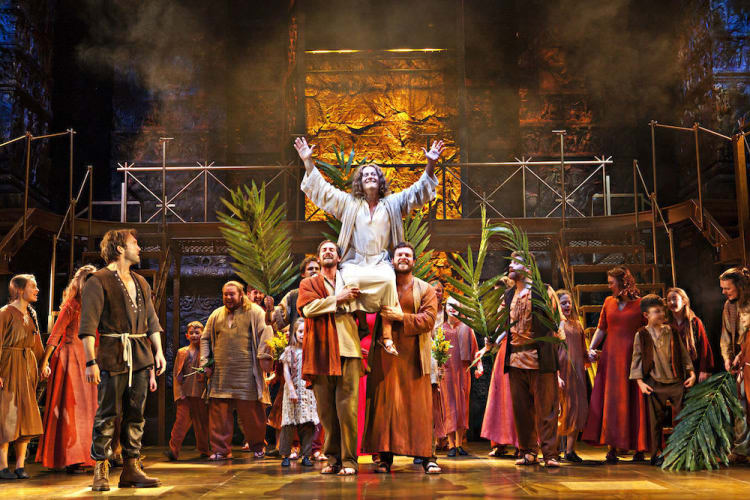 The middle of the famous Rice and Lloyd Webber trio of successful musicals, and the second to base its libretto on the Bible, has been given a really top quality revival by Bill Kenwright, who co-directs a first class cast with Bob Tomson.
After the duo's Joseph took off from being a one-off school concert into a smash hit show, this story of the last days in the life of Jesus was initially created as a concept album with a cast of well-known rock singers, including Ian Gillan as Jesus. Lloyd Webber's soaring rock score still stands up more than forty years later.
Rice's lyrics work well when he is being witty and quirky, such as in "Herod's Song", but his serious songs often come across as rather simplistic and banal with rhymes you can see coming a mile off. The roots in a concept album are still evident in a show that looks like a series of disjointed songs rather than a through-sung, connected narrative.
This revival looks stunning, especially for a touring show, combining Paul Farnsworth's set of carved stone, platforms and a huge crown / halo floating in mid-air with Nick Richings's lighting and Tomson and Kenwright's direction into a series of tableau-like scenes that each looks like a Michelangelo painting.
Glenn Carter has been playing the part of Jesus for the best part of two decades, and his experience and comfort in the role shows in an assured performance, even though he is obviously much older than Jesus ever became and his rock screams are now slightly hesitant falsetto.
Tim Rogers is a passionate if rather chaotic Judas, not helped by his vocals drowning out the music that he's singing against, but the character becomes more focussed in the second half. X Factor superstar Rhydian Roberts was replaced as Pontius Pilate on press night by his understudy Johnathan Tweedie, who certainly made a decent job of the part. Another X Factor finalist, Rachel Adedeji, was a bit laboured in her songs as Mary Magdelene, but she does have all the slow, dreary numbers.
There are other notable performances from Cavin Cornwall as Caiaphas, with a bass voice so deep it makes your liver vibrate, and Tom Gilling as a camp King Herod whose palace looks rather like a gay bathhouse.
Overall, it's still a concept album put on stage and the crucifixion scene goes on a bit, but there are some great songs in the show and this very impressive touring production is certainly worth seeing.
Reviewer: David Chadderton