Jesus Christ Superstar
Tim Rice and Andrew Lloyd Webber
David Ian for Crossroads Live and Work Light Productions with Nederlander Producing Co and Michael Watt
The Lyric, Theatre Royal Plymouth
–

Listing details and ticket info...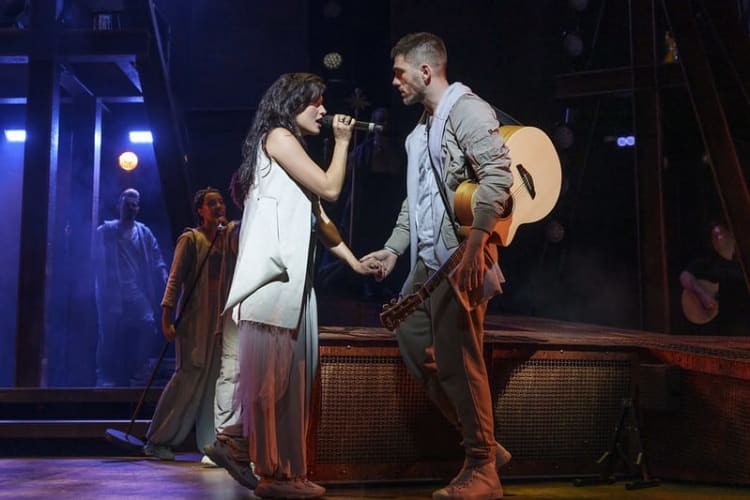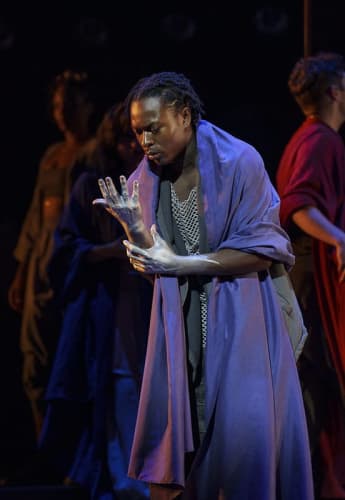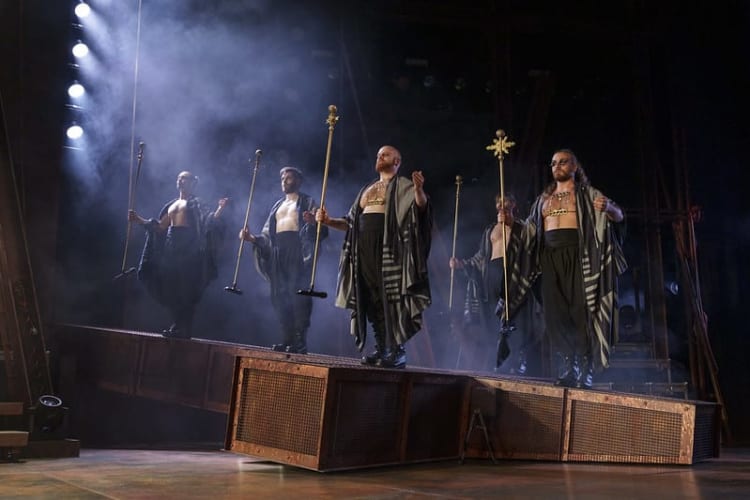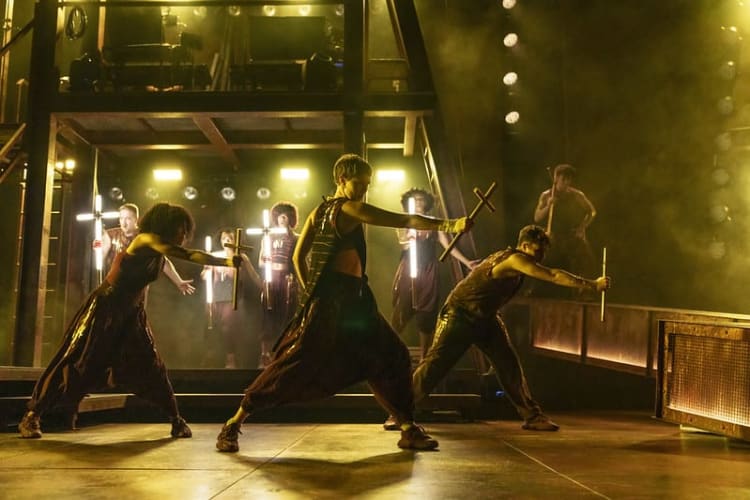 Dark, brooding, industrial and pacy, this 2017 Best Musical Revival Olivier Award-winner is altogether different to the light, bright and colourful 1970s controversial original rock opera.
Tom Scutt's design dominates with cruciforms to be glimpsed everywhere, not least a huge metal fallen cross which acts as catwalk, table, seating and stage. Lee Curran's lighting spotlights the crosses amongst the scaffolding and rough-hewn wood and casts sinister shadows to add menace and subterfuge. Soft golden ambience depicts the spiritual, while glaring blue-white shafts herald the oppressors.
Reportedly inspired by Dylan's "With God On Our Side" and based on the Gospels' account of the final week in the life of Jesus, Andrew Lloyd Webber and Tim Rice couldn't get any backing for their 1960s stage vision. Released first as an album, banned by the BBC as being "sacrilegious", its success—having sold over seven million copies worldwide—secured the musical which boasts a clutch of Tonys, Drama Desk Theatre Work, Evening Standard and Olivier Awards. In 2016, Regent's Park Open Air Theatre staged a revival to celebrate 45 years since the musical's Broadway debut and that now tours well into 2024.
Guitar-toting, hoodie-wearing Jesus (Olivier-nominated Ian McIntosh) channels a veritable superstar drowning in clamouring fans, amps, cables and expectations (and ultimately crucified on a microphone stand). Baseball-capped Mcintosh is charismatic, believable and his "Gethsemane" superb. Hannah Richardson is a gentle Mary whose sweet but powerful vocals are a balm to the increasing frenzy and clamour particularly in the iconic "I Don't Know How To Love Him".
A leather-clad and booted Ryan O'Donnell, with black Roman eagle tattooed on his bared chest, is a vexed Pilate whose solo "Pilate's Dream" is beautifully poignant, but Judas's (Shem Omari James) voice is rather too thin and at times screechy to relay the inner turmoil and justification for his actions.
Jad Habchi (Caiaphas) and Matt Bateman (Annas), resplendent in black and gold, stamp their authority with "This Jesus Must Die" and those chilling bass notes, while Timo Tatzber dons gold lamé, sequins and leather boots to strut into the flamboyant Frank-N-Furter-esque role of Herod, earlier played by Julian Clary.
With guitars played by the cast on stage, the band sits high above the action faultlessly providing more guitars, woodwind, brass and drums under the direction of Michael Riley. Tremendous.
But. Drew McOnie's acclaimed choreography is divisive, and I am not a fan. A slick and almost cohesive ensemble constantly jerks and thrusts with over-exaggerated, odd gestures; the Pharisees belie their gravitas with camp Motown moves, while a dynamic and ubiquitous Megan Bryony G dashes on and off in various guises to repeatedly shimmy, shudder and gyrate.
Timothy Sheader's direction adds da Vinci Last Supper posturing, glitter and silver paint as the relentless race to the inevitable end brings the full production in at under two hours inclusive of interval. Interesting.
Reviewer: Karen Bussell