Jesus Hopped the 'A' Train
Stephen Adly Guirgis
Elysium Theatre Company
HOME Manchester
–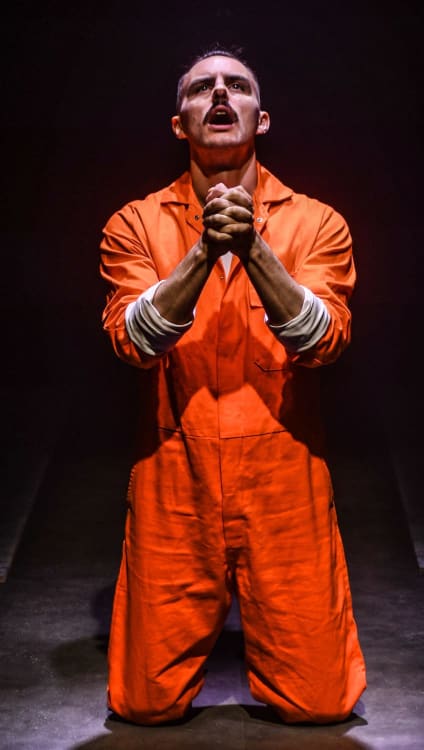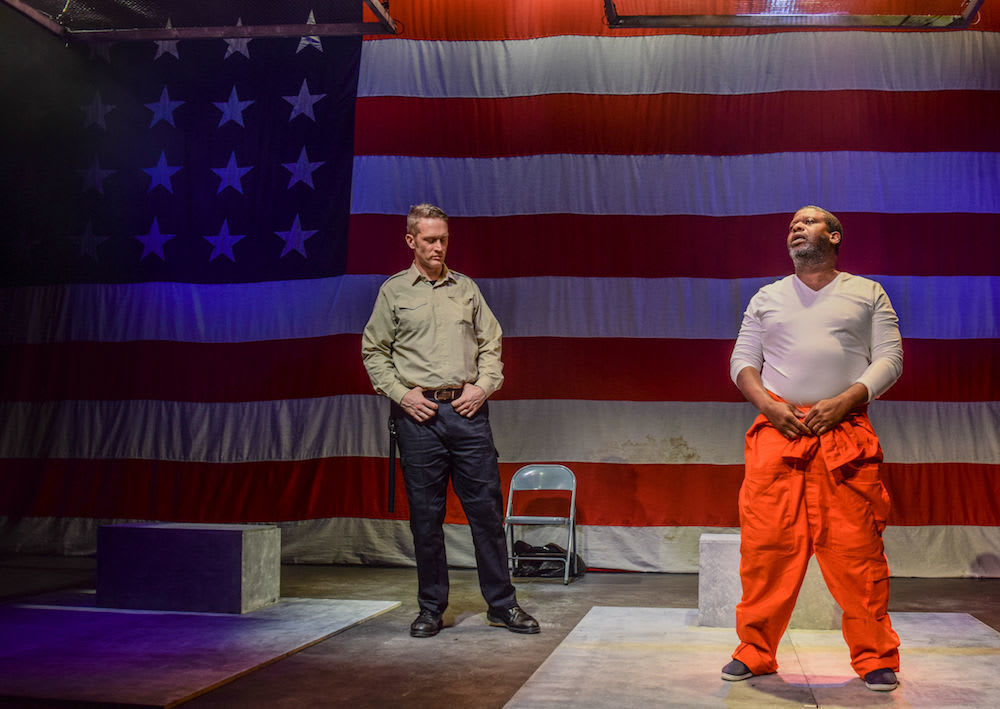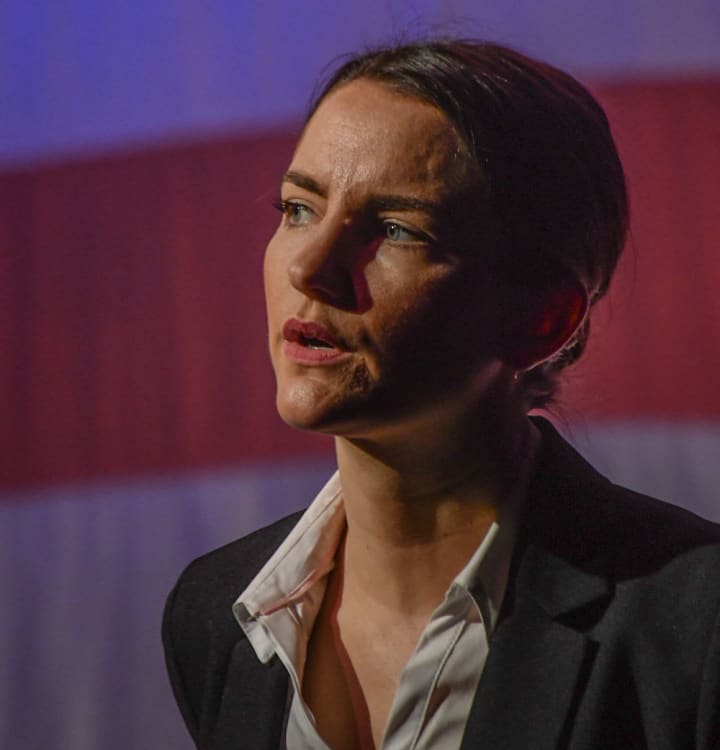 HOME is currently home to the works of two Pulitzer Prize-winning playwrights, with Long Day's Journey Into Night in Theatre 1, which earned O'Neill his fourth Pulitzer posthumously, and this work from nearly half a century later in Theatre 2 (Guirgis's Prize didn't come till 2015 for Between Riverside and Crazy).
Set in a New York 'correctional centre'—there is no evidence of any 'correcting', just long-term incarceration—Angel Cruz (Danny Solomon) has been charged with attempted murder. During a stream of abuse directed at Mary Jane Hanrahan (Alice Bryony Frankham), the lawyer appointed to defend him, he blurts out, "all I did was shot him in the ass." Ethically, she is no longer able to defend him from a charge to which he has just confessed, but she decides to put her career on the line because he reminds him of her father.
His story is that he was rescuing his lifelong friend Joey from a religious cult that brainwashed people and milked them of their possessions (he bravely compares them with the litigation-conscious Scientologists). His victim, Reverend Kim, was the leader of the cult who claimed he was the son of God, but, Angel claims, if Jesus did come back to Earth he probably wouldn't drive a Lexus. When the Reverend Kim dies, the charge becomes first-degree murder.
After being physically and sexually abused in prison, Angel is isolated from the other prisoners, spending 23 hours in his cell and just an hour in the open air in a cage, where he meets fellow prisoner Lucius Jenkins (Faz Singhateh). Lucius seems like a nice guy who tries to help Angel to open up after his abuse, but he is a multiple murderer who will still describe killing his victims, including a child, with some relish. However since he came into prison, Lucius has 'found God', so comforts himself that he has now found peace with God and that what he has done is all part of God's plan.
Angel's relationship with God is rather more complicated: he struggles to remember his prayers but still says them every night, and direct challenges from Lucius about whether he doesn't believe in God or that God has a plan are met with the ambiguous response, "I ain't saying that." Later on, some of the theological arguments get stuck in a bit of a loop, with the multiple murderer who would batter to death the pizza delivery boy because he left the door open much more comfortable in his relationship with God and morality than the man who was rescuing his friend from an abusive cult leader.
Jake Murray's production, designed by Louis Price, looks good in front of a huge US flag with the two concrete platforms for the prisoners in front. Solomon is superb as Angel, communicating his tortured mind and morality vividly. Frankham also is totally convincing as the lawyer with a talent and a mission, even where her motivations as described in the script aren't entirely convincing.
Singhateh gives a mostly powerful and convincing performance as Lucius, but there are moments in his massive speeches—some must be several pages long—which are a bit flat. The cast is completed by the two guards: the one who is too nice to prisoners to keep his job—Garth Williams as Charlie D'Amico—and the one who relishes verbally torturing his charges—Alastair Gillies as Valdez (think of Mr Barraclough and Mr Mackay in Porridge taken to extremes).
While the production has many highlights, and no shortage of humour, there is a slight unevenness that makes it look to me like it would have benefitted from an extra week of rehearsal to add that extra polish, which I assume was beyond the budget for a 5-hander in a small theatre running for only half a week.
Even so, it's a lively interpretation of a play that hasn't been seen in the region before with some interesting things to say and Solomon gives another impressive performance after his Manchester Theatre Awards nomination for Elysium's inaugural production last year.
Note that, despite the current information on the theatre's web site, there is an interval, which was welcome as an hour is more than enough on Theatre 2's bench seats before having a break.
Reviewer: David Chadderton