Jet Set Go!
Book and Lyrics by Jake Brunger; Music and Lyrics by Pippa Cleary
Take Note Theatre
Jermyn Street Theatre
(2009)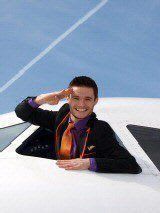 It's been a while since we've seen some aircraft based entertainment. Not since the reality programmes about Easy Jet and Ryan Air - and does anyone remember a young Alan Cummings in the sitcom The High Life?
Jet Set Go! had its premiere in Edinburgh in 2008 and has now flown into London for a short run at the Jermyn Street Theatre - hot on the heels of the extremely well received Saturday Night. Jake Brunger's script is not by any means ground-breaking; it simply follows the lives of cabin crew on their flight to New York and back and lets the larger than life characters take over.
Jet Set Go! really is as camp as it gets and it is unashamedly so. A fantastically kitsch set transports you from economy class to the cockpit to a New York City sky line and of course a good old song and dance always ensures a gay old time.
Memorable songs include "What Do You Actually Do?" "If I Could Find A Boy" and "Cabin Fever"; however Pippa Cleary's score, whilst always fun, lacks sophistication at times. Whilst more accomplished composers will weave a repeated melody throughout various songs in a score, leaving you in no doubt that all songs belong to that show, Cleary's score lacks unity and is a tad hit and miss. However any criticisms become irrelevant when you discover that she is still at university and has miraculously composed this score whilst studying for her degree. If this is the quality of her work at such a young age, her future looks very promising indeed.
An enthusiastic cast brings this production to life with Mark Evans, who was seen earlier this year as one of the finalists on Your Country Needs You, stealing the show. With his good looks and powerful vocals, Evans screams leading man. His subtle performance is a breath of fresh air whilst all those around him ham it up. Of course that's part of this show's charm, and it does require a heightened performance from some characters and, boy do they deliver! John McManus is outrageously camp as Ryan as he minces about like a true queen. Amy Coombes is delightfully entertaining as the girl from "The Valley", Hayley, who's desperate to find love. In true Gavin and Stacey style she plays on the hilarity of the Welsh accent, but the character would benefit from her toning it down slightly on occasions to allow the truth of this lonely girl to shine through as she is dangerously close to spilling over into caricature. Sadly it's too late for Emily Sidonie as Julia from Puerto Rico whose frantic performance is as up and down as the turbulence on their plane.
This is still a new show and of course it is going to have its flaws but it's exciting to hear a new voice emerging in British musical theatre and if this is the start, well - the sky is the limit.
Closes 18th April, 2009
Reviewer: Rachel Sheridan