Jigsy
Tony Staveacre
Royal Court Theatre Liverpool
Royal Court Theatre Liverpool
From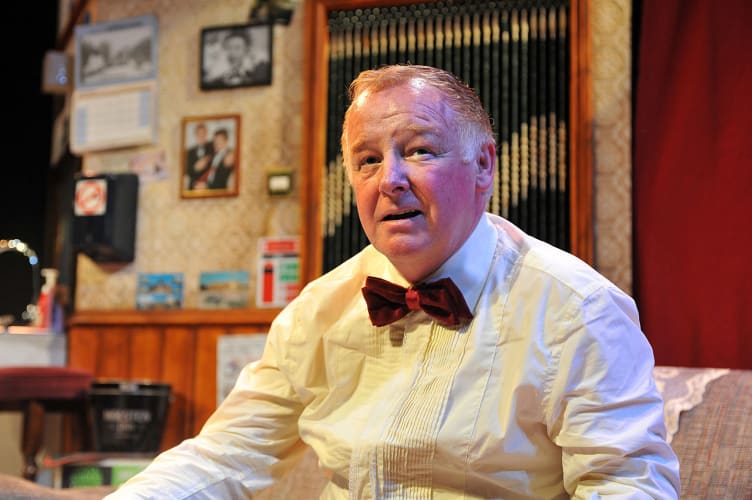 Les Dennis performed this show at the Royal Court in 2012 after a run at the Edinburgh Fringe. Following the lockdown, he contacted the theatre's Executive Producer, Kevin Fearon, and offered to record this abridged version for release on the Web. This isn't a lockdown drama recorded through a webcam in a bedroom but a fully staged piece with an elaborate set, costume and decent sound.
The setting is 1996 in the dressing room of a working men's club in Liverpool, long after these types of places were popular. Jigsy is also out of his time: a 1970s comedian in a time when even 'alternative' comedy is now the establishment, filling time either side of the bingo with jokes long past their sell-by date.
He enters after his first set, pint resting against beer belly, in the old variety comic uniform of black suit, white shirt and bow tie and reminisces about when times were better. He talks about his past experiences in different parts of Liverpool and conjures up some of the great old comics—Ken Dodd, Tommy Cooper, even going back as far as when Billy Bennett was playing 'the halls'—with some pretty accurate impressions and some samples of their own material.
It's the sort of piece you could imagine going down a storm in front of a live older audience in Liverpool with its frequent mentions of local places, anecdotes about old comics and insistence that things were better in the old days. Without that live reaction, however, the play itself looks a little thin, as it meanders from one comic's act to another, then to a defence of drinking oneself to death, then to a vivid description of a tragic incident involving a submarine in Liverpool in 1939, but it's hard to see how it all links together or what it adds up to. While Osborne's The Entertainer (an obvious comparison) is certainly not without its flaws, we get to see Archie Rice within the context of his damaged family and within a rapidly changing society, but there is no wider context in this play.
Dennis's performance cannot be faulted; he understands this rather pathetic character perfectly, knows how to deliver a gag and is a great impressionist, so the perfect casting for this role.
It's an entertaining 55 minutes, with some of the old gags funnier than others and very good production values compared to a lot of the streamed drama we are getting, but without some sort of overall perspective or context, it just feels like random chatter that ends up saying not very much.
Reviewer: David Chadderton