Jitney
August Wilson
Headlong, Leeds Playhouse and London's Old Vic
Theatre Royal Bath
–

Listing details and ticket info...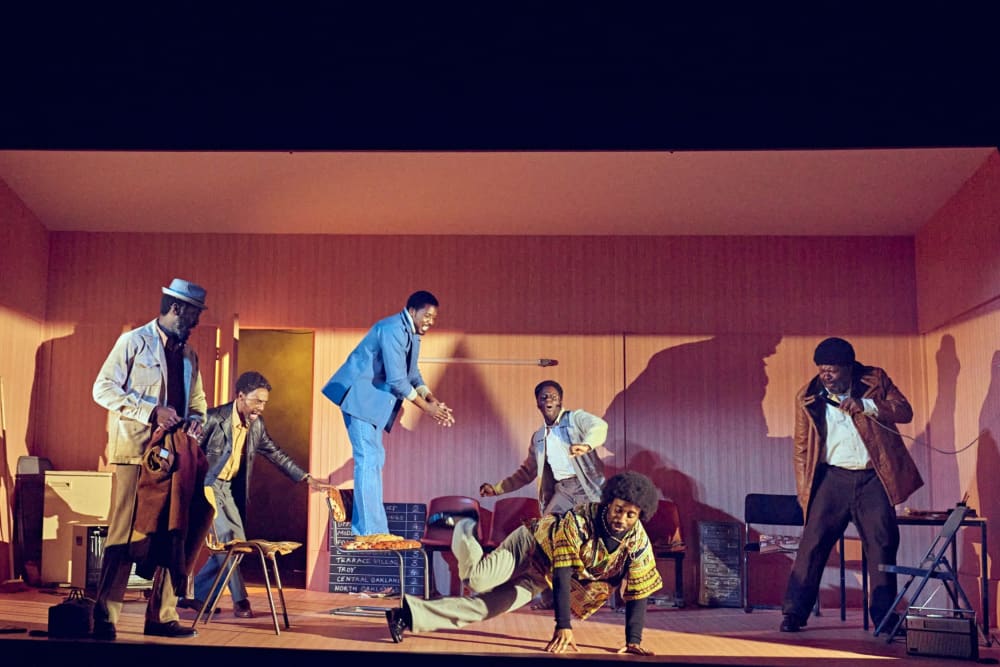 In 1980, August Wilson wrote his first play, Jitney—a fleshed-out version of his first attempt a decade previously. At this point, Wilson could be found writing educational scripts for the Science Museum of Minnesota but had his eyes set on the theatre world since viewing Athol Fugard's Sizwe Banzi is Dead in 1976. He sent Jitney to the Playwrights' Center in Minneapolis and won the Jerome Fellowship—the rest is history.
Wilson, reflecting on his bullet-quick ascent to becoming a playwright, reminisced: "I found myself sitting in a room with sixteen playwrights. I remember looking around and thinking that since I was sitting there, I must be a playwright, too."
Born and raised in Pittsburgh's Hill District—a grouping of African American neighbourhoods—in which nine of his 10 plays are set, Wilson was heavily influenced by his first 13 years in the area. In the 1970s, it was experiencing an economic and social downturn with a rapidly decreasing population—71% leaving between 1950 and 1990. Taxi cabs did not travel to this area of Pittsburgh and so the existence of jitneys, an unlicensed cab service, came to light—a service by the community for the community.
And that is where we find Jitney: a run-down car service on the cusp of regeneration with the threat of being closed down by the city. At the centre is the head of the jitney firm, Becker (Wil Johnson), who attempts to grasp the impending doom of his car service being boarded up alongside the release of his son Booster (Blair Gyabaah) from jail. Wilson gives us his take on an office-room drama, set within four enclosed walls of the car service hub, through eight men and one woman. At its heart, it is a blood-boiling story of a disempowered community. At its core, it is a family drama disillusioned with what's right and wrong.
Tinuke Craig helms Jitney's return to the UK stage—21 years since it first arrived on these shores and picked up an Olivier Award for Best Play. Craig, 34, directed the Erin Doherty drama Crave at the Chichester Theatre Festival and is currently the Baylis Director at the Old Vic. Here, she has crafted Wilson's words masterfully with pinpoint execution on every choice. It develops at a sedate pace, which works in Craig's favour, allowing the characters to marinate and become established. Once reached, it feels organic and natural, with the language becoming engaging and instinctive. The three stand-offs are truly perfect and are engaging at every turn, with words carefully constructed to a debate-class level, delivering gripping back-and-forth dialogue. The tension is palpable and thrives on seeing a together community who want to break the seal of marginalisation through several generations.
Solomon Israel stars as Youngblood, a Vietnam veteran made wretched by the system, determined to break the mould and create something for himself and his partner Rena (Leanne Henlon). A story told a million times, but Israel is terrific in bringing to the surface his frustrations. Craig notes Wilson's ability to assemble arguments without taking sides and Israel and Henlon are precise in bringing it together. As a whole, the cast deliver with aplomb and cut deep in emotionally charged scenes.
The performances are bolstered by an outstanding prism-within-a-prism set (Alex Lowde) and lighting (Elliot Griggs) design. Raised above the stage, it produces a closed-in feel that allows video design (Ravi Deepres) to complement the action on stage with projected cityscapes. We are drawn into the world of a worn-down, orange-hues effect with a minimalist approach. The movement and story is fed by its surroundings, from the light fixtures to the list of rules on the panelled walls.
Jitney is gripping as much as it is tender. Craig's impressive direction combines superbly with a powerful cast in bringing Wilson's words to the Theatre Royal Bath stage. Denzel Washington has made it his mission to bring all 10 of the playwright's work to screen and it would not be surprising if the actor-director picks Wilson's debut work next.
Reviewer: Jacob Newbury