Joan
Lucy J Skilbeck
Milk Presents, in association with Derby Theatre
Lawrence Batley Theatre, Huddersfield
–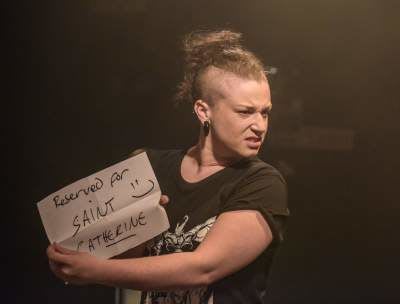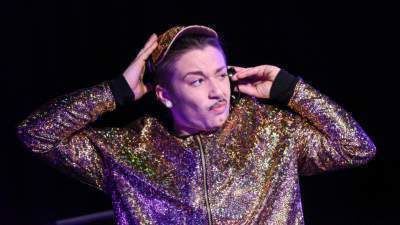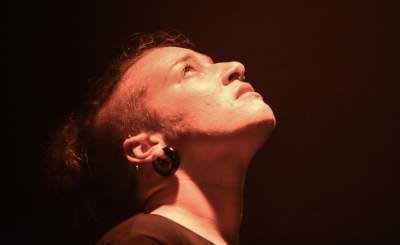 Whose face springs to mind when you think of Joan of Arc? For me, it's that of Renée Jeanne Falconetti in the classic Carl Theodor Dreyer film from 1928: tight close-up, head shaven, eyes glistening with tears.
There have been some surprising Joan of Arcs over the years (Milla Jovovich, anyone?), but I can't think of one more unorthodox than Lucy Jane Parkinson. The winner of Drag Idol UK 2014, Parkinson is one of the UK's leading drag kings and performs regularly as LoUis CYfer. With her punkish hair-do, Tank Girl T-shirt and top boots, she is a far cry from the waif-like Joans that we've seen in the past.
Part drama, part cabaret, Joan gallops through the Frenchwoman's short life—from her simple beginnings in the village of Domrémy (where she was born in 1412) to her military triumphs in 1429-30 to her gruesome death in 1431. In addition to playing Joan, Parkinson also inhabits the roles of three men who played crucial roles in her turbulent existence: her well-meaning but clueless father; Charles VII, who was crowned King of France due to Joan's heroic efforts; and Pierre Cauchon, the pro-English bishop who had her burned her at the stake.
Unlike Dreyer's deadly serious film, writer and director Lucy J Skillbeck approaches the story of Joan of Arc in a resolutely playful fashion, combining comedy, music and pathos to dizzying effect. She does a great job of distilling the main events of Joan's life into a sprightly 75 minutes, and offers a thoughtful and heartfelt exploration of gender identity.
A role like Joan requires a performer of great versatility and charisma, and these are qualities that Parkinson has in spades. With consummate skill, she charts the highs and lows of Joan's journey to self-acceptance and self-belief. When the character is dressed in male garb, Parkinson radiates confidence and charm. When she lets down her hair in a half-hearted attempt to be more "woman-like", her discomfort is funny at first but soon morphs into something darker and more heart-breaking.
I've seen many shows where the audience participation felt embarrassing or pointless. In Joan, however, it is used to great effect, strengthening the rapport between audience and performer and providing some of the evening's funniest moments. I detected a reserve in certain members of the audience at the beginning of the show, but Parkinson soon won them over and had them imitating the sounds of horses and flying arrows.
I was also impressed by the show's four musical numbers, composed by Skilbeck and arranged by David Lewington, which allow Parkinson to demonstrate her talent for male impersonation. Joan's father, for example, comes across as a geezer who likes his karaoke, whereas Charles VII is sparkly and oversexed like the late, great Prince. Each of the songs is distinctive and fits the personality of the character singing it.
The evening is further enhanced by Emma Bailey's unfussy set design, which creates an intimate performance space redolent of a cabaret, and Lewington's evocative sound design, which provides additional texture to the production.
Uproariously funny and genuinely moving, Joan is a wonderful, joyous piece of work.
Reviewer: James Ballands