Joanne
Deborah Bruce, Theresa Ejimofor Ikoko, Laura Lomas, Chino Odimba and Ursula Rani Sarma
Clean Break
Soho Theatre
–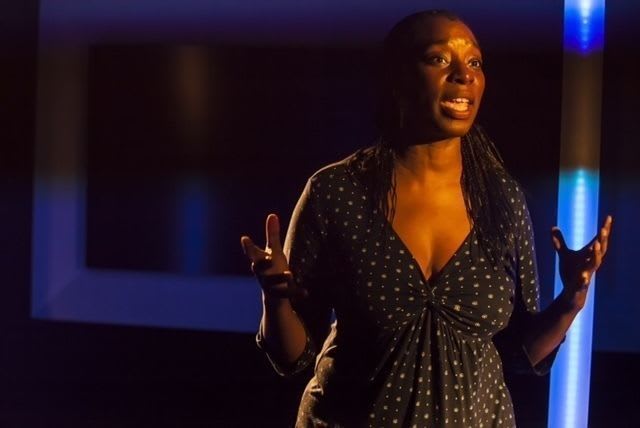 Five characters, five stories, five parts. But only one actor, and only one (invisible) Joanne.
This is the latest commission from Clean Break, a well-established and respected charity that works with women in the criminal justice system to tell their stories through theatre. Harriet Walter is a patron and Clean Break has put on plays at such illustrious venues as the Donmar Warehouse.
Joanne is the story of the women who fall through the cracks. The cracks between the education system, social services, the NHS, police services and probation hostels. Cracks that are widening as government cuts deepen, reducing access to legal aid.
It's an important story, and one Tanya Moodie tells earnestly and often compellingly, embodying all five characters in a series of five monologues. We're introduced to the eponymous Joanne by those who have come into contact with her during a crucial 24-hour period of her life. And of course, in telling us about Joanne, the characters reveal much more about themselves.
There are some lovely moments, like the Alan Bennett-esque comic pathos of A&E receptionist Kathleen's wilted lunchbox, scoffed between her own panic attacks and a frantic desire to help the girl who "looks like our Laura" (Joanne).
It's a neat conceit, with five different emerging writers penning each character. But, despite Moodie giving it a good stab, the form becomes repetitive before you're halfway through, and the writing isn't subtle enough to stop some clock-watching that has nothing to do with Joanne's missing red watch.
This is unmistakably theatre with a social conscience, with a political point to make. But thankfully the blame implied by the cracks through which Joanne falls isn't laid at any particular door. It's an observation of the pressures on the very human institutions we rely on—not a call to arms against them or the government.
Nevertheless, I had a niggling concern that, had it not been for collaboration with Clean Break and all the good work it conjures, this play might have elicited a less charitable response in me.
The problem is, the best way to tell a story like Joanne's is straight. The experiences of women like her are compelling enough to dispense with fictionalisation, and knowing they're real would touch an audience more than knowing they're devised (albeit with the help of women in the criminal justice system).
In the end, for me, this isn't a subject that needs us to suspend our disbelief, but rather to wish we could suspend our belief.
Reviewer: Belle Donati