Joe and I
Laurie Slade
Plunge Productions
King's Head
(2005)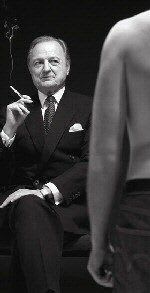 In a deep-blue room of a flat in Piccadilly, Terence Rattigan (Peter Bowles), and Joe Orton (Simon Hepworth) with Oscar Wilde (Bryan Murray) have a rendezvous of sorts.
Terry is a middle-aged debonair playwright who begins by sharing with the audience associations that the word 'Liverpool' sparks off. It is a short, intimate and amusing moment. At once, one feels more than a mere fly on the wall. Peter Bowles' superb acting in the small homely atmosphere of the King's Head theatre assisted in creating a brief illusion of a frank tête-à-tête chat. That momentary communication is interrupted by Oscar's sudden appearance. The dialogue between the two consists of phrases and quotes which bear Oscar Wilde's familiar witty hallmark. The atmosphere radically changes when a messenger boy, (Simon Hepworth) enters the room with a bouquet of roses. He is young, confident and aggressive. He introduces himself only after Terry proceeds to call his butler, Phipps, to see the young man out, following the messenger's audacious act of undressing himself down to his white underpants, to reveal a boyish body with a blue tattoo close to his belly-button. The young messenger is none other than Joe Orton, the up and coming playwright of Entertaining Mr Sloane to whom Terry wrote a letter to congratulate him on the success of his play.
In the conversation between the two, references are made to Terrance Rattigan's The Deep Blue Sea, where Joe indicates that the ending should have been different and tells Rattigan that he himself is missing from his play and that he should be more honest. Oscar Wilde interjects with references to The Picture of Dorian Gray and Rattigan comments on Orton's play which exposes Joe's touchy and coarse manner when he responds angrily, 'Don't you correct my fucking language'.
Terry, the successful playwright who lost his lover Kenneth, finds comfort in Joe's sexual advances and tolerates affectionately Joe's acidulous, cheeky and impertinent behaviour and language. Oscar moves in and out the deep-blue room, managing to tease and stimulate the conversation between Terry and Joe and interacts with each of them.
The frankness of the homosexual encounter on stage between Terry and Joe (attempting passionate kisses) as witnessed by Oscar (and the audience) is a far cry from the changing climates during Wilde's, Rattigan and Orton's personal experiences which dominate the play. However, Joe's frequent use of the words "prick" and "fuck" with his sexually charged humour wears thin quickly and the brief attempts to imbue the play with Oscar Wilde's wit are feeble and almost clichéd as it lacks Wilde's original sharp wit.
These conversations are simply a series of short comments which lead nowhere. The relationship between Terry and Joe is synthetic and vacuous.
Despite Simon Hepworth's zesty performance, the play leaves one emotionally unmoved even by the news of Joe's death or Kenneth's abandoning Terry. That may be attributed to the fact that the characters are drawn and choreographed from biographical sources as well as their plays, with no insights into their characters.
The play displays neither an original voice nor erudite dialogues among the three playwrights. Starting from the historical fact that Terrence Rattigan wrote a letter to Joe Orton and met him for lunch, the sexual encounter in Terry's flat is a fictional plum which does not progress or impact on the narrative.
Laurie Slade's play is entertaining because Peter Bowles, Simon Hepworth and Bryan Murray make the most out of it, where the wittiest lines are borrowed from another author.
Reviewer: Rivka Jacobson