John Shuttleworth - The Minor Tour (and Other Mythological Creatures)

Tobacco Factory, Bristol, and touring
(2008)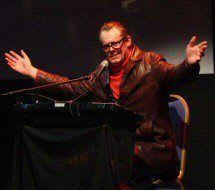 He may not command the mass support Obama currently enjoys but John Shuttleworth enjoys an equally fierce loyalty among his band of supporters.
Shuttleworth, alias Graham Fellowes, delivers a joyous, life-affirming comedy steeped in the commonplace and quotidian which he deftly captures with the ear of P G Wodehouse and the empathy of Alan Bennett or early Mike Leigh.
In its quiet celebration of the mundanely surreal, its creator has conjured up a world as delightful and delightfully funny as that of Blandings, Jeeves and Wooster or Psmith, for since Shuttleworth since emerged fully formed back in the 1980s, Fellowes has gone on to create a cast of other supporting roles.
There is his manager and sole representative, Ken Worthington, who still defiantly sports Cuban heels but who has now swapped his Whitesnake tour jacket for a trench coat; his long-suffering, acidulous wife, Mary, and their son, Darren, who works in Victoria Wines with his pal, Plonker, to name but a few.
A retired security guard at a sweet factory he won't name for security reasons, Shuttleworth has for more than two decades been searching for success as a singer-songwriter, like some musical Don Quioxte, entertaining residents at sheltered accommodation with such classic material as I Can't Go Back to Savoury Now, Christmas Orphan, My Wife Died in 1970 and Pigeons in Flight.
Fellowes has pointed out that he has now reached the age of his comic alter ego and has twice announced his likely retirement, using recent tours to introduce Brian Appleton, a bitter Brummie FE lecturer, angry that his history to the contribution of rock music has been airbrushed out, and Dave Tordoff, a dourish builder from Goole who has branched out into after-dinner speaking.
Both are participants in the new show, The Minor Tour (and Other Mythological Creatures). In truth, the Tordoff video is pretty poor, but the Appleton live slot is entertaining, particularly his account of auditioning for the role of singer for Genesis after Peter Gabriel quit in 1975. The problem is that neither has an ounce of the warmth of Shuttleworth so much rests on the strength of his material.
Unfortunately, as much as I love Shuttleworth, I have to say that the show, coming just 12 months after the last, excellent one, does not seem to have been prompted by a wealth of new writing. There are a couple of new songs, one of which, "Unaccompanied Lady", was on the money. And his proud ownership of a new chrome bin, "It's got the advantage that you can see yourself when you're approaching", is vintage stuff. But some of the newer material - his mistrust of pesto ('pesteo') - feels tired and a little perfunctory.
Inevitably perhaps, some old favourites were notable by their absence, though we were treated to the sublime, Can't Go Back to Savoury Now, and a medley of Pigeons in Flight and Austin Ambassador Y Reg as an encore. Fittingly, the show in Bristol played against a backdrop for the current in-house production, Oh, What a Lovely War, itself both a period piece and an enduring evergreen.
I've no doubt the remaining gigs on the tour have either sold out or are close to doing so. Anyone who has been touched by the genius and sheer charm of Shuttleworth will need no recommendation from me to go. This Minor Tour is, just that, but even below-par Shuttleworth is better than most people's best.
Reviewer: Pete Wood