Joking Apart
Alan Ayckbourn
Stephen Joseph Theatre, Scarborough
–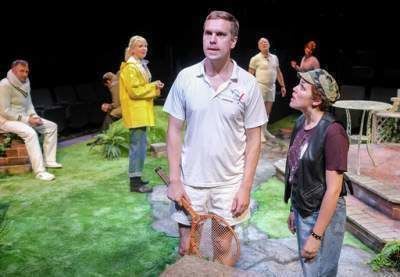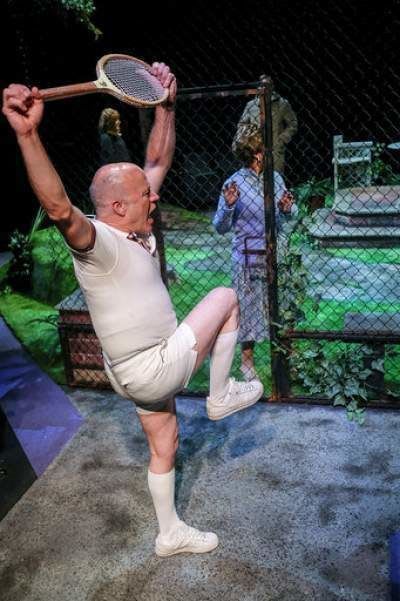 To mark the 40th anniversary of Joking Apart, a tragicomedy that explores the repressed emotions that simmer away in long-term friendships, Alan Ayckbourn has directed a fresh production (his fifth!) for the Stephen Joseph Theatre, Scarborough.
Joking Apart doesn't enjoy the same critical prestige as other plays he wrote in the 1970s, such as Absurd Person Singular (1972) and The Norman Conquests trilogy (1973), and it failed to recoup its costs when it was first staged in the West End. Nevertheless, Joking Apart demonstrates Ayckbourn's consummate skill at teasing out the comedy and tragedy that exist simultaneously in everyday life.
When an audience member observed that Ayckbourn never portrayed happy couples, he was inspired to put one at the centre of his play. Richard (Laurence Pears), a successful businessman, and Anthea (Frances Marshall), a divorced mother of two, are a seemingly perfect couple, who treat their friends with great kindness and bonhomie.
However, Richard and Anthea enjoy a complex relationship with their less happy, less successful friends, who resent their good fortune and criticise them behind their backs. Over the course of the play, which spans twelve years, we watch the other characters' resentments towards the golden couple grow and fester—all within the pleasing environs of Richard and Anthea's palatial back garden.
I have seen only a handful of Ayckbourn's plays at this point and, while I can usually admire his ingenious command of theatrical time and space in plays such as How the Other Half Loves and Taking Steps, they sometimes leave me a bit cold emotionally. This is not the case with Joking Apart, which explores very dark waters similar to Mike Leigh's excellent film Another Year (2010), which centres on the complex relationship between a (smug) middle-class couple and their divorced, emotionally damaged friend.
Over the course of Joking Apart, we question Richard and Anthea's motives for maintaining friendships with such resentful, often misanthropic people. Is it sheer good-heartedness or do they like wielding power over their worse-off chums? Do they enjoy feeling superior by comparison? Occasionally, Ayckbourn answers these questions too directly for my liking, but on the whole there's a pleasing ambiguity to the play.
Richard is a particularly interesting figure. Laurence Pears's energetic performance imbues Richard with warmth and jollity, but we never see underneath his mask. Even when being insulted by his business partner Sven (Leigh Symonds), he maintains a solidly pleasant exterior that proves infuriating. Anthea, on the other hand, demonstrates greater depths, and Frances Marshall is highly effective in the role of a benevolent earth mother.
The other cast members have a great time as the central couple's dysfunctional friends and neighbours. Leigh Symonds is hilarious as Richard's increasingly embittered business partner Sven, particularly when he dons shorts in order to play him at tennis, and Liz Jadav is a model of passive aggression as his wife, Olive.
Jamie Baughan is both touching and funny as the bumbling local vicar, Hugh, who falls in love with Anthea, and Louise Shuttleworth deftly conveys the frustrations of being married to an incompetent member of the cloth.
Richard Stacy is given little to do as Brian, who is also hopelessly besotted with Anthea, besides look surly, but he shines in one scene where the character talks about how his romantic feelings first emerged. Naomi Petersen demonstrates versatility by playing all of Brian's short-term girlfriends over the years in what is a largely thankless role.
Special praise must go to Michael Holt for his impressive set design, which brings Richard and Anthea's garden to vivid life. It's just a shame that the transitions between scenes took so long, with stage crew venturing onto the stage in order to move props, as this dampened the play's momentum.
Despite some grumbles, I still think Joking Apart is an interesting play with much to say about the petty jealousies that can arise between the haves and the have-nots. It's often funny, vibrantly acted and raises some meaty questions about love and friendship.
Reviewer: James Ballands