Jonas Müller Regrets Writing this F*cking Masterpiece

Jonas Müller/Tim Honnef
Underbelly, Cowgate
–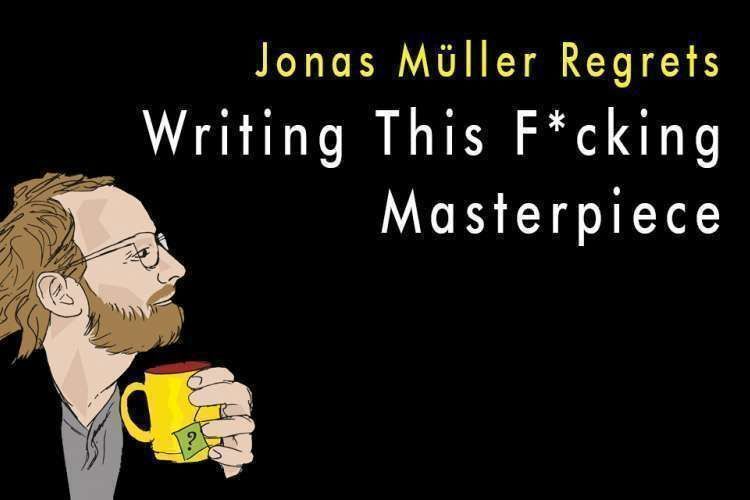 Opening on a cluttered stage, where, amidst paintings, photographs and a suitcase filled with assorted items, sits a man wearing a photo-mask of another man's face. He tells us that he is not in fact Jonas Müller, but rather a stranger, asked to perform this piece by a girl so pretty he couldn't say no.
It's an intriguing beginning, especially to those familiar with any of the previous work of the performer in question. The intrigue grows as the audience is told the show's central premise and device and, through that, we are led through the story to learn more and more about Müller and his masterpiece, the result of four years of his slaving away in his bedroom creating it, the reasons behind it and the regrets that stem from its creation.
In many ways, it's a curiously offhand and interactive piece, as the performer, Tim Honnef, makes many brief asides to the audience while reading from an A4 sheaf of papers and a handwritten book of poems, holding up photo-prints and paintings as instructed by the script. The effect is at first discombobulating, and the artifice through which the story is being told feels deliberately distancing. However, this passes and the piece reaches a touching and clever, if not wholly unexpected, finale.
As an idea, this could have been a failure, but the resonant depth and feeling that Honnef injects into the piece, despite his affected indifference and separation from the events, manages to make this a fascinating curiosity of the Fringe and an intriguing piece of experimental theatre.
Reviewer: Graeme Strachan