Joseph and the Amazing Technicolour Dreamcoat
Lyrics by Tim Rice, music by Andrew Lloyd-Webber
Bill Kenwright by special arrangement with The Really Useful Group
Palace Theatre, Manchester
–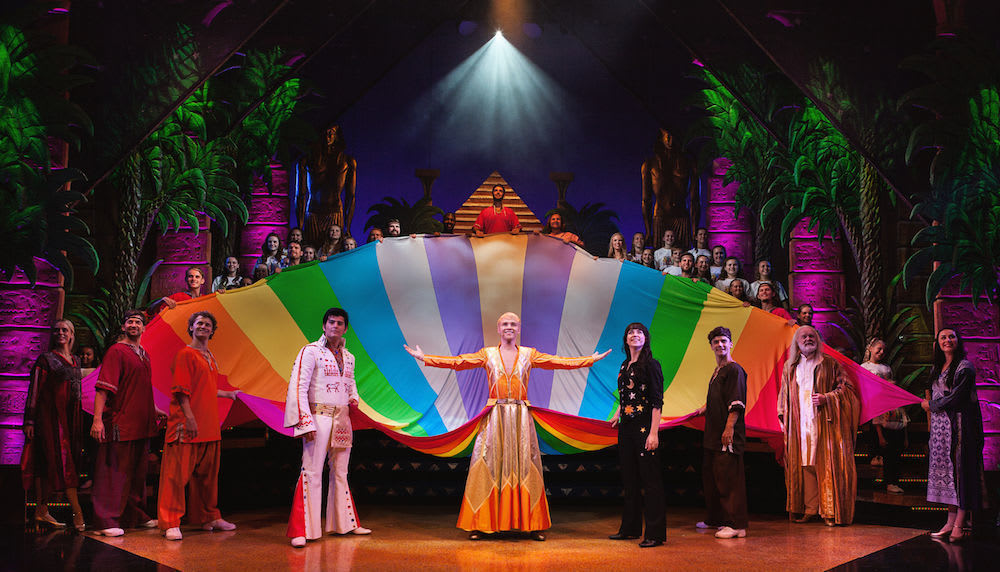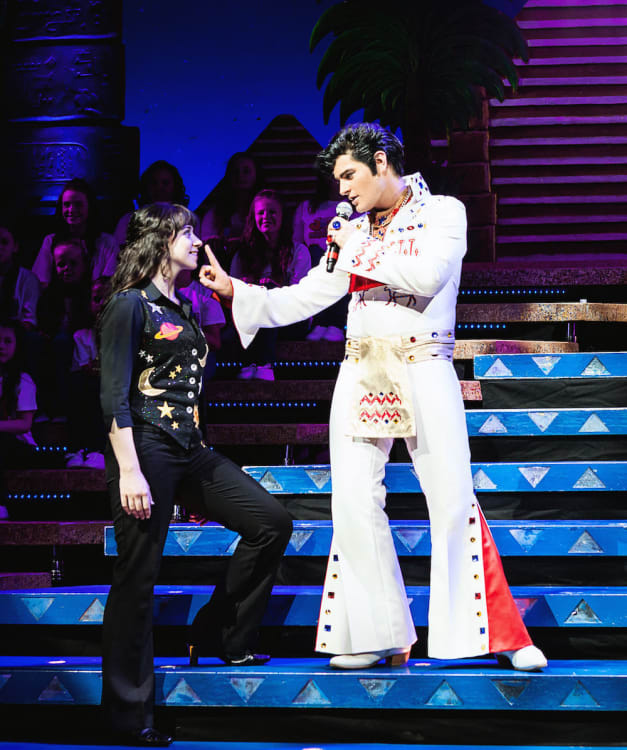 "All those things you saw in your pyjamas, Were a long-range forecast for your farmers."
Ah, if only Dr Freud had interpreted dreams with such certainty and clarity—and in rhyming couplets.
The return of Andrew Lloyd-Webber's and Tim Rice's first hit show has drawn a mixed crowd of children and aficionados this evening. The children are well catered for in the programme, which has a distinctly educational slant—including a guide to hieroglyphics and the invitation to make your own cartouche.
An unashamedly camp show affords much for adults to enjoy, and many can't resist the temptation to sing and clap along to "Any Dream Will Do". During the interval, aficionados debate whether this is truly a new production or just a new cast. There's no denying it: Joseph is loved.
Lloyd Daniels shines (almost literally) as a platinum blond Joseph who just can't help being better than his eleven brothers. Occasionally, there's a sense that Daniels is getting by on looks rather than stage presence but, when called upon to deliver vocally—"Close Every Door"—he gives an outstanding rendition.
Danielle Hope is a sweet-voiced, assured and likeable narrator, guiding the audience through a free and easy retelling of this episode from the Book of Genesis.
It was, of course, a grand jest for Rice and Lloyd-Webber to turn pharaoh into Elvis (Vegas-period, needless to say), but it leaves the actor little scope to put his own mark on the role. Matt Lapinskas earns his place on stage, but probably won't feature in the role call of great impersonations of the King. Even so, playing 'spot the Elvis hit reference' is one of the highlights of Rice's lyrics ('Song of the King" and "King of my Heart').
As the senior member of the cast, Henry Metcalfe delivers a usefully calm stage presence, though he'll no doubt take more satisfaction from his work here as choreographer than from two rather undemanding roles (Jacob and Potiphar).
The ensemble deliver energy, enthusiasm and technical accomplishment (Marcus Ayton's Dan is the stand out with "Benjamin Calypso"). Vocally, the whole evening is ably underpinned by the children of the Stagecoach Theatre School, Chester.
Sean Cavanagh's set design is solid and uncluttered, giving a sense of place without getting in the way of the performers, and Nick Riching's lighting pays due homage to the technicolour theme of the show. It might have been nice to have been a little more amazed by the various manifestations of the coat itself—splash a bit of cash here, perhaps, Mr Kenwright?
The real stars, we might say, are Tim Rice and Andrew Lloyd-Webber. Let's set aside suspicions of there being only two memorable tunes, of the structure being formulaic and the music derivative. What we have from an audience perspective is witty pastiches of a range of musical styles (from square dance, through rock 'n' roll to calypso and even power ballad) and unrelentingly clever lyrics (just as long as the sound balance allows us to hear them).
Nobody here tonight seems to feel exploited or manipulated. The children are engaged and entertained. The adults in the audience are meant to get the joke and, judging by the number happily rising to their feet for the finale (cheekily named "Joseph Megamix Reprises"), they get it and they like it. A lot.
Reviewer: Martin Thomasson