Joseph and the Amazing Technicolor Dreamcoat
Lyrics by Tim Rice, music by Andrew Lloyd Webber
Bill Kenwright Ltd
Sunderland Empire
–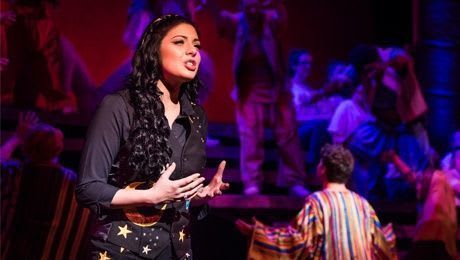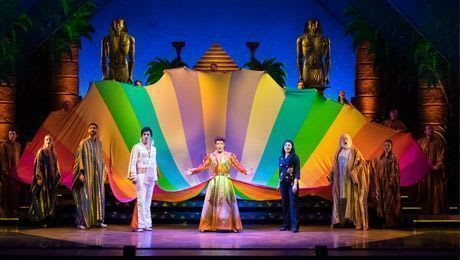 I first saw Joseph in the '70s when I was working in the same theatre as I saw it in tonight. It was the first national tour (or, at least, the first that came to Sunderland). Since then I've directed it three times and seen it (performed by schoolkids, adult amateurs and professionals) more times than I can count and I've never tired of it.
I've seen it described as a "feelgood" show but it's more than that: it's fun—fun to perform in, fun to work on and fun to watch. It's a lovely pastiche of so many different musical styles; where else do you go from country and western to the twenties in seconds, from Presley to France to Calypso in minutes?
And it's not just the music. The lyrics see Tim Rice at his most witty: Potiphar is one of "Egypt's millionaires, having made a fortune buying shares in pyramids" and in "Those Canaan Days" the Brothers tell us that "no one comes to dinner now. We'd only eat zem any'ow." As Lloyd Webber pastiches the music, so Rice deals with the words. It's always clever, always witty—and accurate.
Originally written as a cantata for school performance, it can be done with minimal staging and still work, still entertain, but here Bill Kenwright, who directs as well as producing, pulls out all the stops in terms of choreography (Henry Metcalfe), set and costume (Sean Cavanagh) and lighting (Nick Richings).
Incidentally, Metcalfe also plays Jacob and Potiphar, lending a certain gravitas to a company which is, for the most part, very young.
Joseph is played by local lad (from South Shields) Joe McElderry and there's no doubt his fans were out in force, judging by the huge cheer when he first appeared. Their enthusiasm was justified for he fills the role well.
Lucy Kay is a powerful narrator. Am I right in thinking that the music has been rearranged to give full scope to the range of her voice? It certainly felt like it—and what a voice it is!
The role of Pharaoh is something of a mixed blessing. The big number, "The Song of the King", is a gift in terms of popularity with the audience but there's very little room, in it or any other aspect of the part, for a performer to put an individual stamp on it. He's got to be Elvis—nothing else will do. Emilianos Stamatakis is and the audience loved him for it.
While Joseph, the Narrator and Pharaoh get the big billing, it is in fact the eleven brothers and the three handmaidens who do most of the work, rarely off the stage, constantly singing and dancing as an ensemble and taking on smaller roles such as the Butler and the Baker, and prison guards for the men and Ishmaelites, Jacob's wives, Mrs Potiphar (a sexy and at the same time comic Tilly Ford) and all other female parts for the women.
Onstage all the time, underscoring both ensemble and individual numbers, is the children's choir from Sunderland's Northern Star Theatre Arts—unobtrusive but always there, focused and well-drilled.
It seems that whenever it's revived, Joseph is greeted with huge enthusiasm. Thousands of schools, primary and secondary, have done the show and I suspect a substantial proportion of members of tonight's audience had either been in it themselves or their kids had, for they not only knew the tunes but the oos and the ahs and the harmonies too. Whether they did or did not, they certainly loved it, up on their feet, singing along, dancing and wildly applauding at the end.
I loved it too, fourteen years after the last production I saw, which was in Germany but performed in English by German schoolkids. A truly international success story!
Reviewer: Peter Lathan