Joseph and The Amazing Technicolor Dreamcoat
Lyrics: Tim Rice; Music: Andrew Lloyd Webber
Michael Harrison, David Mirvish, Tulchin Bartner Productions, Crossroads Live, Adam Blanshay by arrangement with The Really Useful Group Limited
The Lyric, Theatre Royal Plymouth
–

Listing details and ticket info...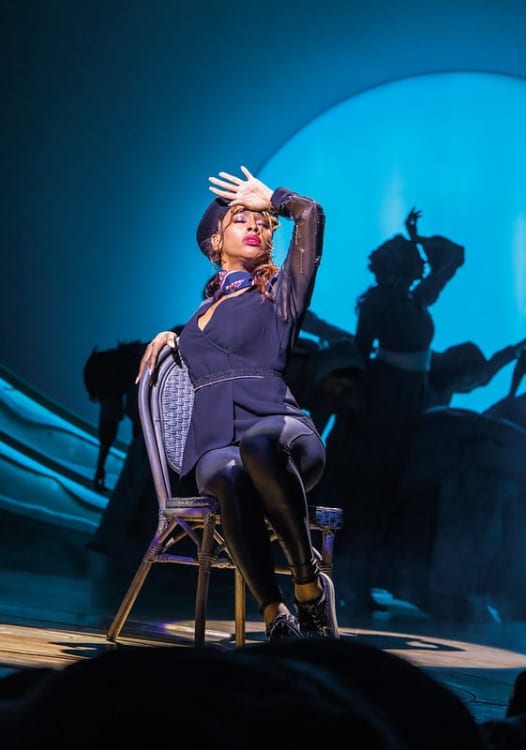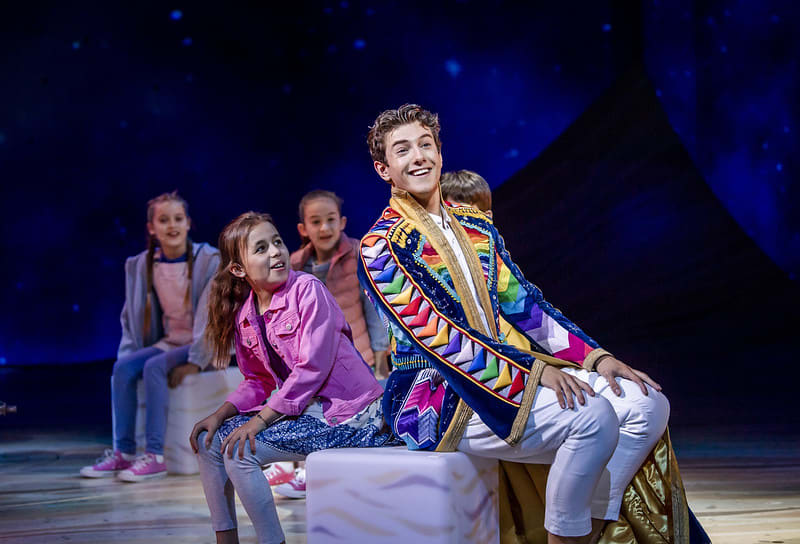 Director Laurence Connor takes Joseph right back to where it started in a pleasantly fresh outing with a charismatic Alexandra Burke stealing the show.
Written originally as 15-minute piece for a school concert some 55 years ago—complete with some perhaps non-PC racial stereotyping and appropriation—Connor adds plenty of self-deprecating humour and peppers the cast with some seven children breaking out from the storytelling circle to take the roles of brothers, wives, Butler, Potiphar, sassy goat and more adding naif harmonies and hoofing with the lissom Swing.
With a worldwide following, the multiple award-winning Rice-Lloyd Webber musical is on tour following two sell-out seasons at the London Palladium as vivacious Burke (2008 X Factor winner, renowned recording artiste, Bodyguard, Sister Act, Chess, Chicago) eclipses a more than competent cast in her role as Narrator with plenty of bonhomie, throwaway lines, fun and turning her hand and coat to minor roles such a Pharaoh's lustful wife and Jacob.
First Class 2019 graduate Jac Yarrow is back as Joseph, the role that won him The Stage Debut Award for Best West End Debut donning Morgan Large's fabulous eponymous coat and more than filling Jason Donavan's sandals while Bobby Windebank (Our House, Oliver! and dance captain in Thoroughly Modern Millie) hams it up as an effervescent, guns-kissing Pharaoh strutting and grinding with flashy showmanship and sequined cape.
The tale of Joseph's dreams, his jealous brothers, intended fratricide, slavery, rise to power and come-uppance is straight from the book of Genesis by way of France, the Caribbean and cowboy country. There's frothy cancan girls, camels on bicycles, takeaway coffee and gold guitar-playing gods too, which I suspect weren't in the Holy Book.
All very glitzy, light-hearted fun to pad out a worn, thin, quirky piece.
Large's set is bold with a huge sun and sand; simple gaol with clever use of silhouette and sumptuous shiny Egyptian palace with interesting hieroglyphics including burgers, musical notes and some quite dodgy squiggles, while Ben Cracknell's award-nominated lighting is atmosphere and apposite as the burning orb wreaks desolation while luxury shimmers in Pharaoh's wake.
But of course this is a musical with no words—it's all about the hits. And they just keep coming with Laurence Olivier Royal Albert Hall Award holder Gareth Owen's sound design spot on. Ordinarily highly critical of sound in the Lyric, even up in the gods the soundscape was tremendous. John Rigby conducts with great gusto in the pit as calypso follows pop follows hoedown follows Edith Piaf channelled plaintive ballad.
"Any Dream Will Do", "Joseph's Coat", "Go, Go, Go Joseph", "Those Canaan Days", "Grovel, Grovel, Grovel" are delights among the 20 or more familiar songs and the orchestra's post-interval mash-up and the megamix finale are fab.
Colourful and clever, Connor has given the creaky, non-PC geriatric a new lease of all-singing, all-dancing, quite fun life.
Reviewer: Karen Bussell