Joseph and the Amazing Technicolor Dreamcoat
Tim Rice and Andrew Loyd Webber
Lyceum Theatre, Sheffield, and touring
(2009)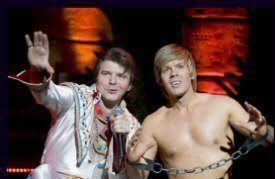 If you are looking for a Biblical story this is not the place to come, but if you want a glorious night-out with lots of singing, dancing, colour (or should that be color?) music and excitement, one can see the reason why this show has been on the go for well over thirty years, and certainly deserves its periodic revival.
Craig Chalmers, a convincing Joseph, plays his varying brotherly roles excellently, with a pleasant unforced voice that attracts immediate attention. first as the butt of the family and later as its dominating Egyptian chancellor as he puts his brothers in their place, ostensibly accusing his younger brother Benjamin of theft.
Everyone else plays their parts with gusto, including the imported children from local dance schools, kept in order and encouraged by Tara Bethan, the singing narrator of the story, beautiful to look at with a voice to match. Pharoah/Elvis (Stephan Webb) gyrates wonderfully with his 'mic' and the crowd roared. Not many people know that Elvis was an Egyptian King.
And one should not forget the contribution of James McCullagh, Musical Director, seen only on the monitoring screen bringing an important contribution, well recognised by the audience, to the rapid flow and rhythm of the evening.
A measure of the popularity of the performance, to say nothing of its enthusiasm and expertise, was the fact that twenty minutes after the ostensible end of the piece, the Reprise was working its way yet again through the well known musical pieces, the audience were all on their feet, singing and clapping, while the Brothers were out amongst them laughing and dancing round the auditorium, with the rest of the cast on stage belting it out and stirring the audience to greater bouts of enthusiasm.
An evening to remember - even better than last year.
Andrew Edwards reviewed this production at the Palace, Manchester
Reviewer: Philip Seager