Jospeh and the Amazing Technicolor Dreamcoat
Tim Rice and Andrew Lloyd Webber
Civic Theatre, Darlington, and touring
(2010)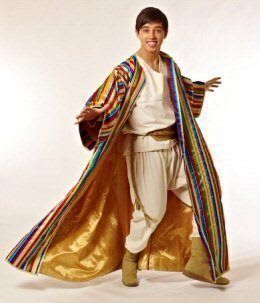 Keith Jack, the hugely popular runner-up who finished just a hair's breadth behind winner Lee Mead in the hit BBC TV series Any Dream Will Do, donned the famous coat of many colours to play the lead role in Joseph and the Amazing Technicolor Dreamcoat at Darlington Civic Theatre last night and for the rest of this week, until Sunday.
Following in the footsteps of many others including Donny Osmond, Jason Donovan, Phillip Schofield, Ian 'H' Watkins and the late Stephen Gateley, Jack was in no way overshadowed by these big names. His portrayal of Joseph struck exactly the right balance of vulnerability and heroism and he made the part entirely his own. From his first appearance, right through to curtain call, he captivated the audience with his stage presence and vocal talents. He handled all his musical numbers with aplomb and hit each note with precision and perfection. He suited the role visually, too.
Trina Hill played the role of the Narrator. Her voice was as clear as a bell and her diction was impeccable. Her natural charm and pleasing stage presence make her the perfect performer to move the story along.
Lachlan Scheuber gave a lively performance as the pelvis-thrusting Elvis-style Pharaoh. Other notable performances came from Henry Metcalfe as Jacob/Potiphar and Camilla Rowland as Mrs Potiphar.
Much of the dance action came from Joseph's brothers. They all performed with boundless energy and enthusiasm, and there were some quirky interpretations of some of the songs. One More Angel In Heaven was performed in a country and western style, complete with Stetsons; Those Canaan Days was given a Parisian flavour and there was even a Caribbean Calypso number thrown in to extol the virtues of Benjamin, the youngest brother. I am not certain why the style and setting of these musical numbers was shifted away from Ancient Egypt but, you know what? it didn't really matter anyway!
The sets are uncomplicated, yet extremely effective and riotously colourful. A real visual treat! The score is a sure-fire winner, having been penned by Tim Rice and Andrew Lloyd Webber it couldn't really fail. The real showstoppers, Close Ev'ry Door To Me; Poor, Poor Joseph and Any Dream Will Do are instantly recognisable and stand the test of time.
Joseph and the Amazing Technicolor Dreamcoat is a real family show, full of fun and froth but with a moral of forgiveness and reconciliation at the heart of the story as well. It's simply great entertainment and a Technicolor dream-come-true.
Reviewer: Steve Burbridge