Joseph and the Amazing Technicolor Dreamcoat
Lyrics by Tim Rice, music by Andrew Lloyd Webber
Produced by Bill Kenwright
The Wyvern Theatre, Swindon, and touring
(2011)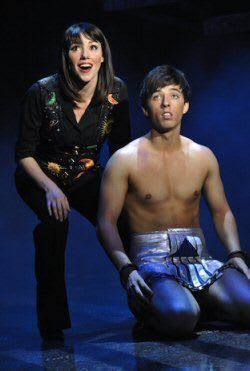 It's over forty years since Andrew Lloyd Webber and Tim Rice's Joseph and the Amazing Technicolor Dreamcoat was first performed as a fifteen-minute pop cantata at Colet Court School in London. It's a popular choice for schools and has been performed extensively throughout the world to universal appeal.
Bill Kenwright's effervescent UK tour is playing to packed houses at Swindon's Wyvern Theatre with Keith Jack playing the title role of Joseph. He was a contestant and eventual runner up on the BBC's 2007 series Any Dream Will Do, the show created to find an unknown to play Joseph in the West End.
This production of Joseph is full of energy, verve and vitality with an enthusiastic chorus of children from Stagecoach Theatre Arts, Swindon.
Jennifer Potts is a splendid narrator who tells the famous Bible story of Jacob's favourite son who is hated by his brothers, sold as a slave to Potiphar and ends up in Pharaoh's jail where he interprets the dreams of the Butler and the Baker and becomes Pharaoh's number two. He saves his brothers from famine and reunites his family.
Keith Jack is an impressive Joseph who brings a youthful innocence to the role and he sings beautifully, especially in Close Every Door to Me. He is supported by a dazzling band of brothers and handmaidens whose singing and dancing is superb with tight inventive choreography by Henry Metcalfe who also brought some gravitas to the story playing Jacob. There were some touching moments between Jacob and his favourite son.
Adam Jarrell was the powerful 'Elvis' Pharaoh, who had the audience swooning with his pelvic thrusts.
Director Bill Kenwright had created some fine innovative moments. I loved the inflatable sheep and each song was treated as a theatrical vignette capturing Lloyd Webber's musical pastiche. One More Angel in Heaven had a great western 'hoe down' theme and Go Go Joseph was pure gospel, whilst Those Canaan Days had a French motif and there was great fun created in the Benjamin Calypso.
Stunningly lit by Mark Howett, who managed to get the colours to match those of Joseph's coat and with spectacular sets designed by Sean Cavanagh this production is the ideal antidote for the current economic gloom and will certainly lift the spirits.
With excellent musicians under James McCullagh's direction this was a high-octane exuberant show with a superb fun mega-mix at the end that brought the audience to their feet - Go Go Go Joseph!
Touring throughout the UK until November.
Helen Nugent reviewed this production in Manchester
Reviewer: Robin Strapp