A Journey to London
John Vanbrugh and James Saunders
Orange Tree, Richmond
(2005)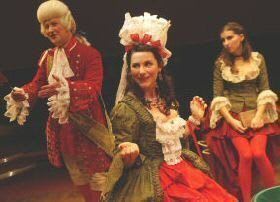 Sir John Vanbrugh (1664-1726) may have his name first on the Orange Tree playbill, but most of the plot and dialogue was written by the late James Saunders (1925-2004), a Twickenham playwright whose life and work is being celebrated by the theatre with which he was most closely associated.
The play—an unfinished fragment when Vanbrugh went off to design Blenheim Palace—had its reputation tarnished with a sentimental completion by Colley Cibber, re-titled The Provok'd Husband to cash in on an earlier Vanbrugh success.
Two and a half centuries later at the end of 1985, Saunders picked up the original threads and wrote an absorbing new play for the Orange Tree about sex and marriage 1700-style but with twentieth-century hindsight, using Vanbrugh's original title, his fourteen-strong cast of characters and the three and a half opening scenes.
But he also seems to have borrowed much of the period detail from Congreve's Way of the World and from the plays of Marivaux, cleverly combining a Restoration drama for our times, with a French analytical comedy of manners.
The victims of this post hoc treatment are a bumpkin Parliamentarian (John Paul Connolly) and his wayward wife (Mairéad Carty) who make the journey of the title, but then fizzle into secondary roles as the new playwright takes over—a moment cleverly signalled by a break mid-speech during a gambling scene, when the MP suddenly confesses that he cannot recall what he was going to say,
Their greedy son also fails to get fleshed out but gets a suitably stout performance from Nick Earnshaw whose love affair with an upwardly mobile servant girl is never resolved.
By contrast, their Miss Mouse of a daughter, brilliantly played by Sophie Trott, suddenly takes off as a scheming 'new woman', worthy of Bernard Shaw, role-playing lesbian games with Claudia Elmhirst's shy, startled Martilla; taking her mother's place in a lover's embrace, to trap him; and magically introducing a third hand into a loving duet between her brother and his domestic fancy—a masterstroke of theatrical imagination.
But the major plot interest revolves around Lady Arabella, a deliciously sexy portrayal by Fiona Mollison, who plays a teasing Millamant trick on both her lover and her husband (twin Mirabelles, agog to know their fate), endlessly debating the contractual, financial and sexual arrangements for her continued liaison with one or the other.
The supporting cast do some moderate doubling-up, notably Robert Benfield playing both a rustic servant and a metropolitan fop. But in the scenes written by Saunders there are seldom more than two or three on stage at any one time, allowing the development of several splendid conversational set-pieces, with romance linking all the sub-plots à la Ronde.
There are particularly attractive performances from John Hodgkinson as a crafty, well-bred military lecher and Paul Goodwin as a sophisticated but incurable romantic, plus rounded characterisations by Thomas Wheatley as a confirmed old bachelor, Peter Forbes as the baffled husband to Arabella, and Joanna Van Gyseghem playing a shrewd housekeeper with a bawdy secret to keep.
Against a simple in the round setting by Sam Dowson, the period costumes offer a dazzling array of Restoration style bosoms, corseted waists above ballooning skirts and appealing glimpses of pretty ankles; and while the chaps may eschew the fashion of periwigs, they look absolutely in tune with their times.
Reviewer: John Thaxter