Journeys
Various
Vada Community Theatre Company
Castle Hotel and John Thaw Theatre
–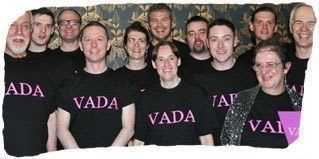 Vada theatre is the country's only LGBTQ community theatre dedicated to new writing. Journeys is the second of their two annual shows and it coincides with Manchester's Gay Pride celebration.
The evening is 6 short plays, sketches and vignettes evenly split over two halves. Although the lives of certain of the characters do change through experience in the stories, the travel theme is most apparent in the introductions to each piece where it becomes a metaphor for the evening. These superb comic intros are provided by Hugh Polehampton as Kelly who explores his masculine and feminine sides in an engaging manner and increasingly outlandish series of costumes. His other running gag is to quote pop lyrics as if they are worthy of deep consideration and the packed audience in the intimate Castle Hotel in Manchester's trendy Northern Quarter got all the references. These ranged from Kylie Minogue to the Bee Gees.
The first half opener is Loving her a short drama written and directed by Stephen M Hornby. It tells the story of two Conservatives whose closeted gay relationship is played out over 10 years against the backdrop of their annual party conference where they share a hotel room. This is very well written and reflects a turbulent period in recent gay history. It is powerfully acted by Tom Kenwright as the posh Antony who wants to be open and Richard Brady as the hard-edged northerner with more of a political career to risk.
Idate by Jamie K Jones is a skit on the dating scene across generations and takes account of the new social media outlets. The half is closed by Engage written by Tom Kenwright. This is a splendid piece of mime where a gay couple's very different ideas on what to pack for their holiday reveal more of the tensions in their relationship. It is ribald and hilarious.
After a short interval, the first piece in part two is the highlight of the evening. Confessions offers another fine characterisation from the talented Tom Kenwright who plays Daniel, a young Catholic man who needs to confess. His priest is the exuberant and unashamed Father Sebastian, beautifully played by Damian McHugh who also wrote the sketch. He does not give the expected reaction to hearing Daniel's concerns about his same-sex attractions. This is another very witty piece with a lovely final twist, all of which confound the audience's expectations. It is a tour-de-force for both actors and director Rosie Hutchinson.
Life with the Cassoulettes by Howard Totty is well acted but less successful as a short drama comedy as it seeks to explore the challenge of maintaining a position despite having no wealth. The final comedy is Play Centre where a lesbian couple's attempts to conceive are shown in increasingly farcical detail. The comic energy and timing of both Julie Guard and Rosie Hutchinson, who wrote and directed, were very warmly received by this reviewer and the audience.
This was a wonderfully enjoyable show with plenty of laughs and as much dramatic tension as practicable within the constraints of the form it adopted. The pace over the 90 minutes was very well judged so that the only drag was in Hugh's costume. It was well realised with basic settings and staged in a small room on a tiny raised platform under the canopy of fairy lights and a chandelier. The talented cast showed great versatility and on this rendering it is clear that new LGBTQ-themed writing is alive and well in Vada.
Reviewer: Andrew Edwards