Journey's End
R C Sherriff
Lee Menzies and Act Productions Limited
Richmond Theatre and touring
(2011)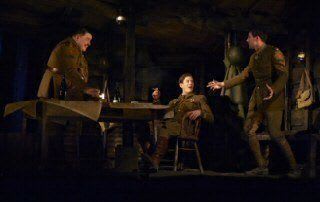 When R C Sherriff signed up to play his part in World War I, little did he know that the horrific events he witnessed would haunt audience members in years to come, courtesy of his gripping piece Journey's End.
Set in March 1918, Journey's End portrays four days in the life of Captain Stanhope's battalion. A young but respected Captain, Stanhope's community is thrust into change when old school friend Raleigh arrives on the scene. Raleigh, a so-called hero worshipper, has defied the odds to be placed under Stanhope's command and, with the two reunited, it soon becomes clear that a different sort of battle may soon be on the cards.
Sherriff's play provides a fascinating insight into life in the trenches; the action presented onstage a metaphorical microcosm for the terrors of war outside. With their loved ones back at home, the soldiers assume new roles and with only each other as company they become a close-knit family in which everyone has their place.
As larger-than-life Trotter, Christian Patterson keeps spirits high with his jovial humour, whilst the ever suffering Mason (Tony Turner) serves up non-descript cutlets and onion tea. Food is an important aspect of the soldiers' daily routine and it is interesting to note that for them, soup bereft of pepper is an atrocity that not even the Bosch would submit them to. As Trotter says, 'War is bad enough already, but war without pepper - it's bloody awful.'
The men's Captain, Stanhope, played by a young Laurence Olivier in the original production, is an extremely complex character who experiences a wealth of emotions throughout the play's duration. Underneath this hot headed and harsh taskmaster's seemingly thick skin lurks a sensitive and scared boy. James Norton manages to capture the frail and vulnerable side of Stanhope's character most truthfully as he downs yet another mug of whisky in order to ease the pain. Stanhope's biggest fear is not that of death, but of his weakness being exposed; a deep dark secret hidden from the word outside.
As to be expected in any war play, loss is a key theme, but it is how the characters deal with the losses incurred that makes Journey's End such an engaging piece of theatre. David Grindley's direction evokes the soldiers' boredom, frustration, fear and heroism perfectly, which makes Journey End a fascinating study of the how the human psyche reacts when faced with adversity.
In its original production Journey's End constituted a piece of contemporary drama. With the men represented onstage having only returned from the battle fields ten years earlier, the effects of World War I were still fresh in the country's mind. Today, over eighty years later, the play has become a moving piece that rightly honours those who fought for Britain in one of our country's darkest periods of history.
Playing at the Richmond Theatre until 12th March 2011, as part of an extensive tour throughout the United Kingdom until November.
Robin Strapp reviewed this production in Swindon
Reviewer: Simon Sladen