Journey's End
R C Sherriff
Arden Theatre Company
Arc, Stockton-on-Tees
(2007)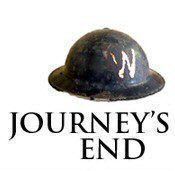 It is nearly ninety years since the events portrayed in Journey's End. Since then society and attitudes - indeed, life in general - have changed immensely, and yet the play still has enormous power for, language and the rest apart, its picture of men under the stress of unremitting warfare is as vivid and moving as it was when it was first written in 1925.
There's little that a reviewer needs to say about the play itself as it's so well known, particularly after David Grindley's production of 2004, which went on to tour extensively to great acclaim and then to be revived in the West End, finally ending in 2006, which leaves us free to concentrate on the actual production and the performances.
Arden has built up a track record of high quality productions at the Arc, the most recent being Richard III in July of this year, so expectations were high. They did not disappoint.
From the moment the house opens, we are drawn into the world of the play as Hardy prowls the dimly lit dugout waiting to be relieved by C Company. It says a lot for John Kirkbride's performance and the subtlety of Mark Hand's soundscape that, after this period of pre-show (in)action, the audience fell quiet at just the right moment.
Most of Arden's previous productions have been of Shakespeare's plays and they have been characterised by a close study and understanding of the text, and director Robert Icke has brought the same rigorous approach to Journey's End. Couple that with the fact that all of the actors are the same age as the characters they play and you have almost painfully truthful performances. David Kirkbride's Stanhope, for example, is so obviously fighting to retain control of himself and his fears that, when he tells Hibbert that he shares his terror, we know it isn't something he says just to encourage or shame him but the absolute truth. The effort to keep the stiff upper lip is obvious throughout and it is clear that the whisky he consumes in such large quantities is barely enough to keep his demons at bay and makes his rage at the arrival of Raleigh and his demand to censor his letter completely believable.
Josh Mason looks barely 14 as the 18 year old Raleigh and projects a mixture of naïveté and keenness, shot through with hero worship for Stanhope, which is so touching that, at his almost accidental death, there was scarcely a dry eye in the house.
There is not a weak link in the production. Daniel Hill avoids the temptation to make Trotter something of a comic character, retaining his sense of humour but letting us see his serious side throughout. Tom Reynolds avoids caricaturing Hibbert and gives us someone whose pain is genuine, although caused by fear, and not merely an excuse to get sent home. David Edwards' Osborne is younger than the character is normally played, in his thirties rather than forties, but he still has that air of maturity and stability which give him the nickname "Uncle".
This is, we are told, Arden's last production. The management of the Arc really should do all in its power to persuade one of its greatest assets - for the Arts Centre is the company's base - to keep going.
Reviewer: Peter Lathan