Journey's End
R.C. Sherriff
Icarus Theatre Collective, Original Theatre Company, and Anvil Arts in association with South Hill Park Arts Centre
The Gala Theatre, Durham, and touring
(2010)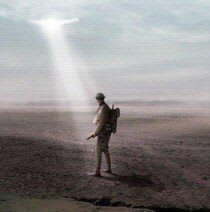 Based on R.C. Sherriff's own experience in the trenches of World War One, Journey's End is a powerful and poignant production that starkly illustrates the futility of war. Set within a claustrophobic dugout where time creeps to a standstill as soldiers await their orders, the story centres around the young, talented and war-weary Captain Stanhope (Christopher Harper).
The first thing that strikes you, as you enter the auditorium, is the stunning set that so effectively recreates the dark, dank, rat-infested dug-out. No detail has been overlooked in Victoria Spearing's magnificent design. Credit should also be given for Alan Valentine's superb lighting design and Dominic Bilkey's equally successful sound design, both of which brilliantly evoke the hellish atmosphere of the Western Front.
The play, for the most part, is dialogue-based as we are introduced to a series of officers and soldiers. There's the avuncular, pipe-smoking, level-headed Osbourne (Graham Seed), the put-upon cook Private Mason (Adam Best), the cowardly Hibbert (Rhys King) and the fresh-faced Raleigh (Tom Hackney) who is an old schoolmate of the whisky-swigging Stanhope.
Raleigh's hero-worship of Stanhope's school-days prowess at rugger and cricket now manifests itself in his admiration of his leadership skills on the front line.
Each of the men must face the hardships of trench-life and deal with their fear in their own way. The older, more experienced men reminisce about gardening, trips to the theatre and walking in the New Forest, whilst the younger men attempt to hold on to the notion that war is an adventure that has the potential to transform them into heroes
In essence the point of the piece is to convey the message that war destroys not only the lives of men, but also their minds and souls, too. Stanhope must continue to motivate and inspire his men to make the ultimate sacrifice for a war he no longer understands and for a cause he no longer remembers.
Journey's End is very much an ensemble piece and it would be difficult and probably rather unfair to pick out one actor over another. Each and every performance is consummately delivered. Indeed, this is a profound piece of theatre that highlights the heroism, humour and tragedy of warfare.
This production is also touring to Buxton Opera House; South Hill Park Arts Centre; Devonshire Park, Eastbourne; Theatre Royal, Winchester; Key Theatre, Peterborough; The Brunton, Musselburgh; Derby Theatre; Harrogate Theatre and The Byre, St Andrews.
This production was reviewed by Kevin Catchpole at Basingstoke
Reviewer: Steve Burbridge