Julia Masli: CHOOSH!
Julia Masli
Impatient Productions Ltd
Assembly Roxy
–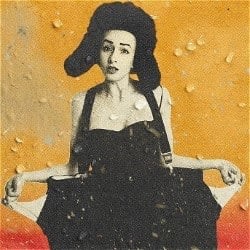 Julia Masli's impish demeanour immediately draws you into her world of curious wonder. In CHOOSH!, she is everything a clown should be: she is very pleased with her little games and she is excited to share them with you; she wants to see if you will play along; she wants you to know that there is so much choosh in the world and we should call it out for what it is.
Masli is utterly beguiling; you would do anything for her, even look after her dog when she goes away, or perhaps shoot her if she asks you to. There is never anything forced, the focus is on the joy of playing, of being complicit in the moment, of helping her to tell her story.
The daughter of Estonian immigrants to America, her apparently biopic narrative has some bite, highlighting the experiences of people who resettle in the USA. However, the performance never becomes earnest or overwrought; instead, Masli finds comedy in even the most tragic or uncomfortable moments.
The production is continually inventive, finding multiple uses for various props and devices to show epic journeys, as well as the landmarks of a young woman's life, including birth, marriage and death.
Ultimately, CHOOSH! is either about finding your place in the world, or just getting a job, but the way it goes about exploring this makes for an exceptional piece of comic theatre that is intelligent, ridiculous, sad and hilarious.
Reviewer: Tony Trigwell-Jones