Julie
Zinnie Harris, based on Miss Julie by August Strindberg
Northern Stage
Northern Stage, Newcastle
–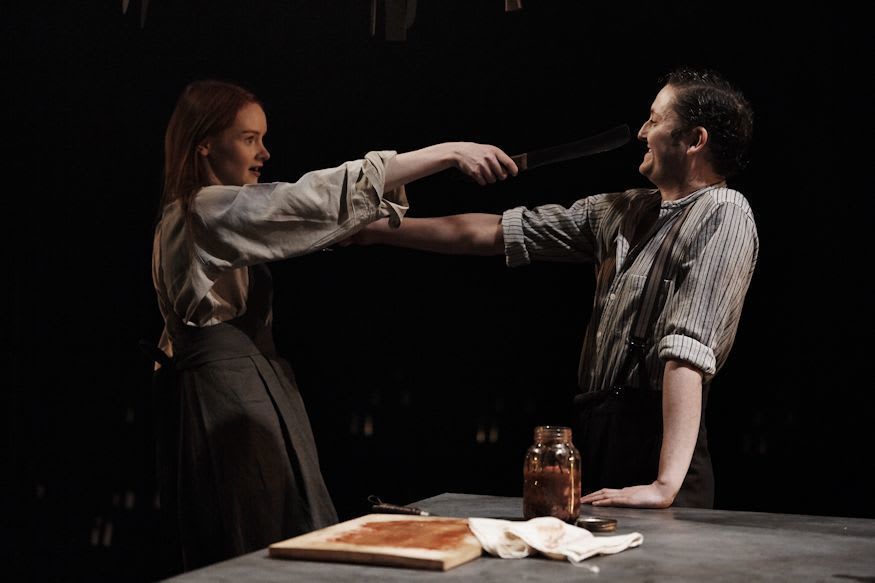 Take industrial unrest, a dysfunctional family, an intense and explosive sexual liaison between mistress and servant fuelled by all the complexities of a rigid class system, a touch of sadism and more than a hint of decadence and concentrate it into 90 minutes. Perform it in traverse in an intimate, almost claustrophobic space and you have a recipe for a powerful piece of theatre.
And powerful is what Northern Stage's production of Zinnie Harris's version of Strindberg's Miss Julie is. It is set in the kitchen of the mill-owning "Lord", featuring a massive slab of a table and a kitchen sink big enough to dunk a human being in with an array of knives of all shapes and sizes dangling above and, above everything else, the bell which summons the servants to do their master's bidding.
Everything seems so large and yet it is claustrophobic. Everything centre stage is grey; the only brightness comes from the white draperies which hang to either side, the exits to the world beyond.
Ironic, for this is Midsummer Eve, the prelude to the longest day of the year.
The characters—daughter of the house Julie (Pearl Chandra), servant John (Michael Grady-Hall) and cook Christine (Rona Morison)—prowl around this centrepiece like predators or prisoners, dominating or being dominated. So much emotion, so much lust, love, anger, hatred and yes, fear, crammed into such a small space.
Director Rebecca Frecknall, Resident Director at Northern Stage as part of the Regional Theatre Young Director Scheme, judges the pacing perfectly and the cast's response is spot-on. Everything—set, costumes, lighting and sound—integrate seamlessly to reinforce the performances and enhance the writing.
More of this kind of production please, Northern Stage.
Reviewer: Peter Lathan