Julie Atherton: No Space for Air
Neil Eckersley & Paul Spicer for Speckulation
Apollo Theatre, Shaftesbury Avenue
(2011)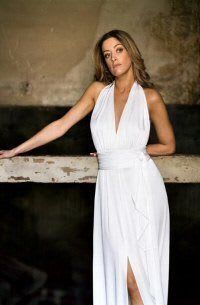 There were many Julie Atherton fans in the audience at this slickly produced one-off show at the Apollo: for those new to her work, it was a fine introduction.
An experienced concert performer, Miss Atherton is arguably best known for starring roles in Avenue Q (where she voiced and 'puppeted' the adorable Kate Monster and Lucy the Slut) and the recent Ordinary Days (Claire), with a back-catalogue that includes Rent and Mamma Mia.
Gracing the stage in a fetching long peach dress (that became a fetching shorter peach dress in part two), she looked and sounded beautiful, ably accompanied by a live ten-piece band, two-backing singers, and an on-stage choir for certain numbers.
The singer has charm - that wonderful thing that money can't buy - establishing from the onset a warm and easy rapport with an audience who were soon eating out of her hand. She exudes a very British self-deprecation; a surprise, then, to find that she sings, on the whole, with an American accent. However, unlike many Brits who try and fail, she does it really well.
With good diction and a particularly powerful mid to upper range, each number was performed meticulously and included several songs from "No Space for Air", the current album that anticipates a tour shortly.
Personal favourites from this contemporary set were "Never Saw Blue like That" and "Silent Whispers", while her rendition of Jason Robert Brown's "Someone to Fall Back On" was stunning. The evening's only disappointment came from the insensitive and unfunny "Baby Baby".
However, Atherton's innate comic timing is best demonstrated in songs with dialogue and quirky narrative such as "Taylor the Latte Boy" that captures the joy of a coffee shop crush and "Portrait of a Princess", a song especially written for her by Michael Bruce and a hit on YouTube (Disney's Snow White will never seem quite the same).
The evening was also a showcase for guest-friends: Daniel Boys (Avenue Q, Ordinary Days), Jon Lee (Jersey Boys) and Richard Fleeshman (Ghost the Musical), each delivering a solo number and sharing a duet with Atherton. Highlight of the night was surely the pairing of Fleeshman and Kate Monster bringing new passion to "Last Night of the World" and reminding us just how much a Miss Saigon revival is needed.
On leaving, my friend (a musical theatre expert) and I debated the leading ladies that she could take on and concluded that she could take on pretty much all of them: Elle, Fantine, Christine look out for Julie Atherton, hopefully coming to a role near you.
Reviewer: Anita-Marguerite Butler